Practice Solutions: KOVANAZE Nasal Spray from St. Renatus
Patients and clinicians appreciate the benefits of KOVANAZE Nasal Spray from St. Renatus.
Patients and clinicians appreciate the benefits of KOVANAZE Nasal Spray from St. Renatus
Approved by the U.S. Food and Drug administration, KOVANAZE Nasal Spray (tetracaine HCl and oxymetazoline HCl) is the first product that allows dental anesthesia to be administered through a nasal spray without using a needle. KOVANAZE, delivered in the nasal cavity, is indicated for regional anesthesia when performing restorative procedures on teeth #4 through #13 and A through J in adults and children weighing 40 kilograms or more. (Visit kovanaze.com for full prescribing information.)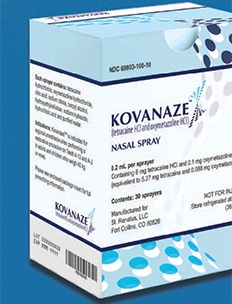 In Phase 3 clinical trials, use of KOVANAZE in the anterior maxillary region during restorative procedures resulted in 96% efficacy in teeth #5 through #12, and 63% efficacy in teeth #4 and #13.* Additionally, KOVANAZE patients may not experience the sensation of numbness or tingling of the lips and cheeks associated with injectable dental anesthetics.
HELPFUL CLINICAL AND EDUCATIONAL RESOURCES
St. Renatus provides resources to help dental professionals better understand KOVANAZE's benefits from the practitioner's and patient's standpoint. As part of these efforts, the company offers a 7-minute training video, as well as prescribing information, instructions for use, a training manual and more in the Use and Training section of its website: kovanaze.com/use-and-training/.
TIPS FOR SUCCESS
Here is a clinically useful checklist when administering KOVANAZE:
Visualize the target: the internal nasal valve
Position the patient upright in the dental chair with the occlusal plane parallel with the floor
Do not allow the patient to tilt back his or her head while the spray is being administered
The patient should not inhale or sniff during delivery of the spray
Stabilize the prefilled sprayer using a fulcrum on the chin — some dentists use two hands
Push the plunger hard and fast to create a "pssst" sound
Do not push slowly, as this will create a stream (i.e., liquid) rather than a mist
Administer the first spray, wait four minutes, and administer the second spray. Wait 10 minutes after the second spray, and perform a test drill
To ensure efficacy, wait the entire 10 minutes before performing the test drill
Give the patient a tissue and coach the individual on the expected sensation of numbness and possibility of a runny nose
Note: Patients may not experience the same sensations of numbness and tingling of the lips and cheeks associated with injectable dental anesthetics
CONVENIENT PACKAGING
KOVANAZE Nasal Spray is packaged in a box of 30 prefilled, single-use intranasal sprayers. The typical dosage for each patient is two sprayers, so one box will anesthetize approximately 15 patients. This spray anesthetic is sold through verified dental dealers that have cold storage and cold chain distribution capability; this is because KOVANAZE must be kept refrigerated.
For more than 100 years, dental anesthesia has chiefly been delivered through needle injections. Driven by a passion to enhance the dental experience for practitioners and patients alike, St. Renatus is excited to offer a needle-free method for delivering regional maxillary anesthesia for restorative dental procedures. This innovative anesthetic is a practice builder; and, for a limited time, St. Renatus is offering a "Buy One, Get One Free" promotion through select dental distributors.
* In a Phase 3, randomized, double-blind study comparing the efficacy and safety of KOVANAZE to a placebo for providing anesthesia sufficient to complete a dental procedure on a single maxillary tooth (#4 to #13) in adults, 150 patients received either KOVANAZE (n=100) or placebo (n=50) as a dose of two or three 0.2-ml intranasal sprays. Of these subjects, 82% of KOVANAZE patients were able to complete the procedure without the need for rescue medication, as compared to 28% of patients who received a placebo. KOVANAZE had a lower success rate (64%) for procedures on a second premolar (teeth #4 and #13), compared with 96% for more anterior teeth (#5 through #12).
Important Safety Information
Use in patients with uncontrolled hypertension or inadequately controlled active thyroid disease of any type is not advised. Tetracaine may cause methemoglobinemia, particularly in conjunction with methemoglobin-inducing agents. Use of KOVANAZE in patients with a history of congenital or idiopathic methemoglobinemia is not advised. Methemoglobinemia should be considered if central cyanosis that is unresponsive to oxygen therapy occurs, especially if methemoglobinemia-inducing agents have been used. Confirm diagnosis by measuring the patient's methemoglobin level with co-oximetry. Treat clinically significant symptoms of methemoglobinemia with a standard clinical regimen. Allergic or anaphylactic reactions can occur. If an allergic reaction occurs, seek emergency help immediately. KOVANAZE is contraindicated in patients with a history of allergy to tetracaine, benzyl alcohol, other ester local anesthetics, p-aminobenzoic acid, oxymetazoline or any other component of the product. In clinical trials, some patients experienced an increase in blood pressure; consequently, blood pressure should be monitored. In addition, patients should be carefully monitored for dysphagia. KOVANAZE is not recommended for use in patients with a history of frequent nosebleeds. Concomitant use of monoamine oxidase inhibitors, nonselective beta adrenergic antagonist or tricyclic antidepressants may cause hypertension and is not recommended. Discontinue use of oxymetazoline-containing products 24 hours prior to administration of KOVANAZE. Avoid concomitant use of intranasal products. The most common adverse reactions occurring in > 10% of patients include a runny nose, nasal congestion, nasal discomfort, sore 800-770-9400 throat and watery eyes.

From Decisions in Dentistry. June 2017;3(6):48—50.