Practical Tips For Aerosol Management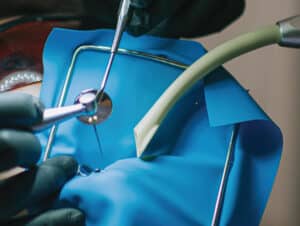 While cross-contamination risks from dental aerosols were a concern long before the start of the COVID-19 pandemic, there's no denying the emergence of SARS-CoV-2 has brought aerosols into the limelight. As the pandemic wears on and we grow accustomed to a COVID-normal world, oral health professionals may wish to review their infection prevention protocols to ensure they're taking the right steps to protect dental teams and patients from transmission during aerosol-generating procedures.
Noting that almost all therapies produce aerosolization from saliva, blood, respiratory droplets, and particles of teeth or gingival tissues, Stephen K. Harrel, DDS, a recognized authority on the topic, suggests clinicians adopt a layered approach to infection prevention. This is a term originally used in his 2004 paper on aerosol management for the Journal of the American Dental Association. When asked to elaborate, Harrel explains, "All infection control is based on multiple layers. This mean that further protection occurs with each layer added. It's up to the operator to determine how many layers are necessary."
Although aerosol management falls under the infection prevention umbrella, there are specific steps that can help mitigate risks to patients and office staff. Besides the use of N95 respirators (or equivalent masks) and standard personal protective equipment (PPE), Harrel shares additional tips to guard against dental aerosols, starting with the use of high-volume evacuation (HVE) to capture aerosols before they escape the oral cavity. This is a cornerstone of safe care in today's practice environment — and, in his estimation, it's the single best way to protect against transmission of bacteria and viruses.
"An HVE device used by a trained assistant or attached to an ultrasonic handpiece has been shown to reduce aerosols and bacterial contamination by 93% to 98%," Harrel reports, adding that a "traditional saliva ejector does not fulfill the requirement for HVE." Beyond the universal precautions of adequate PPE and HVE, he also recommends the use of antibacterial mouthrinses before every dental procedure. "After all," he says, "reducing contaminants in the mouth before treatment is a positive first step."
Similarly, face shields add a further layer of protection from large droplet contamination. And while they don't protect against the very small aerosols that have been shown to carry SARS-CoV-2, Harrel says they are effective in preventing spatter or splashes from reaching the face and eyes. Where feasible, he also notes dental dams offer a high level of protection from blood and saliva contamination.
"Engineering controls, including negative pressure operatories, ultraviolet lights, high-efficiency particulate air filtration (i.e., HEPA filters), external vacuum devices, and other technologies can all improve the atmosphere in the treatment area," he observes, "but clinicians should consider these approaches as secondary to the primary control of aerosols with HVE." This is because these devices reduce aerosols that are already in the air — in other words, contamination that has escaped the patient's mouth.
Which brings us back to what Harrel considers as the prima facie means of mitigating dental aerosol risks: Ultimately, the best way to curb transmission of bacteria and viruses is to reduce and control aerosols within the oral cavity. Besides advocating for preprocedural rinses, he says the evidence suggests the most effective approach is to maintain an HVE device in close proximity to the instrument and patient's mouth during all aerosol-generating procedures.
From Decisions in Dentistry. September 2022;8(9)46.