Post-Pandemic Opportunity for Offices Preparing for a Fresh Start
Genoray is promoting its best-selling Papaya panoramic device with its new Theia software and a Microsoft Surface Pro 8 package for reopening dental offices.
During the COVID-19 pandemic, dental clinics that focused on in-person care experienced a terrible depression. Although now operating in what's called the post-pandemic era, interest loan rates remain high and low loan approval rates are only making it harder to reopen doors.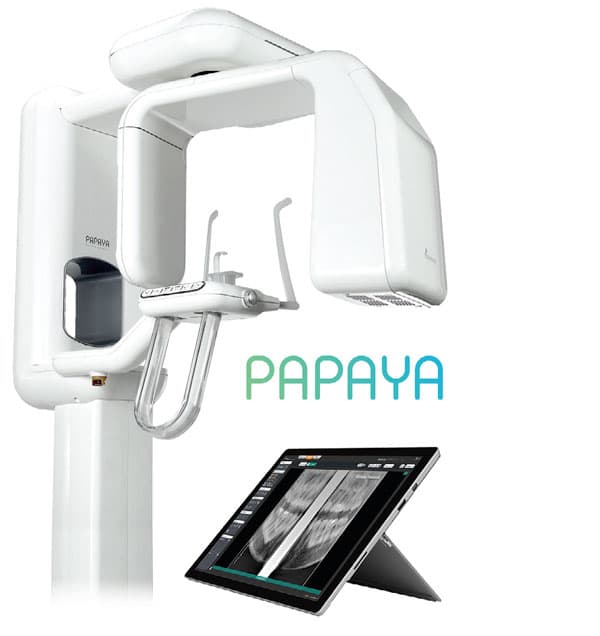 Genoray, a South Korean radiography leader that possesses in-house core manufacturing technology, would like to go through these difficult times together. Pairing its newly developed Theia software with a wireless network will allow patient images to be viewed anywhere in the clinic. As part of its goal to help offices regain patient confidence and profitability, Genoray now offers a Microsoft Surface Pro 8 as part of a panoramic imaging package at a special price directly from the manufacturer.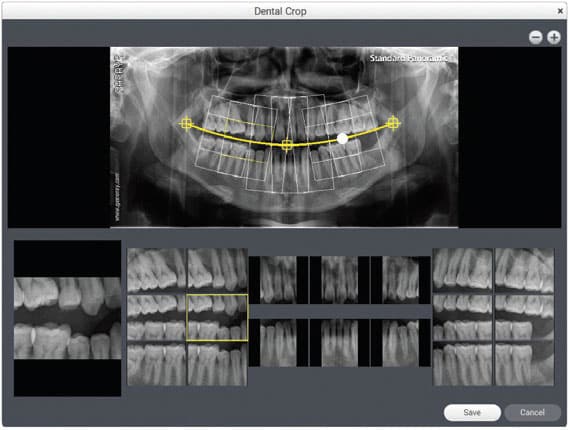 COMPACT, SLIM DESIGN
Panoramic equipment is a necessity, but is space a problem? Afraid of floor damage from anchors? Need to check the studs in the inner walls? In the case of Genoray's Papaya, all of these problems are solved through perfect balance. In addition to the industry's best minimum space requirements, the Papaya can be installed and scanning in less than 30 minutes without affixing anything to the wall or floor.
Featuring cutting-edge technology, Genoray's complementary metal oxide semiconductor (or CMOS) panoramic sensor has a laser guidance system  for more accurate positioning and can extract multiple layers in a single shot. Equally helpful, the selectable multi-focus function delivers crisp images with excellent diagnostic detail.
Besides the standard panoramic function, the Papaya's high-quality images offer clinical versatility in that they can also be utilized with a convenient dental crop function (Figure 1) that allows a single panoramic image to be extracted to an 18-shot full-mouth series (FMX).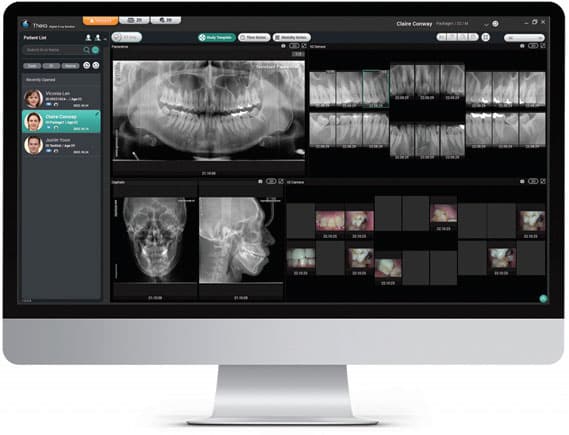 SYSTEM FLEXIBILITY
In many clinics, bitewing images are difficult to shoot due to sensor size or the patient's oral structure, but the Papaya's advanced bitewing mode allows clinicians to take precise diagnostic images. The Theia function can also be changed to the FMX mount for easier and faster insurance claims.
Beyond these clinical features, Theia is a complete DICOM image viewer system that can interface with specific modalities, such as IO, PX, CX, DC and even CT. So it shouldn't be a surprise that Theia offers various report exports, a real-time filter, and an interactive layout view (Figure 2), as well as multiple annotation tools.
The Microsoft Surface Pro 8 offered in this promotion is set up with the Theia server system to recall patient images from any room through wireless networking. Whether it's at the front desk, operatory or patient consultation room, dental teams enjoy a true digital workflow.
CONCLUSION
At a time when many companies are raising prices due to raw material shortages, the opportunity to buy this package at a direct sales price presents an unparalleled opportunity for offices to get ahead of the competition. Genoray would like to lend a helping hand during these tough times by offering the complete Papaya system for only $16,900.
Genoray
855-436-6729
From Decisions in Dentistry. November 2022;8(11)23.