New Twists in Restorative Materials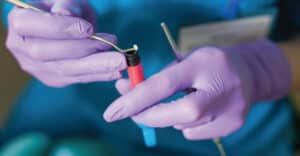 Recent years have witnessed exciting developments in dental restorative technologies, especially in the realms of composites and bioactive materials designed to streamline procedures and improve outcomes. Besides bioactive restoratives and cements formulated to prevent demineralization, promote remineralization, and stimulate dentin formation when used as a liner or pulp-capping agent, clinicians can now choose composites and bonding agents featuring caries-fighting antimicrobial properties. And then there's the debut of single-shade composite systems which simplify restorative care and inventory needs, while also saving valuable chairtime.
With a PhD in biomedical engineering, Nathaniel Lawson, DMD, PhD, director of the Division of Biomaterials at the University of Alabama at Birmingham School of Dentistry, provides unique perspective on these innovations. Emphasizing the need to first understand a material's properties before deciding if it's the right choice for the patient and case, he lends insights into what these breakthroughs mean to clinical practice.
Starting with bioactive restoratives and cements, he reports a new development in the bioactive space is a bioglass-containing, calcium-releasing flowable composite and adhesive. According to Lawson, research has shown the use of bioglass-containing flowable composite produces less demineralization around the margin than conventional flowable composite. In addition, using it in tandem with the bioglass-containing adhesive enhances the protective effect.
Antimicrobial restoratives are also gaining clinicians' interest. For example, Lawson points to a recent paper that describes three mechanisms used to prevent biofilm from attaching to dental composites: chemical release, surface patterning, and chemical modification.
Noting that chemical release suggests the composite releases some type of antimicrobial agent, he raises rhetorical questions concerning substantivity and possible effects on the material's physical-mechanical properties. "The initial question," Lawson says, "involves the agent's duration of release. And if the agent is only released for a few days, is there a long-term clinical benefit?" Another issue is whether the antimicrobial will have any effect on the composite's physical properties. More research is needed in these areas, he says.
The second mechanism is surface patterning, which involves modifying the composite's surface to physically discourage biofilm attachment.
"The third approach is the addition of a small molecule to chemically modify the surface of a composite to prevent biofilm attachment or kill pathogens that contact the surface," he explains. "One example of a small molecule used for chemical surface modification is a quaternary ammonium compound that provides a charge that can disrupt bacterial cell walls." There is now a commercially available composite with this modification.
Single-shade composite systems are another development that can make clinicians' lives easier. Now available from multiple companies, these materials are more translucent than conventional composites, which allows them to blend well with surrounding tooth structure. There are two general approaches to this technology, with some companies producing single-shade composite systems, while others offer composites in shade "families" or "clouds." According to Lawson, "A shade family or cloud would be one shade of composite that is translucent enough to replace several shades, but not necessarily the full spectrum. Another concept is structural color, which means the composite's filler particles are formulated to manipulate light to produce color without the use of pigment."
Naturally, both approaches limit the number of shades an office has to carry, while also reducing the time needed for shade matching. Together with the advent of bioactive restorative materials and those offering antimicrobial properties, dentists can now choose from an array of innovative solutions designed to increase productivity and enhance clinical outcomes.
Nathaniel Lawson, DMD, PhD, serves as director of the Division of Biomaterials at the University of Alabama at Birmingham (UAB) School of Dentistry, where he also directs the biomaterials residency program. A national and international lecturer, he was honored with the Stanford New Investigator Award and 3M Innovative Research Fellowship, both from the American Dental Association. Lawson, who also works as a general dentist in the UAB faculty practice, can be reached at [email protected].
From Decisions in Dentistry. August 2022;8(8)46.