Product Profile: Perio protocols use the PerioLase MVP-7 from Millennium Dental Technologies
Minimally invasive therapies improve periodontal outcomes and speed recovery time.
MINIMALLY INVASIVE THERAPIES IMPROVE PERIODONTAL OUTCOMES AND SPEED RECOVERY TIME
FEATURES AND BENEFITS
LANAP PROTOCOL: A MINIMALLY INVASIVE PERIODONTAL THERAPY
In light of the fact that more than 50% of American adults have some form of periodontal disease, there is a definite need for effective treatment protocols that patients accept.
The LANAP protocol, Millennium Dental Technologies' patented laser periodontitis treatment, helps dentists grow and differentiate their practices by offering an advanced, scientifically proven technique using the company's PerioLase MVP-7 Nd:YAG laser.
Compared to other treatment modalities, this minimally invasive approach means less pain and shorter recovery time — and with minimal loss of tissue height and volume.
In addition, the LANAP protocol preserves esthetics. Post-treatment patients will not have "long teeth" or the root sensitivity sometimes associated with traditional periodontal surgery.
As evidence of the protocol's efficacy, more than 375 positive outcome cases have been published; these include results showing a 50% reduction of probing depths, reduced bleeding on probing, radiographic demonstration of bone growth, and two human histological studies showing new attachment and regeneration on previously diseased root surfaces.
LANAP practitioners report that the clinical benefits have led to case acceptance rates surpassing 85%.
Millennium Dental Technologies' support services include five days of training with live patient, hands-on experience and in-office practice and staff integration for immmediate profitability. It also provides a clinical results guarantee.
LAPIP PROTOCOL: DESIGNED TO SAVE AILING AND FAILING IMPLANTS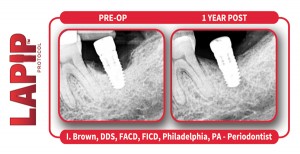 The LAPIP protocol, which is a laser peri-implantitis and peri-implant mucositis procedure, has been introduced for the treatment of ailing and failing implants.
Similar to the LANAP protocol, LAPIP is a minimally invasive approach offering greatly reduced tissue trauma, which aids clinicians' ability to preserve compromised implants.
As with LANAP and natural dentition, the LAPIP protocol encourages implant osseoreintegration and bone regeneration.
This technique also helps eliminate inflammation, as the PerioLase MVP-7 free-running pulsed Nd:YAG laser selectively targets pathogens associated with inflammation 4 mm to 6 mm into tissue beyond the end of the fiber.
BOTTOM LINE
The minimally invasive LANAP and LAPIP protocols help dentists take control of periodontal cases while maximizing patient smiles and delivering a solid foundation for restorative work — all with an immediate return on investment. Millennium Dental Technologies supports clinicians with comprehensive training, and also offers a LANAP protocol clinical results guarantee. These are just some of the reasons why dentists are adding these therapies to their periodontal armamentariums.