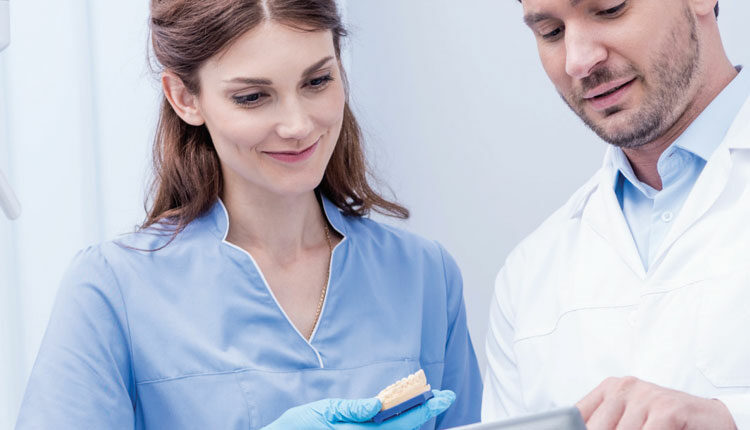 LIGHTFIELDSTUDIOS/ISTOCK/GETTY IMAGES PLUS
Maximizing Utility of the Dental Hygienist
Leveraging a dental hygienist's advanced skill set can improve efficiency and productivity in any dental practice.
PURCHASE COURSE
This course was published in the December 2020 issue and expires December 2023.
The authors have no commercial conflicts of interest to disclose.
This 2 credit hour self-study activity is electronically mediated.
EDUCATIONAL OBJECTIVES
After reading this course, the participant should be able to:
Describe some of the expanded functions that can be performed by appropriately trained and certified dental hygienists.
Explain the practice benefits of utilizing dental hygienists to their full potential.
Discuss oversight of expanded-function practice by dental hygienists, and the potential impact on patient satisfaction from this clinical model.
---
The profession of dental hygiene began in 1913 when Irene Newman introduced dental hygiene duties into a clinical setting.1 As the scope of practice has grown over the years, dental hygienists can now become certified in specialized skills. The ability to provide these additional skills — local anesthesia (LA), nitrous oxide, laser therapy, antibiotic local delivery, restorations, and silver diamine fluoride (SDF) application — differ from state to state. In order to operate as productively and efficiently as possible, dental practices must understand what dental hygienists are allowed to do in that state. Furthermore, in light of constraints brought on by the COVID-19 pandemic, utilizing the dental hygienist to the fullest can boost overall productivity across the entire dental team.
Fico and Lagoe2 reported that dental literacy increased when patients were exposed to a dentist and dental hygienist who exhibited a collaborative approach to care. Likewise, patients experienced more dental anxiety and mistrust when exposed to a dental team that did not have open communication between the dental hygienist and dentist.2
Pain Management
Local Anesthesia — Dental hygienists were first allowed to administer LA in 1971.3 Currently, only five states do not allow them to administer LA: Delaware, Georgia, Mississippi, North Carolina and Texas (Figure 1). The Commission on Dental Accreditation and American Dental Education Association have issued rigorous educational guidelines to ensure dental hygiene students receive quality training in the administration of LA.4
In dental hygiene practice, indications to use LA include periodontal pocket access, healthiness/unhealthiness of the gingival tissue, root morphology, bleeding control, and patient tolerance to pain and sensitivity.5 In a broader scope, when dental hygienists have the ability to administer LA, it will reduce interruptions to the dentist and allow the team to be more effective. It should also boost patient satisfaction, as chairtime will be shorter due to better time management and increased office efficiency.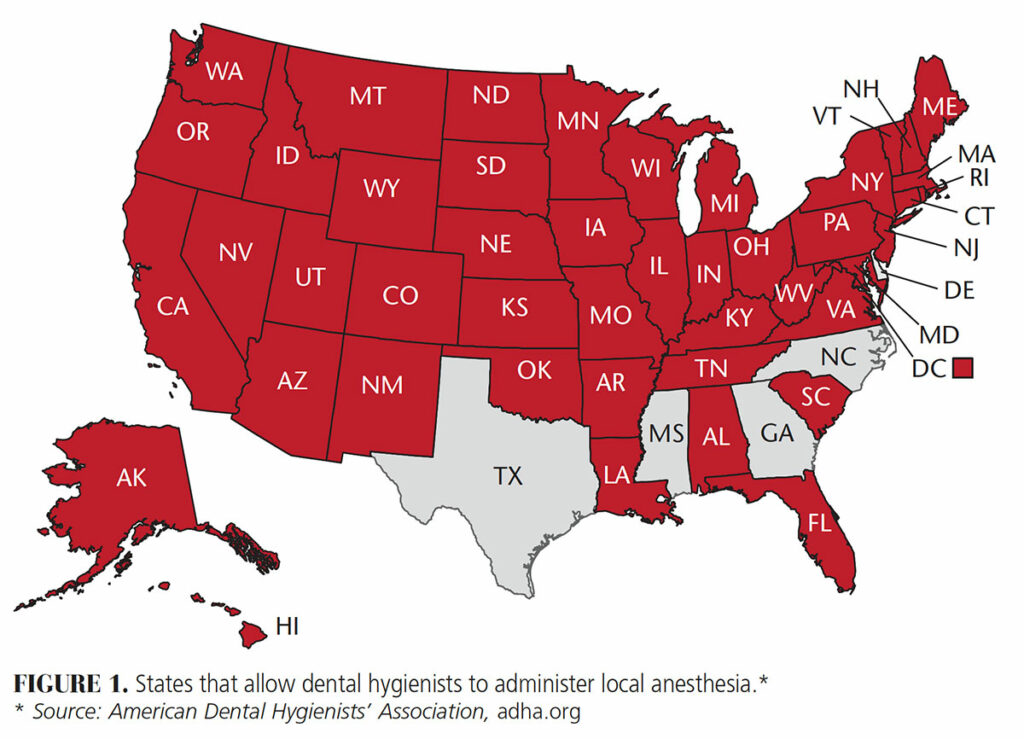 Nitrous Oxide — Dental hygienists were first allowed to either administer or monitor nitrous oxide — or do both — in 1971.6 At present, 33 states allow dental hygienists to either administer or monitor this agent — or perform both functions (Figure 2). It is the responsibility of the dental hygienist and dentist to know their specific state regulations, and understand the main terms: administer, monitor and terminate. Administer is defined as dispensing nitrous oxide.7 Constant observation of a patient under the use of nitrous oxide is termed monitoring.7 To titrate a patient off of nitrous oxide is labeled terminate.7 Each of these steps must be understood and followed, per state statute.
A dental hygienist educated in the delivery of nitrous oxide will understand all safety requirements.8 In addition, prior to using the system, the clinician will need to perform a thorough inspection, keying in on the safety features in every nitrous delivery system, including the reservoir lines, nosepieces, connectors and gas tank levels.9 As with LA, the Commission on Dental Accreditation offers an exam for licensure in the states that allow dental hygienists to use nitrous oxide.
The use of nitrous oxide is effective in reducing dental anxiety.8 Similar to LA, utilizing dental hygienists for this procedure increases team efficiency within the practice.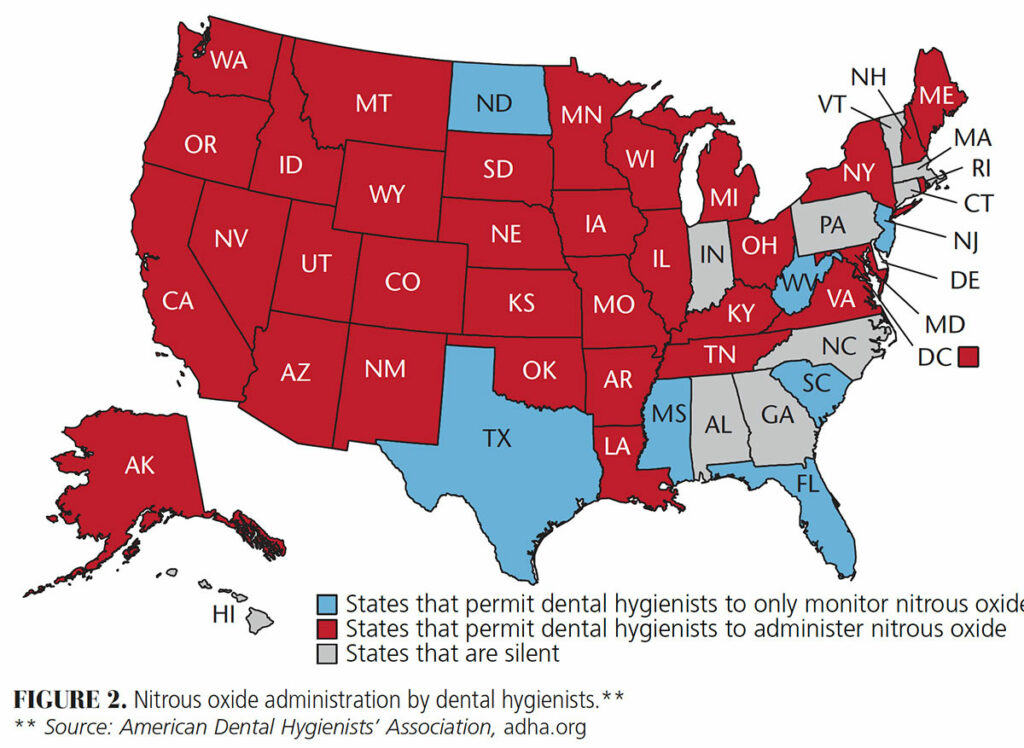 Dental Lasers
The use of lasers in dentistry began in 1994.10 Currently, 16 states have a written policy explicitly allowing laser use by dental hygienists (Table 1).11 Thirty states have varied reports in their state practice acts, ranging from no mention of laser use to saying only a dentist can use a laser, or that a dental hygienist can use a laser for gingival curettage.11 The remaining four states are either developing a policy, or simply declare "no."11
The energy from the laser is reported to reduce bacterial loads, debride root surfaces, and provide biostimulation.12 In 2015, Smiley et al13 conducted a systematic review that noted a nominal pocket reduction with the combination of scaling and root debridement and laser treatment. More recent research reported positive results with the use of lasers as an adjunct to nonsurgical periodontal therapy. Incorporation of laser therapy along with scaling and root debridement will decrease subgingival pathogens and increase the host healing response.14
Dental lasers can also be used for whitening and soft tissue procedures. As an example of the latter, an estimated 3.7 billion people under age 50 have herpes simplex virus 1 infection globally. This condition primarily affects the lips, producing what are commonly called cold sores or fever blisters.15 The treatment goals of a dental hygienist using laser therapy for herpetic lesions are to reduce pain and bacterial activity, which will shorten the overall healing time.16
Often patients will seek a dental practice that offers laser therapy, even if they do not have a complete understanding of the benefits. It is imperative that dental hygienists are aware of their scope of practice (as per the state they are licensed in) and receive appropriate training. When considering a laser investment for the dental hygienist, cost, ease of use, cordless foot pedal control, and portability are key considerations in the purchase decision.
In addition to organizations that provide laser training and certification for dental hygienists, continuing education courses will allow providers to receive laser certification if they didn't receive it in dental hygiene school. The use of laser therapy by dental hygienists has the potential to improve care and increase office productivity.
Antibiotic Local Delivery
The local delivery of antibiotics in subgingival therapy is sometimes used as adjunctive treatment. Mechanical disruption and removal of bacteria located subgingivally is considered a first line of defense in controlling periodontal disease.17 Once the bacteria in the sulcus is removed with mechanical instrumentation, placing an antibiotic locally has been shown to improve the health of the pocket.18,19 Local antibiotics can be placed in conjunction with scaling and root planing or a periodontal maintenance visit.
Dental hygienists can place locally delivered antibiotics without the need for LA, but providers must know their state's scope of practice related to prescriptive authority. Five states — Colorado, Maine, Montana, New Mexico and Oregon — have dental hygiene prescriptive authority, which allows dental hygienists to provide these services as deemed appropriate, without specific authorization. The remaining states adhere to general supervision, where a dentist needs to authorize prior to services, but need not be present.20 The addition of medicaments to a dental hygiene treatment plan will increase office production.
Restorative Functions
A few states allow practice by an expanded function dental hygienist. An expanded function dental auxiliary (EFDA) is a dental assistant or dental hygienist who has taken a board-certified course that allows for provision of one or more of the following services:
Placing provisional restorations
Placing provisional crowns
Removing provisional crowns
Placing matrix bands
Orthodontic appliances
Impressions
Limited endodontic procedures
Placing composite or amalgam in a prepared tooth
Multiple other duties related to the scope of practice, per state licensure
In 1972, it was noted that dental hygienists were allowed to condense, carve and adjust amalgam restorations.21 In the 1980s, this role was termed basic qualified personnel or advanced qualified personnel.21 In the 1990s, the expanded function position was more visible in small dental practices.21 Foster et al22 conducted a study evaluating attitudes associated with education of an EFDA, geographic practice patterns, and access to implementation. The results of this 2019 study indicated dental practices were using EFDAs to help increase revenue and not to increase access to care in needed populations. The authors reported the majority of EFDAs were certified dental assistants with one to five years in practice, and mainly employed in practices that did not participate in Medicaid.
It is worth noting that compared to a dental assistant, a dental hygienist can train for additional expanded functions. There are 24 states, for example, that permit full restorative hygiene.4 The Commission on Dental Accreditation for dental hygiene programs does not include restorative training; however, if the dental hygiene school is in a state that recognizes expanded functions, then it is included in the curriculum.4 A survey completed in the early 1990s related to salary for an EFDA dental hygienist and an EFDA dental assistant reported that dental hygienists could increase their salary by 5% to 10% and dental assistants by 30% to 40%.21 Although use of a dental hygienist with restorative skills (within their scope of practice) is limited, it is considered an asset to practices involved in the delivery of care to a lower socioeconomic community.
Silver Diamine Fluoride
As a chemotherapeutic agent that will change hydroxyapatite into fluorapatite,23 SDF is an effective and low-cost medicament to arrest caries in primary and permanent dentition. It can also be used to reduce sensitivity. The downside it that it discolors the tooth, which may be viewed as a negative.24,25 Dental hygienists can place SDF on a diagnosed caries lesion.25
The American Dental Association's Evidence-Based Clinical Practice Guideline on Nonrestorative Treatments for Carious Lesions supports the use of SDF for controlling caries and tooth sensitivity.26 Reapplication of SDF every six months is recommended to maintain a tooth that has not been restored.27 The reapplication/follow-up may be difficult, however, as the most vulnerable, underserved populations with high caries risk may not have a dental home.27 Understanding the scope of practice in the state in which the dental hygienist practices is paramount to using SDF in a manner that supports clinical effectiveness and efficiency.
Team Collaboration
The keys to a successful dental practice and positive work environment are a commitment from each team member to maintain open communication and engage in lifelong learning. Collaboration is needed from all levels within the practice, starting and ending with the owner, who should set an example for all staff (clinical and nonclinical) to follow. Hamasaki et al28 studied the effect of communication between dentists and dental hygienists on patient satisfaction. They reported increased satisfaction and reduced dental anxiety in offices where communication between dentists and dental hygienists was in sync during care planning and treatment discussions with patients.
Additionally, in light of new protocols brought on by the COVID-19 pandemic, open communication among team members is increasingly important not only to team safety, but also patient safety. Considering the financial impact of increased costs for personal protective equipment and reduced patient volume due to the pandemic, utilizing dental hygienists to their fullest potential (within their training and scope of practice) can help keep practices financially viable.
Conclusion
The overall goal in dental practice is to deliver quality care. With appropriate education, necessary certification, and within the bounds of state law, expanding the responsibilities of the dental hygienist can prove an asset to any practice.
Increased collaboration between the dentist and dental hygienist has been shown to boost patient satisfaction and decrease mistrust.2,28 The patient experience also improves in offices that encourage open communication among team members and strive to educate patients with a cohesive and caring message.
In closing, using dental hygienists to their full potential will not only improve overall efficiency and productivity, it also fosters loyalty and word-of-mouth referrals as patients witness firsthand how the dentist values and respects the advanced skills the dental hygienist is qualified to deliver.
References
Hakes H. The history of dental hygiene: Development through the years. Available at: https:/​/​www.todaysrdh.com/​the-history-of-dental-hygiene-development-through-the-years/​. Accessed November 2, 2020.
Fico A, Lagoe C. Patients' perspectives of oral healthcare providers' communication: Considering the impact of message source and content. Health Commun. 2018;33:1035–1044.
Medical-Dental Care Integration and Dental Hygiene. Access. 2020;34:17.
Rothen M, Chou G, Kim A. Advances in the scope of restorative dental hygiene practice. Access. 2019;33:12–15.
Logothetis D, Fehrenbach M. Local anesthesia options during dental hygiene care: Answers to common questions about pain control in the hygiene operatory. RDH. 2014;34:54–90.
Aboytes D. A regulatory look at nitrous oxide delivery. Dimensions of Dental Hygiene. 2018;16(3):17–19.
Malamed S, Dolan J. Sedation. A Guide to Patient Management. 5th ed. St. Louis: Mosby Elsevier; 2010:4–6,166–174.
White A, Giblin L, Boyd L. The prevalence of dental anxiety in dental practice settings. J Dent Hyg. 2017;91:30–34.
Donaldson M, Donaldson D, Quarnstrom F. Nitrous oxide–oxygen administration: When safety features no longer are safe. J Am Dent Assoc. 2012;143:134–143.
Laser Use in Dentistry. Available at: https:/​/​www.webmd.com/​oral-health/​guide/​laser-use-dentistry. Accessed November 2, 2020.
Liberman L, Hutto P, Dudley A. Treating herpetic lesions with laser therapy. Dimensions of Dental Hygiene. 2020;18(4):42–45.
Low S, Davis K. Incorporating lasers into dental hygiene care. Available at: https:/​/​www.rdhmag.com/​patient-care/​lasers/​article/​14072999/​incorporating-lasers-into-dental-hygiene-care. Accessed November 2, 2020.
Smiley C, Tracy S, Abt E, et al. Systematic review and meta-analysis on the nonsurgical treatment of chronic periodontitis by means of scaling and root planing with or without adjuncts. J Am Dent Assoc. 2015;146:508­–524.
Petrovic M, Kannosh I, Milasin J, et al. Clinical, microbiological and cytomorphometric evaluation of low-level laser therapy as an adjunct to periodontal therapy in patients with chronic periodontitis. Int J Dent Hyg. 2018;16:e120–e127.
World Health Organization. Herpes simplex virus. Available at: https:/​/​www.who.int/​news-room/​fact-sheets/​detail/​herpes-simplex-virus. Accessed November 2, 2020.
Tumlinson J. Getting started with lasers in hygiene. Available at: https:/​/​cdeworld.com/​ebooks/​getting-started-with-lasers-in-hygiene. Accessed November 2, 2020.
Administration of ARESTIN. Available at: https:/​/​www.rdhmag.com/​home/​article/​16409975/​administration-of-arestin. Accessed November 2, 2020.
Lessem J, Hanlon A. A post-marketing study of 2805 patients treated for periodontal disease with Arestin. J Int Acad Periodontol. 2004;6(Suppl 4):150–153.
Tan O, Safii S, Razali M. Commercial local pharmacotherapeutics and adjunctive agents for nonsurgical treatment of periodontitis: A contemporary review of clinical efficacies and challenges. Antibiotics (Basel). 2020;9:11.
Dental hygiene practice act overview: Permitted functions and supervision levels by state. Available at: https:/​/​www.adha.org/​resources-docs/​7511_​Permitted_​Services_​Supervision_​Levels_​by_​State.pdf. Accessed November 2, 2020.
Seckman C. Threes a crowd? Available at: https:/​/​www.rdhmag.com/​career-profession/​personal-wellness/​article/​16403773/​threes-a-crowd#:~:text=In%20Texas%2C%20expanded%20functions%20have,present%2Dday%20 duties%20are%20ambiguous.&text=That%20will%20be%20the%20RDHAP,work%20independently%20 of%20the%20dentist. Accessed November 2, 2020.
Foster N, Willette A, Furgeson D. Practice patterns and attitudes of expanded function dental auxiliaries in the state of Maine. J Dent Hyg. 2019;93:32–39.
Bershaw K. Strategies and products for real world applications of CAMBRA. J Calif Dent Hygienists' Assoc. 2016;33:17–18.
Chhokar S, Laughter L, Rowe D. Perceptions of registered dental hygienists in alternative practice regarding silver diamine fluoride. J Dent Hyg. 2017;91:53–60.
Farmer J, Singhal S, Dempster L, Quiñonez C. Effectiveness, safety, and acceptance of silver diamine fluoride therapy and its implications for dental hygiene practice: Position paper and statement from the Canadian Dental Hygienists Association. Can J Dent Hyg. 2018;52:192–207.
Braerman M. Clinical dental hygiene. Access. 2019;33:4.
MacLean J. A practical guide to silver diamine fluoride. Available at: https:/​/​dimensionsofdentalhygiene.com/​courses/​practical-guide-silver-diamine-fluoride/​. Accessed November 2, 2020.
Hamasaki T, Kato H, Kumagai T, Hagihara A. Association between dentist-dental hygienist communication and dental treatment outcomes. Health Commun. 2017;32,288–297.
From Decisions in Dentistry. December 2020;6(11): 40-43.