Maximize the Effectiveness of Surface Cleaning and Disinfection Protocols
CaviWipes 2.0 offer high material compatibility, efficacy against a broad spectrum of pathogens, and ease of use.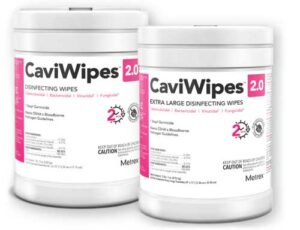 The importance of an effective infection prevention protocol continues to grow as dental practices provide essential patient care during a global pandemic. Simple, yet powerful solutions — with high-level evidence to support them — are key to safe and effective oral healthcare. Kerr TotalCare has been providing dentists with these types of solutions for more than 20 years, and CaviWipes 2.0 are an excellent example. With a high level of material compatability, efficacy against a wide variety of pathogens — including emerging ones — and a simple, one-step process, CaviWipes 2.0 are an outstanding addition to any practice's infection control plan.
Material Compatibility
Proper cleaning and disinfecting are more important than ever in light of the ongoing COVID-19 pandemic. Efficacy and safety are key considerations when choosing a disinfectant product; however, clinicians may not realize that material compatibility is just as important. Dental equipment surfaces are composed of a variety of materials, and a disinfectant not suitable for certain surfaces can hinder the product's efficacy and/​​​​​or damage surfaces. A recent study tested the material compatibility of CaviWipes 2.0 against common materials found in dental practices, and results showed the product demonstrated high levels of compatibility with the plastic, metal and fabric surfaces tested.1 
Emerging Viral Pathogens Claim
The U.S. Environmental Protection Agency (EPA) is the regulatory authority that determines the safety and efficacy of surface disinfection agents. Products already EPA certified can go through an additional process, which, upon successful completion, enables the manufacturer to make an emerging viral pathogen claim.2 In order to successfully complete this two-stage process, the product must show efficacy against difficult-to-kill viruses. CaviWipes 2.0, with quaternary ammonium as the active ingredient, achieved the EPA's emerging viral pathogen claim, demonstrating two-minute effectiveness against a variety of pathogens, from multidrug-resistant bacteria to enveloped viruses — including SARS-CoV-2 and its variants. 
Ease of Use
When ensuring safety in the dental practice setting, corners should never be cut. However, choosing products that provide a high level of effectiveness in a shorter amount of time is just common sense. And CaviWipes 2.0 meet this standard with their ability to provide both cleaning and disinfecting properties. Plus, in the absence of visible debris, only one wipe is needed to achieve both cleaning and disinfection. On soiled surfaces, the two-wipe method is still recommended.3
To Learn More
For more information on how CaviWipes 2.0 can boost any office's infection prevention protocol, visit kerrdental.com or call 800-KERR-123.
Kerr TotalCare
800-KERR-123
kerrdental.com
References
Metrex Infection Prevention. Evaluating the Material Compatibility of CaviWipes 2.0. April 2021.

 

U.S. Environmental Protection Agency. What Is an Emerging Viral Pathogen Claim? Available at:

 

https:/​/​www.epa.gov/​coronavirus/​what-emerging-viral-pathogen-claim. Accessed September 9, 2021.
U.S. Centers for Disease Control and Prevention. Cleaning & Disinfecting Environmental Surfaces. Available at: https:/​/​www.cdc.gov/​oralhealth/​infectioncontrol/​ faqs/​cleaning-disinfecting-environmental-surfaces.html. Accessed September 9, 2021.

 
From Decisions in Dentistry. October 2021;7(10)25.