KOL Forum: Oral-B Genius from Oral-B
Key opinion leaders offer valuable perspective on clinical topics that will help raise your level of care.
BLUETOOTH-ENABLED BRUSH TRACKS BRUSHING TECHNIQUE FOR IMPROVED ORAL HYGIENE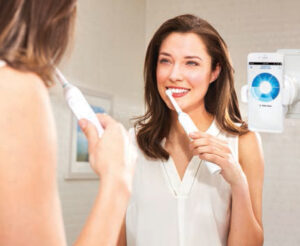 We know that the long-term success of dental treatment is a responsibility that we share with our patients. Yet we see patients daily with poor oral hygiene, and 46% of American adults have mild, moderate or severe periodontitis1 — with an even greater number experiencing gingivitis. While there are many choices in toothbrushes, patients still don't brush as often or as well as they should. The most recent choice is the Oral-B Genius, an innovative power toothbrush that's energizing my patients and practice.
From my perspective, the most exciting aspect of the Oral-B Genius is its Position Detection Technology, available in the Oral-B app. This is the first toothbrush to use motion sensor technology. Combined with Bluetooth technology and smartphone video recognition, it can detect brush position and how brushing is being performed. Instant feedback lets patients know how well they're brushing; this includes a visual warning if they're brushing too hard. In this case, brush speed automatically slows. Users even receive a brushing score. My patients tell me this is motivating and helps improve their technique. What's more, patients using a Bluetooth-enabled device brush for 2 minutes, 24 seconds on average, compared with an average of about 45 seconds based on many studies using other options.2,3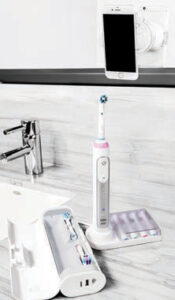 The Oral-B Genius incorporates the proven Oral-B CrossAction brushhead, with 48,800 bristle movements per minute for superior plaque removal, especially along the gumline. The innovative Oral-B Genius includes oscillating-rotating technology validated in a Cochrane group independent systematic review that concluded this was the only power brush technology demonstrating evidence of superior plaque and gingivitis reduction compared with manual toothbrushing.4 Knowing that I'm prescribing evidence-based treatments and products is important to me.
In today's technology-driven world, I believe embracing new technology is critical. To help our patients experience the Oral-B Genius, we're using the Crest Oral-B Test Drive Program. The program is simple. We keep a brush handle in each operatory, follow the disinfection protocol, and use a disposable brushhead for each patient. We receive these at no charge. This program helps educate patients more effectively — and, almost invariably, they purchase a brush after feeling the difference. I like to leverage the Test Drive Program and prescribe the brush. It takes two minutes, and then my dental hygienists reinforce the message and encourage patients to purchase the brush. We've trained everyone in the office to participate. Our bottom line has improved, staff receive incentives, and our patients' oral health benefits. It's a great opportunity.
My patients consider the Oral-B Genius "cool" and perceive our office as cutting edge. As a general dentist, I'm gratified to see how motivated my patients are, and the great results they are achieving.
References
Eke PI, Dye BA, Wei L, et al. Update on prevalence of periodontitis in adults in the United States: NHANES 2009 to 2012. J Periodontol. 2015;86:611–622.
British Dental Health Foundation. Too busy to brush your teeth? Available at: dentalhealth.org/ news/ details/399. Accessed August 19, 2016.
IconMobile December Quarterly Report, 2014.
Yaacob M, Worthington HV, Deacon SA, et al. Powered versus manual toothbrushing for oral health. Cochrane Database Syst Rev. 2014;17:CD002281.
From Decisions in Dentistry. September 2016;2(09):54.