Impact of Health Care Reform on Preventive Care
One of the top agenda items for the new Republican administration is repealing and replacing the Affordable Care Act (ACA).
One of the top agenda items for the new Republican administration is repealing and replacing the Affordable Care Act (ACA). Although expansion of dental benefits under health care reform was limited to children and some states' Medicaid recipients,1 it has still impacted use of dental services. By examining data from the Agency of Healthcare Research and Quality's Medical Expenditure Panel Survey and Congressional Budget Office, researchers concluded that dental care utilization rates have risen half a percent per year for the past two years.2 Now half a percent may not sound like much, but it's more than double the annual growth rate of 0.2% that the researchers saw in data from the prior two decades.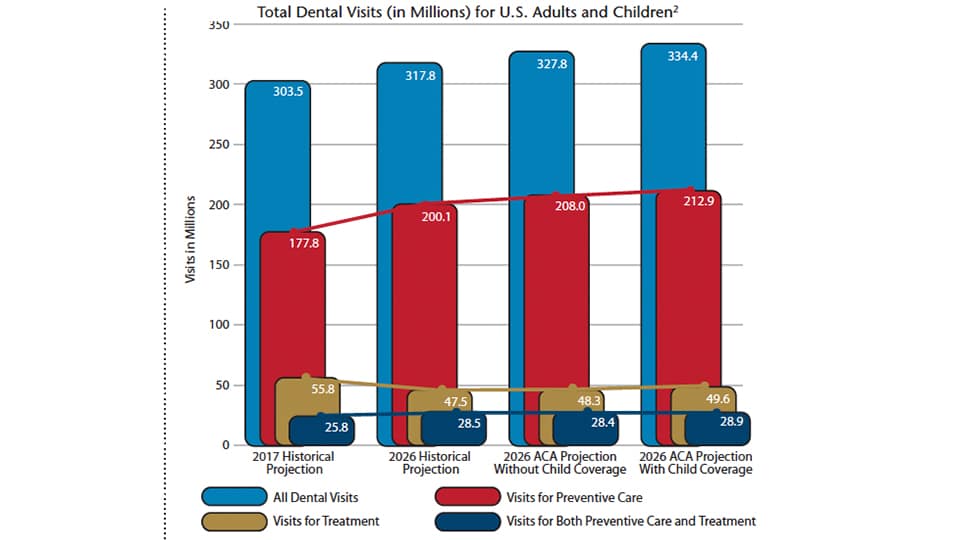 Using the data, the researchers also developed a forecasting model. It showed that ACA policies could boost dental utilization rates to 46.6% by 2026, primarily through increased use of preventive services. Without the ACA figured in, utilization rates would grow more slowly, reaching 44.6% by 2026.2 Considering this, dentists may wish to follow if — and how — dental coverage is factored into an ACA replacement plan.
Dentists and practice owners should also note the shift toward preventive care that other researchers have reported3 continues in this forecast model. This is especially true when continuation of ACA-like insurance expansion is factored in.
Because preventive care is traditionally reimbursed at lower rates than treatment services, this trend could mean dental practices will need to care for more patients with greater efficiency in order to maintain profit margins. Some preventive care also falls under the dental hygiene scope of practice, which could mean the ratio of dental hygienists to dentists may change in the future, particularly with the emergence of the midlevel practitioner.
---
REFERENCES
Henry J. Kaiser Family Foundation. Status of State Action on the Medicaid Expansion Decision. Available at: kff.org/health-reform/state-indicator/state-activity-around-expanding-medicaid-under-the-affordable-care-act/. Accessed January 12, 2017.
Meyerhoefer CD, Panovska I, Manski RJ. Projections of dental care use through 2026: Preventive care to increase while treatment will decline. Health Affairs. 2016;35:2183–2189.
Manski RF, Brown E Jr. Agency for Healthcare Research and Quality 2007. Dental Use, Expenses, Dental Coverage and Changes, 1996 and 2004. Available at: meps.ahrq.gov/mepsweb/data_files/publications/cb17/cb17.pdf. Accessed January 12, 2017.
From Decisions in Dentistry. February 2017;3(2):60.