Grandio Blocs and Discs By VOCO
Increase implant success with nanoceramic hybrid CAD/CAM materials.
As the technology that un­der­pins modern dentistry con­tinues to grow, change and expand in myriad directions, oral health professionals also grow, change and expand in terms of the materials and technologies they use. Computer aided design/computer aided manufacturing (CAD/CAM) is an excellent example, as this advanced digital ap­proach allows in-office milling of dental restorative materials. With this technology, dentists can deliver same-day restorations — so it's no wonder this segment of dentistry is growing at an accelerating rate.
Within this segment, practitioners are finding that in place of more traditional materials, such as zirconia and lithium disilicate, hybrid CAD/CAM materials offer properties that satisfy clinician and patient needs in unique and clinically useful ways.
Among other benefits, hybrid CAD/CAM materials are more economical than traditional CAD/CAM restoratives. They can also be milled to a much thinner margin than traditional ceramics without breaking or chipping. In addition, they help speed procedure times and allow simplified solutions in the event repairs are needed.
Some hybrid CAD/CAM restoratives offer tooth-like physical properties that benefit the practitioner and patient beyond these initial advantages. An example of this type of hybrid material is Grandio blocs and discs by VOCO. Grandio blocs and discs are a nanoceramic hybrid CAD/CAM material that expands and contracts (i.e., thermo-cycles) at the same rate as natural tooth structure. They also mimic human dentition's modulus of elasticity — flexing at the same rate as the surrounding tooth structure and thus providing enhanced longevity.
DENTAL IMPLANTS
One area in which this relatively new approach to milling materials is poised to revolutionize dentistry involves dental implants. According to the American Academy of Implant Dentistry, dental implants have a success rate of up to 97%,1 which is quite high — but is that a biologically functioning implant with no complications? In a study of the long-term survival of dental implants between 10 and 16 years after placement, researchers reported a cumulative complication rate of 48.03%2 — which means a substantial amount of chairtime was necessary following implant placement. This now gives us a 51.97% long-term biological and technical survival rate of dental implants with no complications over 10 to 16 years.
With peri-implantitis being the main biological complication affecting implant survival, could the final crown material be a contributing factor in long-term outcomes? Is it appropriate to use a zirconia implant with a zirconia abutment and have a final crown made of zirconia, with all three having virtually no modulus of elasticity?
FLEXURE STRENGTH
In terms of flexure strength, common crown materials used in the posterior region include all-zirconia, which has a flexure strength of 1400 megapascal (MPa) (preferred by 32% of clinicians in a survey by Makhija et al),3 porcelain fused to metal (PFM) at 1000 MPa (31%),3 and lithium disilicate at 440 MPa (21%).3 The common theory is the stronger a material's flexure strength, the better it  will perform in terms of long-term survival.
In a natural tooth that has a periodontal ligament and is able to flex with a high modulus of elasticity, this concept has proven true. In contrast, implants have an incredible amount of flexure strength, but a low modulus of elasticity, so they are unable to flex like a natural tooth. Although zirconia, PFM and lithium disilicate restorations have been used successfully with implants, should we look at restorative materials that offer more tooth-like properties to improve long-term implant survival?
Grandio blocs and discs by VOCO represent a promising nanoceramic hybrid material with a modulus of elasticity and thermo-cycling closest to that of natural teeth (Figure 1). With these properties, VOCO's nanoceramic hybrid blocs and discs could be one of the best materials for restoring dental implants. Here are some of the advantages and disadvantages compared to more traditional implant restorative materials.
ADVANTAGES OF GRANDIO BLOCS AND DISCS
Grandio blocs and discs are indicated for veneers, inlays, onlays, crowns and implant-supported crowns (Figures 2A and 2B). In addition to their remarkable tooth-like modulus of elasticity — which contributes to restoration longevity, as well as patient comfort — they reportedly can be more finely milled and achieve an even greater accuracy of fit due to their unique nanoceramic hybrid composition. This formulation also provides excellent polishability and esthetics comparable to pure ceramic CAD/CAM blocks or discs. Grandio blocs and discs can be processed with standard milling devices and are available in seven shades and two translucencies.4
SCENARIOS IN WHICH PRACTITIONERS MIGHT NOT CHOOSE VOCO'S NANOCERAMIC HYBRID MATERIAL
Grandio blocs and discs contain resin, so in cases where there is concern over known hypersensitivities to methacrylate, a more traditional CAD/CAM material composed entirely of ceramic would be appropriate. Additionally, while Grandio blocs and discs are the strongest in their class, in situations in which the CAD/CAM restoration will be exposed to an inordinate amount of load (due to tooth positioning or excessive bruxism, for example), selecting a traditional lithium disilicate or zirconia-based material may be more appropriate.
CONCLUSION
The most common materials used for restoring dental implants could be a reason for the high complication rate in terms of long-term biological success. VOCO's Grandio blocs and discs provide many advantages in helping implants potentially have a longer biological survival rate — and a key reason is their modulus of elasticity that approximates natural teeth. One of the top advantages of this property is the built-in fail-safe where the crown would be sacrificed from extreme forces for the survival of the implant and abutment.
Time will give us more answers to the survivability of hybrid CAD/CAM materials with implants, but Grandio blocs and discs look very promising.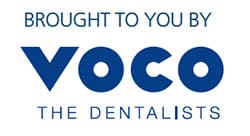 REFERENCES
 American Academy of Implant Dentistry. About Dental Implants. Available at: https://www.aaid.com/about/Press_Room/History_and_Background.html. Accessed February 3, 2020.
Simonis P, Dufour T, Tenenbaum H. Long-term implant survival and success: a 10–16-year follow-up of non-submerged dental implants. Clin Oral Implants Res

. 2010;21:772–777.

Makhija SK, Lawson NC, Gilbert GH, et al. Dentist material selection for single-unit crowns: Findings from The National Dental Practice-Based Research Network. J Dent

. 2016;55:40–47.

Data on file with VOCO America Inc.
From Decisions in Dentistry. March 2020;6(3):44.–45