Clinical Insights: The Next Generation of Loupes
SurgiTel's ErgoDeflection loupes offer dentists ergonomic support in addition to high-quality optics
SurgiTel, a leading manufacturer of high-quality dental and surgical loupes, has released its next-generation ErgoDeflection™ loupes. These loupes are designed to provide exceptional ergo­nomic support and unparalleled visual clarity to dental professionals and surgeons.
ErgoSystem technology
ErgoDeflection loupes are built on SurgiTel's patented ErgoSystem® technology, which allows for customizable alignment of the optics to the user's eyes. The viewing angle of the ErgoDeflection loupes can be customized to give clinicians their ideal working posture. Our design allows clinicians to work in a nonstatic position, which can prevent muscle fatigue.
This technology ensures a comfortable and ergonomic fit, reducing the likelihood of strain and fatigue during prolonged procedures. The loupes are also incredibly lightweight, which further adds to their comfort and ease of use. They are available in different magnification levels ranging from 3.5x to 6.5x.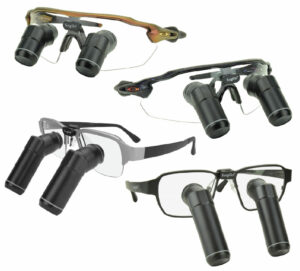 High-Quality Optics
The loupes' optics are made from high-quality, scratch-resistant glass that provides clear, distortion-free images, allowing for precise diagnosis and treatment. The loupes' design is based on several patents to give a good field of view, longer depth of field, better ergonomics, eye protection, and direct viewing. Additionally, the loupes come with SurgiTel's proprietary multi-layer, anti-reflective MicroCoating™ technology that provides maximum clarity, enhances the image contrast, and reduces glare, further improving the visibility of the surgical field.
Loupes include working distance caps that allow you to adjust your focal distance to ensure optimal working posture but also allows you to update your reading prescription, which helps save you on maintenance costs and downtime without our loupes.
Personal Testimony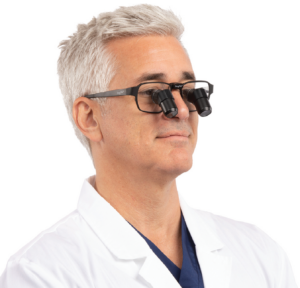 Dr. Morad, a practicing dentist for more than 15 years, recently had the opportunity to try out the ErgoDeflection loupes in his practice. He reported that the loupes significantly im­proved his ability to visualize the operative field and reduced neck and shoulder strain during long procedures.
Dr. Morad commented, "As someone who spends hours performing dental procedures, I appreciate the ErgoDeflection loupes' superior ergonomic design, which reduces the risk of musculoskeletal injury while also providing unmatched clarity and precision."
In conclusion, SurgiTel's next-generation ErgoDeflection loupes offer an exceptional combination of ergonomic support and visual clarity, making them an ideal tool for dental and surgical professionals. With their patented ErgoSystem technology, lightweight design, high-quality optics, and MicroCoating technology, these loupes provide unparalleled comfort and accuracy, allowing professionals to perform their best work.
SurgiTel
800-959-0153
From Decisions in Dentistry. June 2023;9(6):24.