Clear Aligner Therapy Remains in High Demand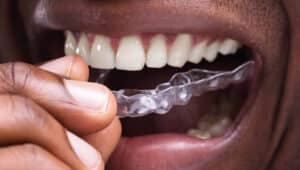 The allure of clear aligner therapy is easy to understand. In light of the benefits offered by this approach, interest from patients and providers is ramping up as advances in technology have broadened the scope of what can be treated with aligners.
Noting that "today's aligners are not what they were 15 years ago," Ricky E. Harrell, DMD, MA, program director for the Georgia School of Orthodontics, points to the advantages of aligner therapy: an esthetic appearance during treatment, easier maintenance and oral hygiene, and shorter treatment time. Compared to fixed orthodontics, he reports additional benefits, as well, including fewer appointments and faster chairtime during maintenance visits.
As dentists respond to growing demand and new options in aligner technology, more practices are embracing this esthetic option. However, Harrell cautions that before adding aligner services, providers need a clear understanding of orthodontics and the limitations of tooth movement. Without sufficient knowledge of these critical elements, treatment may fall short of the anticipated outcome. Similarly, providers should recognize situations in which this approach is an inferior choice to traditional orthodontics.
Another necessity is access to technology that allows adequate treatment documentation. This includes radiographs of the teeth and surrounding bone. A panoramic radiograph is just part of the diagnostic record, however, as Harrell asserts that cephalometric imaging is "absolutely necessary" to plan safe tooth movement. In addition, intraoral scans are typically required for aligner fabrication, which represents another investment for practices that are not already set up for digital impressions.
Case selection is also paramount to successful aligner care. "While fixed appliances can be used to manage almost all orthodontic situations, aligners cannot make the same claim," Harrell explains. Consequently, clinicians should understand the types of cases indicated for clear aligner therapy, and which require orthodontic referral. He suggests most general practitioners limit treatment to mild to moderate Class I malocclusions for correction of rotations and malalignment, as well as cosmetic changes. In cases involving malocclusions with a moderate or significant skeletal component, referral to an orthodontist is recommended. "Collaboration is needed anytime the dentist realizes treatment is not progressing as expected," he adds. "Of course, patient compliance is vital because if the aligners are not worn as prescribed, the result will not reflect the anticipated outcome."
Unlike fixed orthodontics, a key advantage is that aligners are self-governing. "This means that a set of trays can only accomplish the tooth movement that was programmed into them," Harrell says. "They cannot cause unintended movement, as can occur when maintenance is lacking with fixed appliances."
As noted, another benefit is that oral hygiene is easier to maintain during treatment. "We do not see the patterns of decalcification with aligners like we do with fixed appliances," he observes. "The ability to remove the appliance for professional or self-care mitigates some of the most difficult issues associated with fixed appliance therapy."
Today's patients also have the option of do-it-yourself treatment in which a company fabricates aligners from either the patient's self-taken impression or a technician's scan. Harrell condemns this approach as ill-conceived and unethical, saying, "When an oral screening and examination are not incorporated as part of treatment, we raise the opportunity for pathology and disease to go undiagnosed. Patients should only seek care under the direct supervision of a licensed and trained professional."
From a clinical perspective, that is prudent advice — and given growing demand for esthetic treatment and the advantages of clear aligners, this approach will continue to gain traction in offices across the country. Yet only through appropriate treatment planning and understanding the core principles of tooth movement can dentists hope to harness the increasingly sophisticated capabilities of modern aligner therapy.
From Decisions in Dentistry. October 2022;8(10)46.