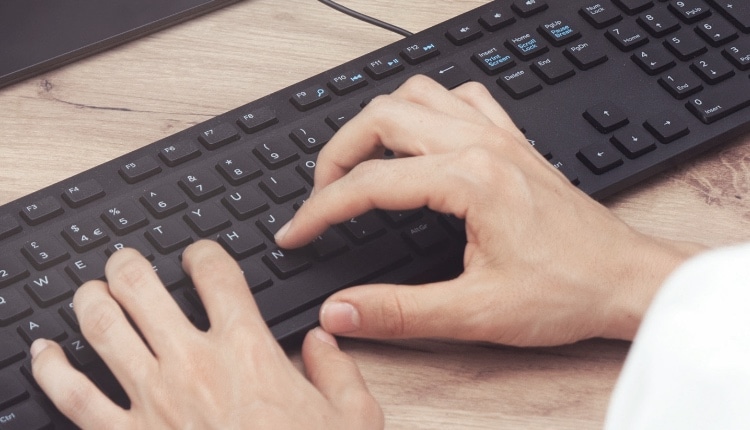 SIMPSON33/ISTOCK/GETTY IMAGES PLUS
CE Sponsored by Colgate: Improving Health With Digital Dentistry
Integrating digital technologies with traditional techniques will help achieve optimal oral health outcomes
PURCHASE COURSE
This course was published in the November 2020 issue and expires November 2023.
The author has no commercial conflicts of interest to disclose.
This 2 credit hour self-study activity is electronically mediated.
EDUCATIONAL OBJECTIVES
After reading this course, the participant should be able to:
Discuss the concept and benefits of digital dentistry, along with key components of the digital armamentarium.
Explain how digital technologies can support effective patient education, professional treatment and self-care.
Describe practical considerations for digital infrastructure, as well as recent advances in this area.
---
Introduction
Being connected is so important as we stay close to home during the pandemic. We need to connect with family and friends for support and emotional strength. But our physical health is equally important, so we must also stay connected with our healthcare professionals — especially the dentist. At the same time, dental teams need to stay connected with patients to ensure optimal oral health in these challenging times.
Our pre-COVID routines have been disrupted. Patients are working and staying at home, often in sweats or pajamas all day, and many are not brushing or flossing as they would if they dressed to go into work. The added enticement of easily available food — with the pantry and refrigerator so close by, filled with sugary, refined carbohydrate comfort food — adds a double whammy to oral health. And this is not considering the effects of bruxing due to stress brought on by the pandemic.
Smart toothbrushes offer a way for patients to stay connected with their home oral care. These new devices pair with apps to provide feedback on the frequency, duration and coverage of brushing to guide patients to better, more complete care. They also let patients add a fun twist to the daily routine with games, trivia and favorite songs while brushing. In short, smart toothbrushes allow patients to stay connected with effective self-care habits.
As part of the shift to digital dentistry, dental teams can support oral and systemic health by staying connected with patients and recommending the most advanced self-care technology available. Toward this goal, Colgate Oral Pharmaceuticals is pleased to sponsor this CE article exploring how digital advances can improve oral health outcomes.
—Phyllis A. Martina, RDH, MBA
Senior Professional Education Manager
Colgate Oral Pharmaceuticals
---
Carefully Considered Implementation of Digital Dental Technologies Can Help Raise the Level of Oral Healthcare
Many dentists become overwhelmed and, in fact, pressured to become up-to-date digital practitioners. There are claims from manufacturers, as well as lecturers and authors, that clinicians who practice the "old-fashioned way" are doing their patients a disservice. On the other hand, providers who achieve stellar results with traditional techniques may wonder if digital technologies will improve outcomes even further. Then there are those who believe digital devices will enhance results just by plugging them in. Given the advantages of digital dentistry, prudent professionals will carefully consider their current processes, assess how these technologies fit in, and then implement digital techniques with a cohesive, integrated plan.
Patient education is one of the first things to consider. Too often, a new patient presents with a dental issue and when quizzed about what the previous dentist did, gives a shrug and claims he or she has no idea. Within the context of traditional and digital dentistry, the key to better care and improved patient relationships is education. Something as simple as helping patients visualize what the clinician sees starts the conversation. Devices as simple as an intraoral camera1 or as complex as intraoral scanners or three-dimensional (3D) cone beam computed tomography (CBCT) can help achieve this goal. In addition, these technologies allow practitioners to more easily visualize issues, while simultaneously offering crucial diagnostic information.
INTRAORAL CAMERAS AND DIGITAL RADIOGRAPHY
There are many aspects to consider when deciding to "go digital." Among the basic technologies are digital radiography and intraoral cameras. While these and similar modalities require a display in each treatment room, with the use of tablets and cell phones the patient monitor does not have to be a complex installation. Digital devices output digital information that must be attached to a patient record. This is part of an electronic health records system, which becomes the backbone of the digital office. Without expanding on electronic health records, this technology provides easy, rapid and remote access to secure patient information, including chart notes and radiography. Within this system, a quality intraoral camera is indispensable for documenting cases and outcomes ranging from general hygiene to smile design or larger restorative needs.1,2
Digital radiography sensors have replaced film in a large percentage of dental offices. The American Dental Association Council on Scientific Affairs notes, "The advantages of digital radiography include a decrease in radiation exposure, speed in obtaining the image, ease of digital storage and electronic transmission of the image, and discontinued need for darkroom equipment. A digital radiograph can be adjusted for optimal diagnostic quality, including alterations in contrast, density, magnification and color."3 Simply stated, seeing an image at least 20 times the size of film facilitates diagnosis and patient education.4,5 Looking further ahead, artificial intelligence programs are being developed to aid diagnosis — and though in their infancy, these could certainly help providers deliver better care.
INTRAORAL SCANNING
One of the hottest topics today is digital impression scanning.6 Many dentists achieve excellent results with conventional impressions and cannot see the advantage of spending thousands on these units. Others think that if they are not getting stellar results with traditional techniques, switching to this digital platform will improve them.7 The overarching point is that practitioners still must be able to create excellent preparations to scan.
There is one caveat, though. It has been found that once a dentist starts using an intraoral scanner, caries preparations become better.8 This finding partly stems from the author's experience in helping develop what eventually became a popular scanning system. By viewing preparations on a monitor at 20x or more magnification, clinicians were able to see margins more clearly and note if there were any irregularities. The experience is not unlike a practitioner who migrates from natural vision to loupes, or moves up the scale from 2x to 4x — and even on to microscopes.9
An impression scanner must be able to "see" the margins clearly. At present, these devices cannot see through fluids, such as blood. This means retraction is a critical step, and some practitioners have found they achieve better scanning results by placing the margins at or above the gingival crest. This is not necessarily a bad thing, as with the advent of new restorative materials — such as zirconia and lithium disilicate — these supragingival margins, especially in the posterior, can be designed as part of precisely manufactured restorations that make these interfaces more accessible for oral hygiene.10
Along these same lines, successful long-term outcomes can also be supported with digital self-care technology,11 such as power toothbrushes that can easily reach and clean these margins, thus helping maintain marginal integrity.12 For example, clinicians can recommend new "smart" electric brushes and apps that detect biofilm buildup and underbrushed areas, allowing patients to improve self-care.13
To large degree, the push toward digital impressions is being driven by dental laboratories, as nearly all labs now do their design and creation with software. If a traditional impression or model is sent in, the lab scans it to create a digital file. By comparison, if the dentist creates an intraoral scan, it can be imported directly to a computer aided design (CAD) program before being sent to a computer aided manufacturing (CAM) system.14 With this setup, costs are typically lower, turnaround times are usually faster, and there is no chance of an impression being lost or delayed in the mail. In addition, many laboratories report that fewer remakes are needed.15 Occlusion is being addressed as the software improves — but, even at present, centric bite is accurate and, in most cases, only minor adjustment in excursions is needed. The benefits are shorter chairtime during the seating visit and a predictably precise result.
DIGITAL DESIGN AND FABRICATION
Another option is eliminating the laboratory entirely. In this scenario, the restoration (a crown, for example) is designed in-office and finished the same day with an in-office mill or 3D printer, thus the term same-day dentistry.16 Yet, even with in-office CAD/CAM systems, offices still have the option of sending the scan to the lab for fabrication of restorations ranging from bridgework to partials or complete dentures.
While in-office fabrication and one-visit dentistry are attractive to dental teams and patients, some systems use proprietary technology suited for only that manufacturer's components. Now that there are open-architecture, standard-output digital files, any scanner can integrate with various design and manufacturing software and hardware, opening up new possibilities in digital dentistry. A potential downside is that responsibility for a failure in the workflow could prove problematic.17 Unless these systems are assembled by a third party, the dental office should ensure that all processes work in harmony.
THREE-DIMENSIONAL PRINTERS
Another aspect of today's digital workflow is 3D printing. Whether in-office or lab-based, these systems can create almost anything currently made of acrylic, including dentures,18 and the costs are a fraction of that incurred with conventional fabrication. While there are no approved final crown or bridge restorations with today's smaller in-office systems, several materials can be printed as long-term provisionals. In addition, surgical guides, mouthguards, bruxing appliances and similar devices can be created in-house.
Together with software and materials, denture design is evolving, and the advent of faster processing and more economical materials can deliver a less expensive denture. In addition, if a patient should lose or significantly break a denture, it can easily be recreated from the archived files.19
CONE BEAM COMPUTED TOMOGRAPHY
Throughout nearly all facets of dentistry, the widespread use of 3D radiography has been a game changer in diagnosis and treatment planning. With CBCT, clinicians can readily visualize areas not previously visible, leading to a more predictable outcome for patients. For example, prior to removal of an impacted third molar, the patient typically might have been sent to a hospital for a computed tomography scan. In many cases, however, the cost and inconvenience — as well as the radiation due to inability for medical units to zoom in on a small 8×8 mm area — made this impractical. There are now dental CBCT units with small fields of view that are cost effective for an average practitioner to use.
For more complex surgical cases or when treating sleep apnea (where the provider wants to see the airway), units with a larger field of view make sense, as they let clinicians capture the entire field or collimate the area of interest to smaller fields of view. This reduces radiation exposure considerably. With today's technology, manufacturers have been able to maintain excellent resolution even with the larger fields of view — and with much lower radiation.20 In addition, some units offer screening modes with exposure levels21,22 less than a digital panoramic or full mouth series of radiographs.
In endodontics, the diagnosis of a fractured root or locating an accessory canal with CBCT has literally changed the ways dentists practice. In many cases, patients in pain were scheduled for root canal therapy, even if there was suspicion of a fracture.23 A common statement to the patient has been, "We think there is a fracture, or even we see a fracture with the microscope, but don't know the extent." The tendency has been to perform endodontic treatment and see what happens. Although these situations still exist and some fractures continue to confound diagnosis, CBCT increases the odds of successful outcomes. In other situations, the clinician cannot determine the exact location of the involved root (especially in a multirooted upper molar) or, if contemplating a surgical approach, where the lesion is buccal to lingual or mesial to distal. The use of CBCT helps clinicians make these determinations, allowing less invasive treatment.
During implant planning, in many cases it is imperative to get 3D mapping of the edentulous (or pre-extraction) area to be sure the bone is sufficient for implant placement.24 While guidance is not a guarantee of success, it reduces many of the variables. One example of negative sequelae is paresthesia if an implant impinges on the mandibular canal or similar structure. Or in cases in which a graft is placed, implants can penetrate the sinuses if a 3D map isn't used. Alternately, implants can be placed too close together, or seated either too deep into the bone or not deep enough.
Orthodontic treatment planning is another area where CBCT images can be helpful.22 Knowing the positions of unerupted teeth or impacted teeth, or recognizing developmental issues of the jaws, can lead to more predictable outcomes. In these scenarios, radiation dosage is a concern — especially with children — as most orthodontic scans will be full field of view, which would (in most situations) be greater than the usual panoramic and/or cephalometric imaging. In fact, the American Dental Association recommends that CBCT be prescribed only "when there is an expected diagnostic benefit for the patient or significant improvement in the clinical outcome."25 Although newer CBCT machines utilize a fraction of the radiation of earlier units, care still must be taken. When deciding to use 3D imaging, clinicians should consider whether the information rendered from the scan and the integration with intraoral scans allow a better prediction of the course of orthodontic treatment — and, in some situations, allow accelerated progress via more predictable sequencing and better-fitting aligners.
INFRASTRUCTURE CONSIDERATIONS
In order to coordinate these various technologies in practice, offices need proper infrastructure to store and display the information.26 In the past, this required a hardwired network of computers with a central server and specialized software. These two hub components serve as traffic controllers routing the data to and from various sources. Today's computer infrastructure is undergoing a change, as modern practice management systems may eliminate in-office servers by embracing cloud-based servers. In addition, dental teams can utilize wireless options for the in-room displays using tablets and other mobile devices. Patient information intake is replacing paper forms with a digital format, many with smart features, such as medical condition or medication alerts. These digital forms can be used in the office or via internet-based services that allow the information to be filled out on a home computer, tablet or smartphone.
As noted, the elimination of the expensive and complex server is an increasingly attractive option in dental practice. Many modern practice management systems are cloud based.27 Not only does this ensure backups are done automatically, software updates operate seamlessly. And since the data is in the cloud, there is virtually no network necessary, as each workstation is online via a web browser. This simplifies remote access and teledentistry because clinicians and consulting providers can access the data securely from anywhere.28 There are still some nondental processes that would benefit from a dedicated server, but these would be more likely data and file sharing of smaller magnitude. Reluctance to embrace electronic health records generally relates to concerns over data security and compliance with Health Insurance Portability and Accountability Act requirements. The companies offering these services have addressed these concerns and should be queried for details before making the decision to use a cloud-based system.
IN SUMMARY
In addition to the technologies discussed here, dental teams can harness other digital modalities designed to support better oral and systemic health. Among these are digital caries detection systems and minimally invasive operative procedures with special burs or lasers, as well as new bioactive dental materials. Advanced processes for delivering medicaments to hard and soft tissues leading to predictable remineralization, or, in the case of silver diamine fluoride or ozone, slowing down or arresting areas of decay, are all part of the dental armamentarium.29–32
As with all technology, processes come in rapidly and often leave just as quickly. Ultimately, this ongoing evolution is the fuel that drives dental teams and patients to embrace the full realm of digital advances that enhance oral and systemic health by allowing more effective self-care and in-office treatment.
References
Samaras C. Intraoral cameras: the value is clear. Compend Contin Educ Dent. 2005;26(Suppl 6A):456–458.
Christensen GJ. Important clinical uses for digital photography. J Am Dent Assoc. 2005;136:77–79.
American Dental Association Council on Scientific Affairs. The use of dental radiographs: Update and recommendations. J Am Dent Assoc. 2006:137:1304–1312.
Feuerstein P. Transitioning from film-based to digital radiography. Prac Proc Aesthetic Dent. 2006;18:380.
van der Stelt PF. Better imaging: the advantages of digital radiography. J Am Dent Assoc. 2008;139(Suppl):S7–S13.
Alghazzawi TF. Advancements in CAD/​CAM technology: options for practical implementation. J Prosthodont Res. 2016;60:72–84.
Ender A, Mehl A. In-vitro evaluation of the accuracy of conventional and digital methods of obtaining full-arch dental impressions. Quintessence Int. 2015;46:9–17.
Sakornwimon N, LeevailoJ C. Clinical marginal fit of zirconia crowns and patients' preferences for impression techniques using intraoral digital scanner versus polyvinyl siloxane material. J Prosthet Dent. 2017;118:386–391.
Maggio MP, Villegas H, Blatz MB. The effect of magnification loupes on the performance of preclinical dental students. Quintessence Int. 2011;42:45–55.
Ruiz JL. Avoiding subgingival margins for healthier dentistry: Using a supragingival preparation protocol. Dent Today. 2015;34:82,84,86.
Reitemeier B, Hänsel K, Walter M, Kastner C, Toutenburg H. Effect of posterior crown margin placement on gingival health. J Prosther Dent. 2002;87:167–172.
Jameson L, Malone W. Crown contours and gingival response. J Prosther Dent. 1982;47:620–624.
Colgate Announces Breakthrough Technology Designed to Revolutionize Oral Health. Available at: https:/​/​www.prnewswire.com/​news-releases/​colgate-announces-breakthrough-technology-designed-to-revolutionize-oral-health-300981306.html?tc=eml_​cleartime. Acccessed September 28, 2020.
Rinke S, Rödiger M, Ziebolz D, Schmidt AK. Fabrication of zirconia-reinforced lithium silicate ceramic restorations using a complete digital workflow. Case Rep Dent. 2015;2015:162–178.
California Dental Arts. Benefits of digital dental impressions. Available at: http:/​/​www.caldentalarts.com/​benefits-digital-dental-impressions/​. Accessed September 28, 2020.
Estafan D, David A, David S, Calamia J. A new approach to restorative dentistry: fabricating ceramic restorations using CEREC CAD/​CAM. Compend Contin Educ Dent. 1999;20:555–560.
Zaruba M, Mehl A. Chairside systems: a current review. Int J Comput Dent. 2017;20:123–149.
Dawood A, Marti Marti B, Sauret-Jackson V, Darwood A. 3D printing in dentistry Br Dent J. 2015;219:521–529.
Brouwer T. Improving accessibility with 3D-printed dentures. Available at: https:/​/​www.dentalproductsreport.com/​view/​improving-accessibility-3d-printed-dentures. Accessed September 28, 2020.
Scarfe WC, Farman AG, Sukovic P. Clinical applications of cone-beam computed tomography in dental practice. J Can Dent Assoc. 2006;72:75‒80.
Kohltfarber H. What is the radiation exposure from a digital cone-beam CT (computerized tomography) scan? Available at: https:/​/​hps.org/​publicinformation/​ate/​q11138.html. Accessed September 28, 2020.
Abdelkarim A. Cone-beam computed tomography in orthodontics. Dent J (Basel). 2019;7:89.
Aminoshariae A, Kulild JC, Syed A. Cone-beam computed tomography compared with intraoral radiographic lesions in endodontic outcome studies: a systematic review. J Endod. 2018;44:1626–1631.
Wothington P, Rubenstein J, Hatcher D. The role of cone-beam computed tomography in the planning and placement of implants. J Am Dent Assoc. 2010;141(Suppl 10):19S.
American Dental Association Council on Scientific Affairs. The use of cone-beam computed tomography in dentistry: An advisory statement from the American Dental Association Council on Scientific Affairs. J Am Dent Assoc. 2012;143:899–902.
Schleyer T, Spallek H, Bartling W, Corby P. The technologically well-equipped dental office. J Am Dent Assoc. 2003;134:30–41.
Singh VJ, Singh DP, Bansal KL. Proposed architecture: cloud based medical information retrieval network. Int J Comput Sci Eng Technol. 2013;4:485–496.
JampanI ND, Nutalapati R, Dontula BS, Boyapati R. Applications of teledentistry: A literature review and update. J Int Soc Prev Community Dent. 2011;1:37–44.
St. Ledger D. Caries Detection Tools: Select the Best for Your Practice. Available at: https:/​/​www.speareducation.com/​spear-review/​2016/​05/​caries-detection-tools-select-the-best-for-your-practice. Accessed September 28, 2020.
U-M funding helps precision dentistry startup GreenMark Biomedical make its mark. Available at: http:/​/​www.michigancrn.org/​2019/​09/​10/​u-m-funding-helps-precision-dentistry-startup-greenmark-biomedical-make-its-mark/​. Accessed September 28, 2020.
Rosenblatt A, Stamford T, Niederman R. Silver diamine fluoride: a caries "silver-fluoride bullet." J Dent Res. 2009;88:116–125.
Azarpazhooh A, Limeback H. The application of ozone in dentistry: A systematic review of literature. J Dent. 2008;36:104–116.
From Decisions in Dentistry. November 2020;6(10): 25-28,31.