FAQ: Ceramir Crown and Bridge Cement from Doxa Dental
Bioceramic Cement Improves Marginal Integrity And Minimizes Post-Op Sensitivity.
BIOCERAMIC CEMENT IMPROVES MARGINAL INTEGRITY AND MINIMIZES POST-OP SENSITIVITY
How is Ceramir C&B Cement different from other cements I've used?
Most permanent cements rely on resin or glass ionomer (GI) technologies that have been around for decades. Ceramir C&B is the first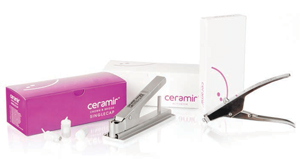 and only luting agent to feature calcium aluminate, a bioceramic material with unique properties that differentiate this product in several important ways. Unlike other cements, Ceramir C&B sets at a high pH, forms apatite in contact with saliva,1 and nanostructurally integrates with biological tissue and appropriate crown substrates. These key benefits mean that dentists can consistently create alkaline margins that are resistant to acid attack.
What does the new calcium aluminate chemistry mean for my patients' long-term results?
Arecent study demonstrates that Ceramir C&B — unlike other GI, resin-modified GI (RMGI) or self-adhesive cements in the study — closed artificial marginal gaps of 50 microns to 300 microns. Commenting on the clinical significance, the authors note, "The results of this laboratory study, although preliminary in nature, suggest a new functional property for bioactive dental materials, namely, the ability to significantly improve marginal stability with tooth/restorative material interface. Such behavior in a restorative material could improve the survival and serviceability of dental restorations."2 In addition, Ceramir C&B is patient friendly, with no reports of pain during placement relative to GI or RMGI materials, or issues with post-operative sensitivity.
Are there additional clinical benefits to using Ceramir C&B?
Many clinicians familiar with Ceramir C&B cite the additional benefits of easy seating and ease of cleanup. In addition, it greatly simplifies preparatory steps when cementing ceramic materials, as no special cleaners, primers, silane or bonding agents are required.
How have Doxa's biocompatibility and bioactive claims been tested?
In published studies, Ceramir C&B has been shown to stimulate apatite formation using the standard method of testing in vitro bioactivity using a neutral buffer solution.3 Extensive biocompatibility testing has also been conducted in vivo, and the histology reports establish the material's biocompatibility and lack of irritation.4
References
Lööf J, Svahn F, Jarmar T, Engqvist H, Pameijer CH. A comparative study of the bioactivity of three materials for dental applications. Dent Mater. 2008;24:653–659.
Jefferies SR, Fuller AE, Boston DW. Preliminary evidence that bioactive cements occlude artificial marginal gaps. J Esthet Restor Dent. 2015;27:155–166.
Engstrand J, Unosson E, Engqvist H. Hydroxyapatite formation on a novel dental cement in human saliva. ISRN Dent. 2012; 2012:624056.
Pameijer C. Ceramir Crown & Bridge luting agent — A treatise on biocompatibility. Aug 2009. Available at: http://www.ceramir.se/web/Infomaterial_ text_pdf_1.aspx. Accessed November 2, 2015.