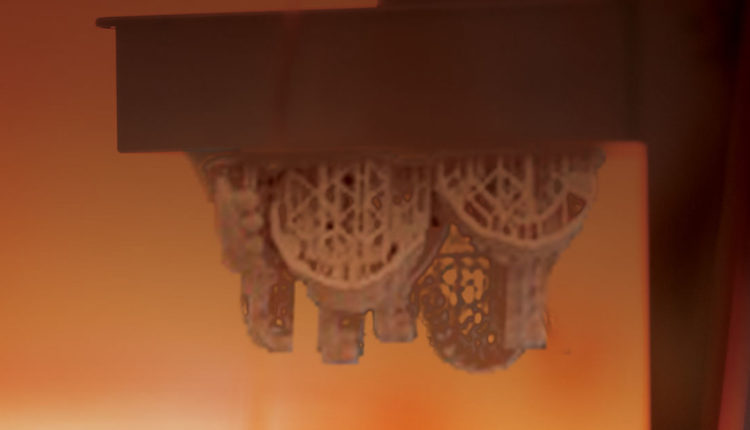 Applications for 3D Printing in Dentistry
Capable of rendering a wide range of oral appliances, models and more, three-dimensional printing is poised to take off in dentistry. Posthodontist and lab owner C. Edgar Davila, DDS, MS, CDT, FACP, lends insights into the clinical capabilities of additive technology.
Capable of rendering a wide range of oral appliances, models and more, three-dimensional printing is poised to take off in dentistry. Posthodontist and lab owner C. Edgar Davila, DDS, MS, CDT, FACP, lends insights into the clinical capabilities of additive technology
Thanks to improvements in materials and printing technology, three-dimensional (3D) printers are likely to play an increasingly prominent role in dentistry. With clinical-grade units available for less than $4000, the technology carries a futuristic allure that matches its potential upside for practices and dental laboratories, which stand to benefit from the accuracy and efficiency of 3D printing.
Featuring compact footprints, in-office desktop printers can be used to fabricate a range of appliances and prostheses, including temporary crowns and bridges, inlays/onlays, partial frameworks, and guides for dental implant surgery. To gain insights into the clinical application of this technology, we asked C. Edgar Davila, DDS, MS, CDT, FACP, a Florida-based maxillofacial prosthodontist, lab owner and certified dental technician, to share perspective on how practices can harness the power of 3D printing.
What are some common applications for 3D printing in general dentistry and specialty practice?
Applications for this technology in general dentistry and the specialties are wide ranging. One common example in offices that place dental implants is the fabrication of implant surgical guides, which can be printed by laboratories or offices equipped with 3D printers. This involves combining a digital impression from an in-office intraoral scanner or lab scanner with cone beam computed tomography. Using specialized software, the surgical guide can be designed and printed for as little as $20.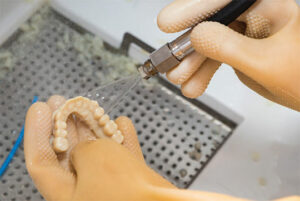 Besides commercial software (some programs require an annual subscription fee, incidentally), free design software is also available. These programs can be used to design and 3D print:
Custom trays
Occlusal guards
Temporary prefabricated crowns and bridges
Study models
Models to finish crowns and bridges
Diagnostic wax-up models
Models to fabricate orthodontic aligners
Wax try-in of dentures, base plates and wax rims
And with the pending development of 3D materials suited for long-term clinical use, in the near future it's likely dentists will be able to print permanent crowns, bridges and dentures.
For years, digital manufacturing technologies have been a mainstay of practice, but much of the focus has been on milling. How do 3D printers factor in? Are there advantages to this modality — for example, in terms of faster delivery of provisionals, models, trays and aligners?
It is helpful to distinguish between 3D printing, which is an additive technology (in which you start with digital data and print the final product), and subtractive fabrication techniques. Compared to a five-axis or three-axis milling unit, efficient and compact 3D printers (some for under $4000) can be used to print temporary crowns, trays, splints and surgical guides with great accuracy in less than two hours — and for much lower cost than milling. For therapies involving the creation of multiple aligners, for example, 3D printers can fabricate between 10 and 14 models at one time in approximately six to seven hours.
What are the basics every practice needs for in-office 3D printing?
For in-office printing, the clinic needs an intraoral impression scanner, design software (and the training to use it effectively), appropriate 3D printing materials, and, of course, a desktop 3D printer. Practices that embrace this approach will find it represents an ideal digital workflow.
On the other hand, this workflow — especially the design aspect — might be overwhelming for some offices. In this case, my advice is to consider purchasing a digital impression system and 3D printer, and sending the digital impressions to a capable laboratory that will design the oral appliances and return the file for in-office printing. This is less demanding on the practice in terms of the time needed to learn and operate the design program, and cost, too, because no special software is needed. In addition, laboratories typically charge much less for design services than for design and fabrication.
As a prosthodontist and certified dental technician, can you share insights into how to achieve optimal results when collaborating with a lab for 3D fabrication?
At present, a dental office with in-house design and 3D manufacturing capability is still the exception rather than the rule. Barriers to adoption include equipment and software costs and training, as well as labor and the potential need to hire an in-house technician. For offices that choose to work with dental laboratories, optimal results start with high-quality impressions, particularly digital impressions, the lab can use to either design or design and fabricate the final prosthetic appliance. Whether this involves digital production of crowns and bridges, partial frameworks, inlays/onlays, posts or splints, the key to a successful outcome is excellent communication between the provider and lab.
Would you agree or disagree that recent advances in materials and printer accuracy are opening news doors for dental 3D printing? And do you have any final thoughts?
Yes, definitely. This technology holds tremendous potential to make even greater inroads in dentistry and other fields. Newer and better materials are always being developed for 3D printing in dentistry, and I expect it won't be long before dentists can print long-term crown and bridge restorations. Furthermore, I believe that in the future either all, or a majority, of dental appliances and prostheses will be fabricated using additive technology.
Featured image by ZORANM/ISTOCK/GETTY IMAGES PLUS
From Decisions in Dentistry. May 2019;5(5):22,24.