Advantages of Single-Shade Composites
As the use of single-shade composites continues to grow, clinicians are discovering the appeal of restorative materials that don't require offices to stock multiple composite shades.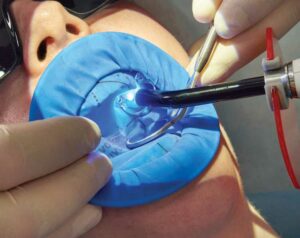 As the use of single-shade composites continues to grow, clinicians are discovering the appeal of restorative materials that don't require offices to stock multiple composite shades. The advantage of single-shade materials, of course, is they offer an all-in-one system that makes shade matching effortless. 
"Two definite upsides are the ability to reduce inventory and avoid the possible frustration of a color shift after the composite has cured," notes John C. Comisi, DDS, MAGD, an associate professor in the Department of Oral Rehabilitation at the James B. Edwards College of Dental Medicine at the Medical University of South Carolina. "The technology of silica particle incorporation into a resin matrix that allows the material to impart the shade of the surrounding tooth structure minimizes the number of shades needed in practice, which reduces overhead costs," he adds. These systems also minimize the headache of managing inventory and expiration dates for multiple types and shades of composite.
Simplifying the restorative and inventory processes and reducing costs make single-shade composite systems appealing. Eliminating the shade matching step, for example, saves chairtime — which benefits the patient and provider. Additionally, because these new materials are indicated for a wide range of restorative cases and deliver an esthetic finish, single-shade composites are quickly becoming a must-have in the operatory.
In certain situations, however, single-shade composites can create clinical challenges for the restorative dentist. The properties that enable light transmission and the chameleon-like ability of these materials can raise potential issues when there is a need to mask a dark underlying or surrounding color. "This may be a consideration with deeply stained dentin or when needing to mask the lingual aspect of Class IV restorations so as not to have a dark appearance in the restoration," Comisi explains. Material manufacturers that offer single-shade composites have addressed this with a special blocker that can be applied, or with formulations designed to minimize these issues.
Additionally, he notes another possible advantage. Comisi's students conducted research to determine if this type of product could mimic surrounding tooth color after staining or tooth bleaching. While teeth that were stained after restoration did not show a chameleon-like match, they did post-bleaching. Characterizing the results as "remarkable," he says the research suggests the potential benefit of using these materials to restore prior to bleaching "and not having to remove and update the shade of the restoration post-bleaching." 
Describing the trend toward single-shade composites as an "interesting direction" in restorative dentistry, Comisi expects more of these types of materials to be introduced. At the same time, he wonders what the future will hold in terms of longevity when single-shade composites are adopted into widespread clinical practice.
As with all composite materials, polymerization shrinkage and related stress can compromise margins — eventually leading to microleakage and subsequent caries. These are understandable concerns for restorative dentists. Musing on what he would like to see to help address these issues, Comisi points to the need for either an ion-releasing or antibacterial agent designed to maximize marginal integrity and help ensure the maximum lifespan from every restoration, regardless of the material placed. 
From Decisions in Dentistry. July 2021;7(7)46.