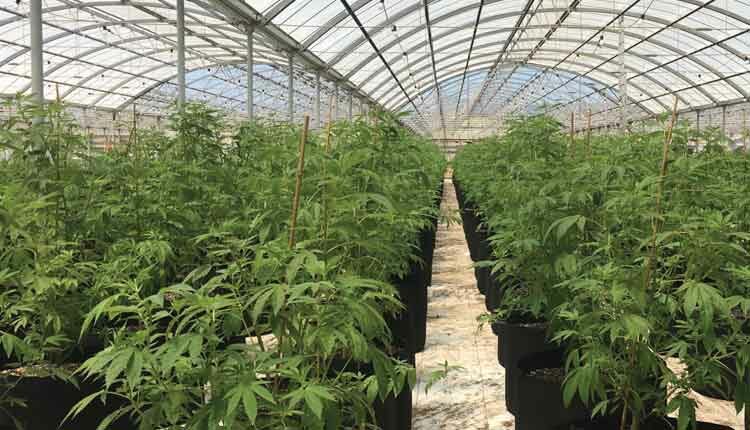 KIMBERLY DELANEY/ISTOCK/GETTY IMAGES PLUS
Addressing Patient Marijuana Use in Today's Dental Environment
With more states allowing medical and recreational use, dental teams should be aware of care strategies for patients who use marijuana.
PURCHASE COURSE
This course was published in the August 2021 issue and expires August 2024. The author has no commercial conflicts of interest to disclose. This 2 credit hour self-study activity is electronically mediated.
EDUCATIONAL OBJECTIVES
After reading this course, the participant should be able to:
Describe the implications for dental practice and oral health in light of the increasing legalization of medical and recreational marijuana.
Explain marijuana's potential to become addictive, and some of the tools dental teams can utilize when caring for patients who use marijuana.v
Detail helpful management strategies when caring for patients who use medical or recreational marijuana.
---
---
Mark Twain once said, "Whenever you find yourself on the side of the majority, it is time to reform, pause or reflect." The United States is at a crossroads where, according to a Gallup poll, an all-time high of 68% of Americans are in favor of legalizing marijuana (note: the poll made no distinction between medical or recreational use).1 In April 2021, CBS News reported that 55% of Americans agree that recreational marijuana should be legal.2 As of presstime, New York,3 Virginia and New Mexico — along with Washington, D.C. — became the most recent states to legalize recreational marijuana. 
While perceptions of the risks have changed to where many consider marijuana to be less harmful than other drugs, such as tobacco and alcohol,2 this may be far from the truth. In light of recent developments, it appears that widespread legalization of marijuana is not a question of if it will happen, but when.4 In that context, this paper will explore patient marijuana use and its potential impact on oral health and dental practice. It will include a discussion of current research and measures dentists can take to protect their patients, employees and themselves while maintaining ethical guidelines and best practice standards. Finally, it will present a chairside technique that dental teams can use to assist patients who wish to stop using marijuana.
DISCUSSION
With the potential for increasing numbers of marijuana users to present in dental settings, oral health professionals have a responsibility to provide the best care possible for these patients. According to the American Dental Association's Statement on Provision of Dental Treatment for Patients With Substance Use Disorders,5 dentists are urged to know a patient's substance use history before making treatment plans or prescribing medications. With this in mind, dentists should directly ask if the patient uses marijuana, and determine the amount/​dosage, frequency and consequences, if any. It is important to be aware that patients tend to underreport their substance use when questioned face-to-face versus being asked on a written questionnaire.6 According to Hashibe et al,6 individuals are more likely to report their actual use on a written questionnaire when given a box to check indicating "never used," "previously used" or "currently use recreational substances."
Dentists are encouraged to seek medical consultation when necessary while remaining knowledgeable of potential drug interactions when prescribing medications for patients with current or past drug abuse. Clinicians should also be familiar with treatment resources available in the community and stand ready to offer referrals when indicated.7 That noted, a 2013 study found that while screening was common among dentists, most did not provide referral counseling or follow-up with patients who showed signs of substance abuse.8 Among those who did not refer or follow-up, reasons for not doing so included: 
Lack of knowledge/​training about substance-use assistance, such as focused training in office-based brief counseling
System-level barriers, such as lack of time and referral resources
Lack of reimbursement for substance use screening and other drug use interventions in dental practice8
In today's practice setting, dentistry has the opportunity to begin integrating oral healthcare with medicine at an office-based level.9 For example, some practitioners are integrating hypertension screening10 and diabetes testing11 into routine dental care. And because many patients visit the dentist more frequently than medical providers, routine visits make the dental office an excellent source for referral for medical care of hypertension. For context, a 2011 study showed that hypertension was suspected in one patient out of every 18 screened.12 Additionally, medical studies show the shift toward patient-centered medical homes is placing renewed focus on addressing behavioral health conditions — including substance use — as part of primary care.7,13,14 Substance use and mental illnesses rarely occur in isolation.7 Consequently, fostering collaboration, communication and shared decision-making between dentists and medical providers, along with training and reimbursement for the dentist and staff, will make the shift toward holistic patient care a more readily attainable goal.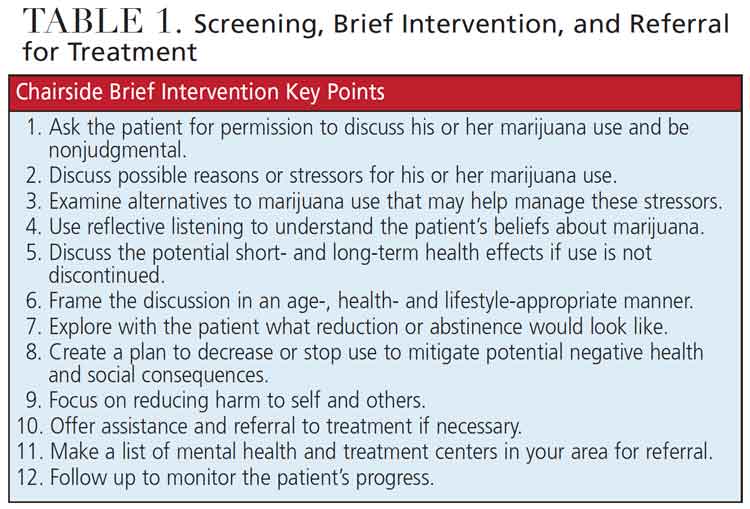 Screening, Brief Intervention, and Referral for Treatment (SBIRT; Table 1) is an evidence-based, comprehensive and integrated approach to the delivery of early intervention and treatment for patients with substance use disorders, or those at risk of developing these disorders. Primary care centers, hospital emergency departments, trauma centers, and other community settings provide opportunities for early intervention with at-risk substance users before more severe consequences occur.15 
Benefits of SBIRT include:
Screening quickly assesses the severity of substance use and identifies the appropriate level of treatment
Brief intervention focuses on increasing insight and awareness regarding substance use, and sparking motivation for behavioral changes
Referral for treatment provides individuals identified as needing more extensive treatment with access to specialty care16
In the dental setting, clinicians can use the Cannabis Use Disorder Identification Test — Revised.15,16 This short test asks eight questions concerning cannabis use and scores a person's answers on a scale that may indicate minimal cannabis use, hazardous cannabis use, or a possible cannabis use disorder (for which further intervention may be indicated).15 
The advantage of this SBIRT-type involvement is that it lets clinicians engage in a conversation in a nonjudgmental way through motivational interviewing. This allows a patient to see if he or she may recognize a possible substance use problem. It also helps gauge the individual's willingness to seek help and provides an avenue to make a referral for professional assistance. 
Although many do not consider marijuana to be a potentially addictive drug, it can be addictive. In fact, one in 10 marijuana users will become addicted, and that number rises to one in six for people who begin using younger than 18.17–19
MANAGEMENT OF PATIENTS USING MEDICAL MARIJUANA
Medically prescribed cannabinoids may be taken by patients who present in dental practice include:20
Dronabinol (e.g., Marinol and Syndros) is used as an antiemetic for chemotherapy-induced nausea and vomiting and as an appetite stimulant for anorexia associated with weight loss in patients with acquired immunodeficiency syndrome.20
Nabilone (e.g., Cesamet) is taken as an antiemetic for refractory nausea and vomiting associated with cancer chemotherapy. Dentists should take special precaution with patients using nabilone routinely due to its high potential for abuse (it is classified as a Schedule II drug).20
Nabiximols (e.g., Sativex), while not approved in the U.S., are prescribed in Canada and Mexico as an adjunct treatment in adults with multiple sclerosis for the symptomatic relief of spasticity that is not responsive to other therapy.20
Patients prescribed dronabinol, nabilone or nabiximols may experience cardiac arrhythmias, cerebrovascular accident (stroke), chest pain, myocardial infarction, hypertension, palpitations, syncope or tachycardia. The patient may also experience orthostatic hypotension at the dental appointment, and special caution should be implemented with positional changes, especially when standing up after lying in a dental chair for extended periods. All carry the potential for substance use dependency (Table 2).20
Cannabidiol (e.g., Epidiolex) is a 100% pure cannabidiol used for treating pediatric seizure disorders (Lennox-Gaustat and Dravet syndromes) in patients 2 years of age or older, or tuberous sclerosis complex in patients over 1 year of age. Patients may experience excessive salivation and increased central nervous system depression manifested by sedation early in treatment, which may resolve with continued use. There is no known substance abuse potential.20

MANAGEMENT OF PATIENTS USING SYNTHETIC MARIJUANA
Spice and K2 are two common illicit synthetic cannabinoids.21 While the U.S. Centers for Disease Control and Prevention notes that synthetic cannabinoids are not actually marijuana, these substances bind to the same cannabinoid receptors in the brain and other organs as tetrahydrocannabinol (THC), and are considered dangerous. These powerful drugs (some more than THC) can cause nausea, anxiety, seizures, hallucinations, aggression, brain swelling, paranoia, heart palpitations and chest pain. While oral effects are similar to other cannabis products, the impact of these drugs is highly unpredictable.22 
MARIJUANA AND DENTAL CARE
In practice, the dental team may encounter patients who are intoxicated and those who are instead chronic marijuana users. The dental/medical implications for each appear differently (Table 3).23 Signs and symptoms of an active (intoxicated) cannabis user include:24,25
Euphoria
Hyperactivity, increased anxiety
Tachycardia, especially if given local anesthetic with epinephrine

 

Paranoia
Delusions
Hallucinations
   Clinical considerations include:
The effects of acute intoxication by marijuana are reported to subside within two to three hours24–26
The dentist may refuse to treat the intoxicated patient since the effects may take time to subside, or postpone nonemergency treatment for at least 24 hours24–27
Legal implications arise around the validity of obtaining informed consent from an intoxicated patient, especially with irreversible procedures, such as extractions or root canal therapy

 

In general, it is not ethical to refuse treatment simply because the patient admits to using marijuana. As mentioned previously, delaying treatment due to intoxication or being unable to provide consent to treatment is an appropriate response until the individual is cognizant of what he or she is signing and agreeing to in regard to treatment.

 
Signs and symptoms of a chronic recreational cannabis user include:25,26
Xerostomia
Leukoplakia
Periodontitis
Gingival enlargement/​hyperplasia
An increased in decayed, missing or filled teeth
Stomatitis
Candidiasis
Alveolar bone loss

ORAL EFFECTS AND MANAGEMENT
Oral manifestations of marijuana use, particularly substance abuse, include poor oral health, possibly complicated by concomitant use of tobacco, alcohol and other drugs. This may be exacerbated by poor oral hygiene and infrequent visits to the dentist. Additionally, THC causes appetite stimulation, potentially resulting in cariogenic activity due to snacking. Marijuana use is also associated with xerostomia, periodontal complications, leukoplakia and leukoedema ("cannabis stomatitis"). While questionable, it may present increased risk of mouth and neck malignant neoplasia in the younger patient (< 50 years old) compared to nonusers. This behavior can likewise be associated with gingival hyperplasia, erythroplakia, chronic inflammation of oral mucosa, hyperkeratosis and oral candidiasis.
Management strategies begin with a comprehensive oral examination, along with taking a thorough dental and medical history that includes written and oral questions about cannabis use. During the visit, the dental team is encouraged to emphasize the importance of effective self-care and regular dental visits. In addition to considering topical fluorides to mitigate caries, dentists should recommend healthy, nutritious snacks over sweet cariogenic food and drink. As warranted, clinicians may initiate xerostomia treatment and counsel patients to avoid alcohol-containing products. Finally, besides keeping up with changes in applicable laws on recreational or medicinal cannabis, the dental team should determine if the patient's use is medicinal, as this may suggest relevant comorbidities.
The National Academy of Sciences report, "The Health Effects of Cannabis and Cannabinoids: The Current State of Evidence and Recommendations for Research," reveals there are only three conditions for which conclusive or substantial evidence exists that cannabis or cannabinoids are effective.28 These include treating chronic pain (cannabis); chemotherapy-induced nausea and vomiting (oral cannabinoids); and patient-reported multiple sclerosis spasticity symptoms (oral cannabinoids). 
The study also reports there are only four conditions that show moderate evidence that cannabis or cannabinoids are effective in improving patient management.28 These include sleep disturbance associated with obstructive sleep apnea; fibromyalgia; chronic pain; and multiple sclerosis (cannabinoids, primarily nabiximols).
Despite this evidence-based report, there is a perception that a plethora of other diseases or conditions can be effectively treated with marijuana, when, in reality, there is insufficient or merely anecdotal evidence for such claims. Thus, improper or ill-advised medical marijuana use presents the potential for the individual to develop a cannabis use disorder, especially if the dentist prescribes an opioid and the combination has a synergistic effect on the patient.
CONCLUSION
Current trends suggest that dental practices are likely to treat a growing number of patients who use cannabis either medicinally or recreationally — or both. This new environment of legal cannabis use implores oral health professionals to keep abreast of current, evidence-based information.
Clinicians are advised to know the potential effects marijuana can have on patients and oral health, what changes (if any) may be indicated for treatment plans, and preoperative, intraoperative and postoperative management strategies to mitigate  risk of complications from marijuana use. When applied appropriately and judiciously, this knowledge will help dental teams better serve their communities. 
REFERENCES
Brenan M. Support for Legal Marijuana Inches Up to New High of 68%. Available at: https:/​/​news.gallup.com/​poll/​323582/​support-legal-marijuana-inches-new-high.asp. Accessed July 1, 2021.
Most Want Legal Recreational Use of Marijuana in Their State. Available at: https:/​/​www.cbsnews.com/​news/​most-americans-want-recreational-use-of-marijuana-legal-in-their-state/​?intcid=CNM-00-10abd1h. Accessed July 1, 2021.
Gov. Andrew Cuomo signs bill to legalize recreational marijuana in New York.

 

Available at: https:/​/​www.cnbc.com/​2021/​03/​30/​new-york-state-senate-passes-bill-to-legalize-recreational-weed.html. Accessed July 1, 2021.
Congressional Bill to Federally Legalize Marijuana Filed By Republical Lawmakers. Available at: https:/​/​www.marijuanamoment.net/​congressional-bill-to-federally-legalize-marijuana-filed-by-republican-lawmakers/​. Accessed July 1, 2021.
ADA's Statement on Provision of Dental Treatment for Patients with Substance Use Disorders (2005). Available at: https:/​/​www.ada.org/​en/​advocacy/​current-policies. Accessed July 1, 2021.

 

Hashibe M, Straif K, Tashkin DP, Morgenstern H, Greenland S, Zhang ZF. Epidemiologic review of marijuana use and cancer risk. Alcohol. 2005;35:265–275.
Institute of Medicine of the National Academies. Improving the Quality of Health Care for Mental and Substance-Use Conditions. Washington, D.C.: National Academies Press; 2006.

 

McNeely J, Wright S, Matthews AG, et al. Substance-use screening and interventions in dental practices: survey of practice-based research network dentists regarding current practices, policies and barriers. J Am Dent Assoc. 2013;144:627–638.

 

Center for Integration of Primary Care and Oral Health (CIPCOH). Available at: https://cipcoh.hsdm.harvard.edu. Accessed July 1, 2021.
Hughes DR. Hypertension screening in dental settings. Decisions in Dentistry. 2019;5(3):36–29.
Beals DW, Siu TL. Diabetes screening in dental practice. Decisions in Dentistry. 2021;7(2):26–28,31.
Engström S, Berne C, Gahnberg L, Svärdsudd K. Efficacy of screening for high blood pressure in dental health care. BMC Public Health. 2011;11:194.

 

Pincus HA, Spaeth-Rublee B, Watkins KE. The case for measuring quality in mental health and substance abuse care. Health Aff (Millwood). 2011;30:730–736.

 

Croghan TW, Brown JD. Integrating mental health treatment into the patient centered medical home. Available at: https:/​/​pcmh.ahrq.gov/​page/​integrating-mental-health-treatment-patient-centered-medical-home. Accessed July 1, 2021.

 

Screening, Brief Intervention, and Referral to Treatment (SBIRT). Available at: https:/​/​www.samhsa.gov/​sbirt. Accessed July 1, 2021.
O'Neil M. The ADA Practical Guide to Substance Use Disorders and Safe Prescribing. Available at: https:/​/​deemagclinic.com/​2021/​01/​26/​the-ada-practical-guide-to-substance-use-disorders-and-safe-prescribing/​. Accessed July 1, 2021.
Lopez-Quintero C, de los Cabos J, Hasin DS, et al. Probability and predictors of transition from first use to dependence on nicotine, alcohol, cannabis, and cocaine: results of the National Epidemiologic Survey on Alcohol and Related Conditions (NESARC). Drug Alcohol Depend. 2011;115:120–130.
Hall W, Degenhardt L. Adverse health effects of non-medical cannabis use. Lancet. 2009;374:1383–1391.
Budney AJ, Sargent JD, Lee DC. Vaping cannabis (marijuana): parallel concerns to e-cigs? Addiction. 2015;110:1699–1704.
Lexicomp: Evidence-Based Drug Referential Solutions. Available at: https://www.wolterskluwer.com/en/solutions/lexicomp. Accessed July 1, 2021.
U.S Centers for Disease Control and Prevention. How harmful is K2/​Spice (synthetic marijuana or synthetic cannabinoids)? Available at: https:/​/​www.cdc.gov/​marijuana/​faqs/​how-harmful-is-k2-spice.html. Accessed July 1, 2021.
National Institute on Drug Abuse. Synthetic Cannabinoids (K2/​Spice) Drug Facts. Available at: https:/​/​www.drugabuse.gov/​publications/​drugfacts/​synthetic-cannabinoids-k2spice. Accessed July 1, 2021.
American Dental Association. Cannabis: Oral Health Effects. Available at: www.ada.org/​en/​member-center/​oral-health-topics/​cannabis-oral-health-effects. Accessed July 1, 2021.
Grafton SE, Huang PN, Vieira AR. Dental treatment planning considerations for patients using cannabis: a case report. J Am Dent Assoc. 2016;147:354–361.
Maloney WJ, Raymond GF. Common substances and medications of abuse. In: O'Neil M, ed. The ADA Practical Guide to Substance Abuse Disorders and Safe Prescribing. Hoboken, NJ: John Wiley & Sons, Inc; 2015.
Joshi S, Ashley M. Cannabis: a joint problem for patients and the dental profession. Br Dent J. 2016;220:597–601.
Schulte D. Dealing with patients who have been using marijuana. J Mich Dent Assoc. 2015;97:24.
National Academies of Sciences, Engineering, and Medicine. The Health Effects of Cannabis and Cannabinoids: The Current State of Evidence and Recommendations for Research. Washington, D.C.: National Academies Press; 2017.
From Decisions in Dentistry. August 2021;7(8)32-35.