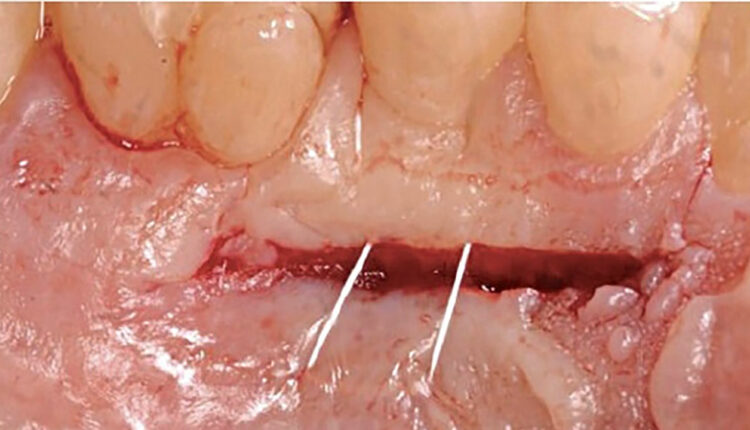 Improve Patient Outcomes With Grafting
Explore the nuances of gingival and connective tissue grafts in periodontal procedures and learn how patient comfort and healing can be significantly improved with the right approach.
Another popular graft from the palate, the connective tissue graft (CTG), does not need protection, as it is not typically associated with morbidity. This is because the donor tissue is taken from inside the palate in a trapdoor fashion, resulting in near primary closure of the palatal wound (Figure 1). As a result, patient comfort is much better (even with no palatal covering) compared to the large amount of exposed raw tissue from a gingival graft donor site (Figure 2). The CTG procedure is useful when root coverage is the goal. However, this is not the case with gingival grafts, which are considered successful if some root remains exposed (Figure 3) — even if full root coverage does sometimes occur (as seen in Figure 4).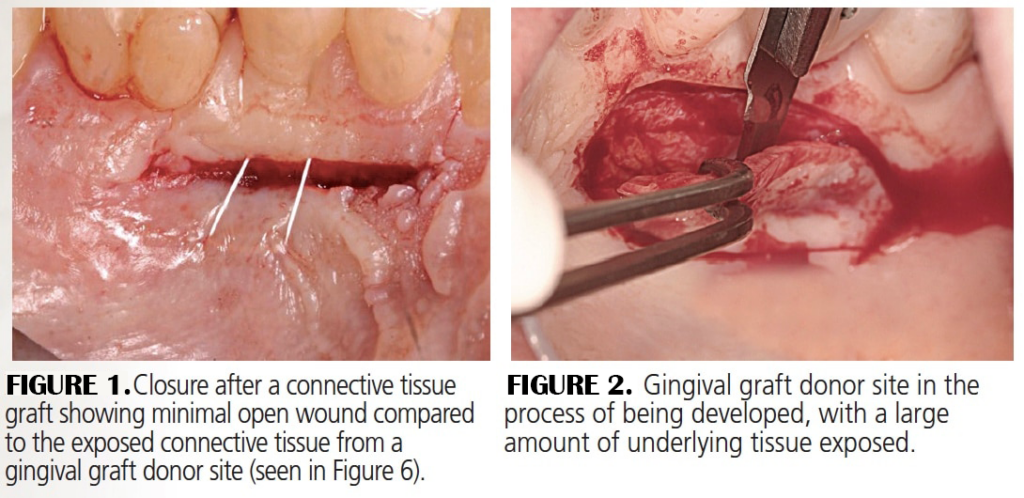 In addition to patients pushing back, some clinicians question whether the more painful gingival graft procedure is outdated and should routinely be replaced with CTGs. Both types have their place. Gingival grafts are cited in the proceedings from the American Academy of Periodontology (AAP) regeneration workshop as the gold standard for tissue augmentation.1 Indications include stopping recession in nonesthetic areas, preventing recession around restorations when placed in areas of thin tissue (especially with intracrevicular margins),1,2 facilitating plaque control, as well as use during orthodontic movement in areas of thin biotype.1 On the other hand, CTGs (as noted) are the primary choice when root coverage is needed or desired.3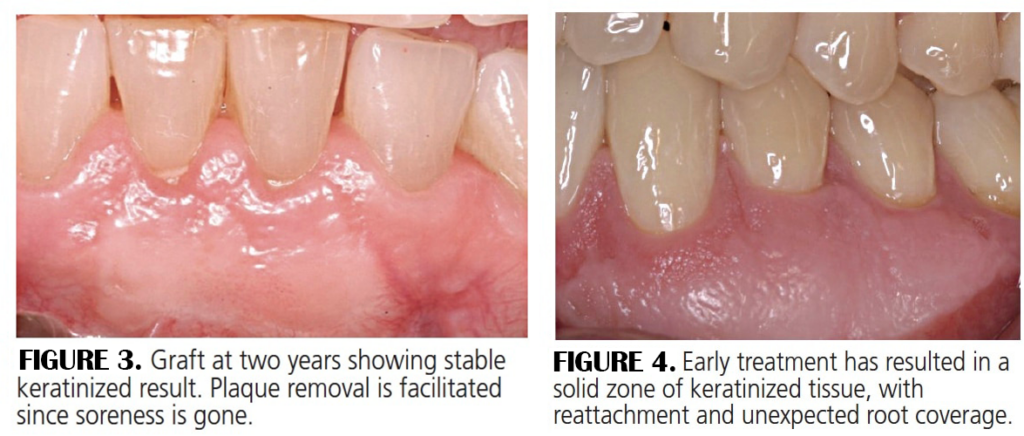 The same principles apply to dental implants, as it is the bone and stable tissue that are protected by a zone of keratinized tissue.
The AAP workshop publication offers a comprehensive literature review of both grafts that is not repeated in this article. Rather, this paper focuses on the management of palatal discomfort and healing. With the technique discussed here, the painful palate scenario is all but eliminated — and that is the main point.
References
Kim DM, Neiva R. Periodontal soft tissue non-root coverage procedures: a systematic review from the AAP Regeneration Workshop. J Periodontol. 2015;86(Suppl 2):S56–S72.
Wennstrom J. Mucogingival therapy. Ann Periodontol. 1996;1:671–701.
Chambrone L, Tatakis D. Periodontal soft tissue root coverage procedures: a systematic review from the AAP Regeneration Workshop. J Periodontol. 2015;86(Suppl 2):S8–S51.
This information originally appeared in Kohner J. Maintaining palatal comfort following gingival grafting. Decisions in Dentistry. 2020;6(10):10-12.