New Light-Cured Dental Adhesive Is Introduced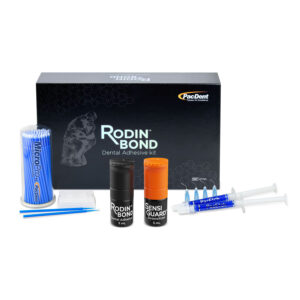 Introducing Rodin™ Bond, a versatile light-cured dental adhesive meticulously designed for use with direct and indirect bonding applications. Utilizing an innovative glass filler technology, Rodin™ Bond fortifies the hybrid zone and deeply permeates dentin tubules, establishing an unparalleled structural bond that sets it apart from unfilled adhesive systems.
Enhance the bond strength of Rodin™ Bond by pairing with Rodin™ Sensiguard. This 2-in-1 desensitizer and primer promotes bonding, seals dentin tubules to prevent sensitivity, and reduces the risk of caries formation beneath the restoration. The incorporation of Rodin™ Sensiguard significantly bolsters shear bond strength and adhesion on direct and indirect surfaces, extending restoration lifespan.
Rodin™ Bond and Rodin™ Sensiguard use a cutting-edge flip-top cap design, enabling accurate "one-drop" adhesive dispensing with a single hand. This feature reduces waste and streamlines the clinical workflow, ensuring smooth application. Additionally, Pac-Dent's unit dose packaging maintains adhesive integrity by shielding it from air and moisture, ensuring reliable and precise bonding results.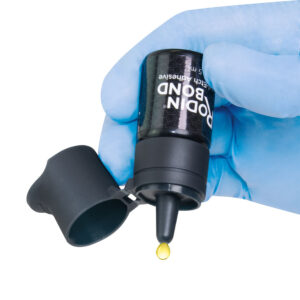 Product Features:
Best-In-Class Adhesion: Nano-hybrid glass filler technology provides incredible bond strength and reliable adhesion to a comprehensive array of dental materials, encompassing dentin, enamel, zirconia, as well as various dental metals such as PFM.
Full Compatibility: Can be used with light-cured, self-cured, and dual-cured composite materials on direct and indirect restorations
Efficiency: Flip-top cap design saves valuable time and provides "one-drop" flow of adhesive while innovative unit dose system reduces exposure to air and moisture, preserving the bond agent's effectiveness and reducing the need for measurement.
Complete Solution: Combine Rodin™ Bond and Rodin™ Sensiguard for a comprehensive bonding solution that not only enhances bonding but safeguards against postoperative sensitivity through dentin tubule sealing.
Visit pac-dent.com for more information.