While AADOM's Annual Conference Is Sold Out, Chapter Meetings Are Happening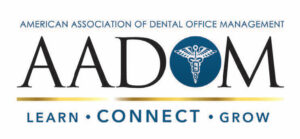 With a mission of educating, connecting, and empowering dental office managers and practice leaders across the United States, the American Association of Dental Office Management (AADOM)'s Annual Conference is a hot ticket.
Unfortunately, the 2023 Annual Conference at the Sapphire Hills Resort in Orlando, Florida, September 7 to 9, is sold out. The organization does, however, offer local chapter meetings for members.
Local meetings are available in Alabama, Arizona, Arkansas, California, Colorado, Florida, Georgia, Illinois, Iowa, Kansas, Kentucky, Maine, Maryland, Massachusetts, Michigan, Minnesota, Mississippi, Missouri, Montana, New Jersey, New York, North Carolina, Ohio, Oklahoma, Oregon, Pennsylvania, South Carolina, Tennessee, Texas, Virginia, Washington, Washington, DC, and Wisconsin.
To learn more about AADOM, visit dentalmanagers.com.
From Front Office Magazine. August 2023; 1(8):5.