Top 10 Reasons to 
Choose Tokuyama's 
OMNICHROMA Products
The first single shade composites to match every shade — 
from A1 to D4 — are the best option for your practice.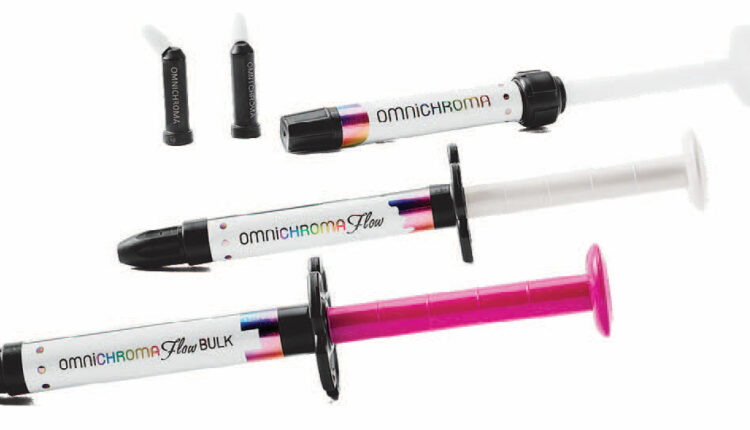 As the use of single shade composites continues to grow in popularity, discover why OMNICHROMA products — the world's first single shade composites to match every shade from A1 to D4 — are the right choice for your practice.
1 Innovation. Tokuyama Dental's Smart Chromatic Technology and 260 nm uniformly sized spherical nanoparticles have led the way for "Every Shade, One Choice." A new era of shade matching technology that meets your evolving needs.
2 Quality. OMNICHROMA is developed by a well-established company in the dental industry. Tokuyama Dental was founded in 1978 and is known for its dependable and high-quality dental products.
3 Versatility. Whether you are placing an anterior or a posterior restoration, a diastema closure or a veneer, a chip or a fracture, OMNICHROMA products are your go-to materials.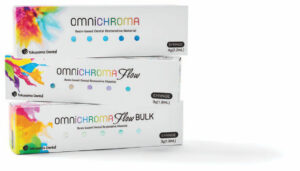 4  Simplicity. If you prefer a bulk fill, flowable, or universal composite, OMNICHROMA products offer three viscosities to choose from.
5 Cost Savings. All dentists want to use quality products at a reasonable cost. OMNICHROMA products — with their shade matching abilities — reduce the need to maintain a large inventory of products, helping you to minimize waste.
6 Eliminating Error.  With their ability to shade match the surrounding tooth structure, OMNICHROMA products eliminate the risk of shade mismatch, saving you time and effort while giving your patient a natural look in addition to an exact shade match.
7  Time. OMNICHROMA composites save you both time and money, while increasing your available operatory time and optimizing your revenue. All your direct restorations can be done in one quick session. Time lost to shade matching or fixing shade errors is eliminated, chair time is reduced, and patient turnover is increased.
8  Reduce Cross-Contamination Risk. Minimize the likelihood of cross-contamination and meet your infection control goals by utilizing OMNICHROMA's single-shade universal composite system.
9  Bleach. Your restorations will match beautifully, whether done before or after bleaching. OMNICHROMA products are the only single-shade composites that continue to shade match with the changing tooth color due to their use of structural color.
10 Social Responsibility.  Through Tokuyama EMPOWERS, Tokuyama Dental gives back to the community.  The company aims to help the underserved by partnering with charitable groups, free clinics, and nonprofit organizations to improve access to dental care.
Don't waste time, experience the benefits that OMNICHROMA products bring to your practice!
Tokuyama Dental America Inc
877-378-3548
From Front Office Magazine. August 2023; 1(8):14.