Shofu Dental to Release DentaLaze, the Wireless Diode Laser on September 1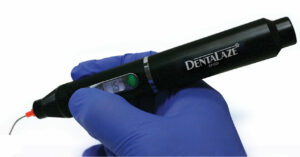 DentaLaze is a cost-effective wireless diode laser with superior performance and a compact, ergonomic design. It delivers 3W constant and 5W pulsed infrared power at 808nm with a distinctive green aiming beam for enhanced visual clarity during procedures. It is effective for a multitude of intraoral soft tissue procedures such as gingivectomy, frenectomy, and impression troughing.
DentaLaze is perfect for the dental practice looking for greater patient comfort for soft tissue procedures. It runs continuously for 45 minutes on a single charge and is exceptionally durable with scratch-resistant solid metal construction. The simple, sturdy, and lightweight wireless design is quick to set up, easily portable, and does not take up precious counter space.
The DentaLaze kit contains five single-use fiber optic tips to maximize efficiency and avoid cross-contamination, one slide-on shield to protect loupe operators, two goggles, and 50 barrier sleeves. Additional disposable fiber optic tips (25/pk) and barrier sleeves (500/pk) are available separately.
Visit shofu.com or call 800-827-4638 for more information.