New Two Striper Diamond Pro Packs Offer Procedural Efficiency

Premier Dental Products Co, Plymouth Meeting, Pennsylvania, is pleased to introduce Two Striper Pro Packs, which will be available June 1, 2023. For 110 years, dental professionals have turned to Premier Dental as a leader in bringing innovative products to market that improve their daily procedures, practices, and patient outcomes.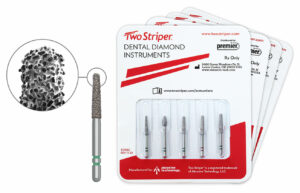 Choose from four diamond bur procedure packs. Each pack contains five of the most popular diamond bur shapes for crown & bridge, inlay/onlay, veneers, and operative procedures. Pro Packs are attractively priced.
Two Striper, distributed by Premier Dental, is preferred by dentists because it stays sharp longer and delivers faster cutting than electroplated brands. Which means a more efficient workflow and happier patients. Two Striper diamond burs are made from a select grade of natural diamonds with the proprietary P.B.S. brazing process.
​Two Striper and P.B.S are registered trademarks of the manufacturer, Abrasive Technology, LLC.