DentalEZ Expands Aeras Utility Line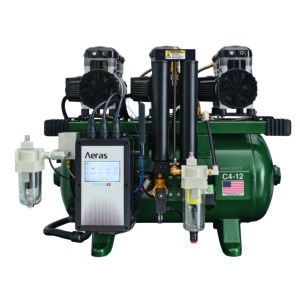 With renewed focus on applying innovative technology to solve real, everyday dentistry challenges, DentalEZ has added a new offering to its Aeras compressor line by Ramvac. This addition offers dental offices a flexible, dual-voltage compressor that is lighter, quieter, and available with 24/7 monitoring at no charge.
The Aeras compressor is up to 22% lighter than previous models, making it easier to install. Equipped with the same features and benefits dental teams have come to expect from Ramvac, the powerful Aeras compressor provides clean, dry, oil-free air in even the busiest office environments — all backed by a comprehensive six-year warranty. Best of all, it's quiet thanks to an integrated sound shield that eliminates the need for big, bulky sound covers. In fact, the design reduces sound levels up to 16% compared to the previous model.
Revolutionizing modern dental practice, DentalEZ's Aeras Intelligence is the industry's only predictive operational tool engineered to maintain utility room performance, creating an environment of superior practice productivity. Like every Aeras utility room product, each compressor comes standard with this smart monitoring. The system forewarns staff and service teams, allowing for a targeted diagnosis which can be done remotely, improving service outcomes and eliminating unnecessary visits to the office.
Product Manager Beth Jones is particularly excited about this launch. "Not all dental equipment plays an equal role in a practice, but compressors and vacuums are mission-critical to operational excellence," she says. "Now, we can offer customers a compressor with all the durability and reliability built into the Ramvac legacy, with the flexibility of being dual-voltage. We kept the power, but reduced the size and noise level. And the smart technology provides a predictive lens into the health of the machine, which means there's one less thing for dentists to worry about."
For more information, visit https://www.dentalez.com/product/aeras-dental-compressors-by-ramvac/ or call (866) 383-4636.