BURST Oral Care Launches New BURSTkids Flossables
BURST® Oral Care continues to solidify its position as a leader in the children's oral care space with the launch of its new BURSTkids Flossables™ – dental floss picks specifically created for kids ages 3+ to make flossing fun, and to make it easier for parents during brushing time!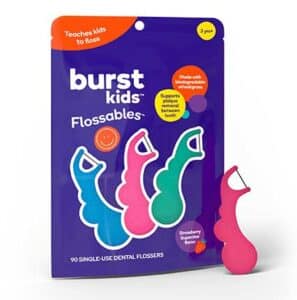 Thoughtfully designed and tested by thousands of BURST Ambassador Dental Professionals, many who are parents themselves, the Flossables use high-quality, strong and shred resistant floss coated with xylitol to help fight cavities. With no-slip grip areas on a comfortable handle designed for small hands, and a U-shaped angled head to reach back molars in a small mouth, Flossables make flossing easy – and with a yummy strawberry flavor, playful smiley face design, and fun blue, green, and pink colors, kids will love them!
Flossables are created with biodegradable wheatgrass handles to reduce single use plastics. The floss is coated with natural wax with no PFAS, BPA, teflon, artificial colors or flavors, and outer packaging is made of renewable plant resources.
Visit https://www.burstoralcare.com/ for more information.