Formlabs Partners With Premium Aligner Manufacturer Modern Clear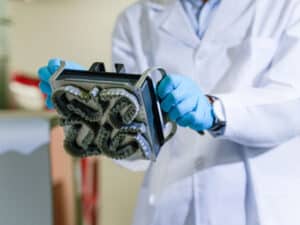 Formlabs is partnering with premium aligner manufacturer Modern Clear to use its dental 3D printing solutions to increase production throughput, making personalized aligners more affordable and accessible.
Personalized clear aligners were historically expensive, requiring intensive work and fittings during multiple appointments. With the mission to deliver the best quality, best esthetic aligner at a low cost for patients, Modern Clear chose Formlabs Low Force Stereolithography (LFS) 3D printers as the solution to revolutionize advanced, clear aligners production in-house. The company has 40 Formlabs Form 3 3D printers, a model designed with digital dentistry and orthodontics in mind, with the PreForm software to keep production running 24/7 from a single workstation. 
With the Form 3, Modern Clear prints aligners by thermoforming over 3D printed models and hand-polishes the result to create the  smooth surface finish with no visible layer lines. This is possible due to the high-resolution printing it provides, as well as materials Formlabs created to enable dentistry and orthodontic companies to digitize while decreasing costs for the business and end-use products. Modern Clear's Formlabs 3D printing fleet has enabled it to increase production to make aligners more accessible:
Thanks to their discrete look, clear aligners are one of the most popular and rapidly growing orthodontic treatments worldwide. A little-known fact is that they're also the most common end-use application for 3D printing, as practically all clear aligners today are produced by thermoforming over 3D printed models.
Modern Clear is a premium clear aligner manufacturer from Germany that operates in 45 countries. Over the last five years, Modern Clear has seen explosive growth and has provided aligners for more than 150,000 patients and produced over 3 million 3D-printed clear aligners.