Forward Science Celebrates 10 Years of Changing Lives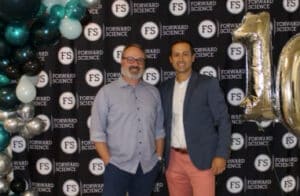 Forward Science, a Houston-based MedTech company, is celebrating its 10th anniversary. For the past 10 years, Forward Science has developed and manufactured several oral healthcare products and devices, including OralID, SalivaMAX, BioStōm, TheraStōm, OxiStōm, and GelGauze.
Forward Science was founded in 2012 by two biomedical engineers, Brian Pikkula and Robert Whitman, with the goal to change lives. What started as an idea turned into a successful MedTech company focused on creating proven, cost-effective technologies that provide optimal oral healthcare products for everyday use by patients and clinicians. "Forward Science has undergone a tremendous transformation since we first launched in my garage 10 years ago. We are excited to see how the company and product lines continue to grow and change lives," explains Pikkula, chief scientific officer of Forward Science.
Forward Science's FDA-registered medical device and drug manufacturing facility continues to expand from its success of sustaining a uniquely integrated structure that designs, develops, manufactures, commercializes, and supports its in-house production of oral healthcare products. "We are honored to celebrate 10 years in business. Being a vertically integrated MedTech company based in the United States is rare and it takes a team to accomplish this milestone. We appreciate the continued support of our partners and the hard work our team puts forth each day to help us move science forward," notes Whitman, Forward Science's chief executive officer.
In celebration of embarking on its second decade of business, Forward Science is confident in its ongoing efforts to help patients and provide clinicians with the tools to be successful. The Forward Science team is proud of the success they experienced in their first 10 years and looks forward to continuing to move science forward while changing lives. To learn more, visit ForwardScience.com.