Dental Organizations Call for Modernizing Dental Licensing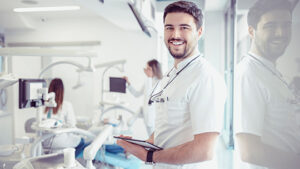 CHICAGO, Oct. 1, 2018 — The American Dental Association (ADA), American Dental Education Association, and American Student Dental Association have released a task force report supporting the modernization of the dental licensure process. The report is the culmination of more than two years of research, discussion and collaboration among the organizations, which have teamed up to form the Coalition for Modernizing Dental Licensure. This coalition involves the full continuum of the dental profession, from students and educators to practitioners.
"Ensuring patient safety and that each dentist meets professional standards for practice are the critical underpinnings of the dental licensure process," says Joseph P. Crowley, DDS, ADA president. "This report and the coalition's ongoing efforts call upon state dental boards to amend and modernize their licensure requirements."  
Although requirements for a dental license vary from state to state, all applicants must meet three basic requirements: graduation from an accredited dental education program, a passing grade on the National Board written examinations, and a passing grade on a clinical examination.
The report addresses two priority concerns with the licensure process. The first is the use of the single-encounter, procedure-based examination on patients as part of the licensure examination. The three organizations are concerned that treating a single patient one time does not lead to an accurate reflection of the broad set of skills and knowledge expected of a dentist, and also poses ethical challenges for test-takers, dental schools and the profession. Additionally, a single-encounter, procedure-based examination may not be in the best interest of patients who participate in the process. These exams have a narrow focus, sometimes in lieu of comprehensive care. Regulatory bodies in other health professions have removed the actual performance of procedures on a patient during the licensure examination process.
The second concern highlighted in the report is licensure portability. The majority of students at more than half of the country's dental schools do not practice in the same state where they were educated. For students in states with restrictive licensure policies, the cost of licensure in another state is often expensive and unnecessarily burdensome. A similar burden exists for the over 10,000 active licensed dentists who moved across state lines between 2011 and 2016.
The Coalition for Modernizing Dental Licensure calls upon state dental boards to amend their licensure requirements to eliminate single-encounter, procedure-based examinations. The coalition also calls upon dental boards to allow for increased licensure portability and to work at the national level to establish a common core of credentials for licensure that can serve as a basis for licensure compacts among states.
The Report of the Task Force on Assessment of Readiness for Practice can be viewed at ADA.org.