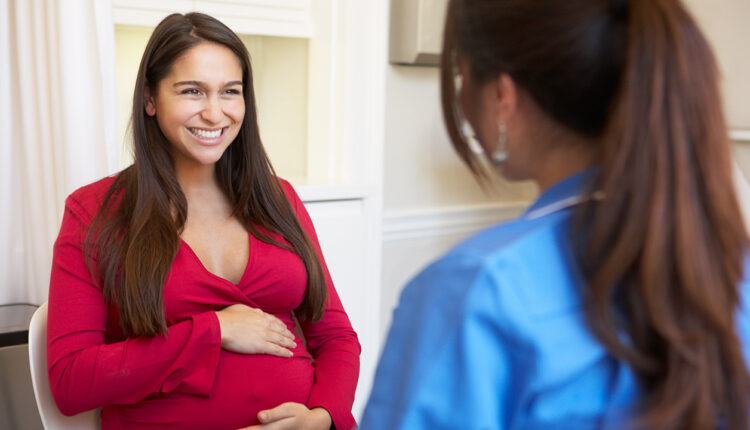 CDHP Brief Urges Prioritizing Pregnant Women's Oral Health
Maintaining oral health during pregnancy is critical, as untreated dental disease may lead to birth complications. With so much riding on a mother's oral health, it's surprising to learn that many women— especially those of low socioeconomic status— go through pregnancy without receiving any dental services. For this reason, the Children's Dental Health Project (CDHP), a Washington, DC-based policy institute, has released a brief addressing what obstacles must be overcome to improve the oral health of Medicaid-eligible pregnant women.
The CDHP's "Oral Health During Pregnancy: Oral Health's Unanswered Questions" is the first of a special series that addresses the barriers that are stalling progress in improving children's and families' oral health.
Existing evidence connects periodontal disease to preeclampsia and adverse birth outcomes, and the bacteria that cause tooth decay are often passed from mother to child. For this reason, improving a woman's oral health can help keep her child healthy in both the short and long term.
"This brief underscores the need for the oral health community to be more proactive in tearing down the barriers that we've long known are keeping pregnant women from getting the oral health care they need," says Colin Reusch, MPA, director of policy at CDHP. "We've talked about this for years but haven't made large-scale progress. Honestly, it's a bit of a wake-up call."
The challenges range from insufficient data collection and reporting to inconsistent oral health coverage and barriers to care. But there are recommended actions to help ensure pregnant women receive the dental care they need. These suggestions include working with community stakeholders such as medical providers, women's health advocates, and community health workers (CHW)—who are trained to address patient needs and connect them to care—to develop and implement actionable strategies to help pregnant women both in and outside of the dental office.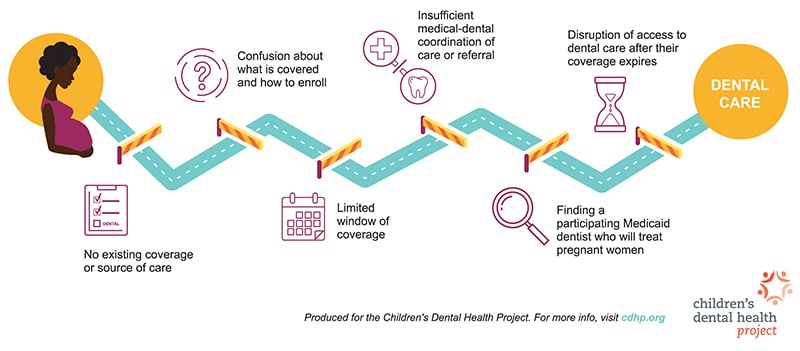 For instance, obstetrician-gynecologists are well positioned to address oral health and discuss healthy behaviors or refer patients for dental care during pregnancy. Because CHWs are able to meet patients and families where they are, the report suggests that new programs should utilize CHWs in counseling women about oral health during pregnancy, as this will extend the reach of the health care system beyond the dental clinic.
Offering adequate and consistent coverage is another recommendation. Currently, Medicaid dental benefits for adults are optional for states to provide; also the federal government doesn't collect data on adult dental care or coverage in Medicaid. This lack of data makes it difficult to determine whether pregnant women have coverage or are getting care nationwide. CHDP and its partners also advocate for a comprehensive, national approach to gathering meaningful oral health data at the state and local levels.
"In addition, we've found that even when other health professionals are willing to identify oral health problems during pregnancy and refer women to oral health care, many dentists are still reluctant to see them. The messages that women receive about the safety of dental care during pregnancy are not consistent," Reusch notes.
Organized dentistry, providers, community stakeholders, and oral health community efforts are a must to ensure pregnant women's oral health needs are met. "This is a multi-systems effort; policies need to be aligned, providers (medicine and dentistry) need to be educated about the current standards of care, women need to be aware of the importance of oral systemic health and the possible influence on their child; and broader social/societal elements that overall impact oral health need to be addressed," says Rocio B. Quinonez, DMD, MS, MPH, professor at the University of North Carolina at Chapel Hill, who contributed to the report.
Access the brief at: https://s3.amazonaws.com/cdhp/UQ+Brief+series/CDHP_IB_Final+Version.pdf