First in Four-part Caries Management Guideline Series Released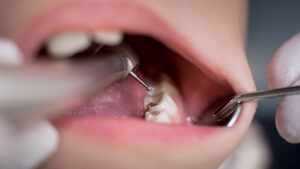 Experts synthesize best evidence to aid dentists in planning treatments
CHICAGO – The American Dental Association (ADA) Council on Scientific Affairs and the ADA Center for Evidence-Based Dentistry has released an "Evidence-Based Clinical Practice Guideline on Nonrestorative Treatments for Carious Lesions." The guideline is the first in a four-part series on caries management.
For this series, the ADA Council and the ADA Center convened a panel of global dental experts to review the best-available scientific evidence and develop high-quality recommendations for managing caries.
The guideline, which can be accessed at ADA.org/caries, summarizes the most effective non- and micro-invasive treatments to arrest or reverse both noncavitated and cavitated carious lesions on primary and permanent teeth. It encompasses nine treatments, including, but not limited to, sodium fluoride varnish, sealants, resin infiltration, and silver diamine fluoride (SDF), across 11 recommendations.
Furthermore, this guideline provides the first ADA recommendations on the use of SDF since the treatment was cleared for use as a desensitizing agent by the U.S. Food & Drug Administration in 2014.
The ADA will release additional guidelines in the caries management series in 2019 (caries prevention), 2020 (restorative treatments for carious lesions) and 2021 (carious lesion detection and diagnosis).