David Preble named Senior Vice President of the ADA Practice Institute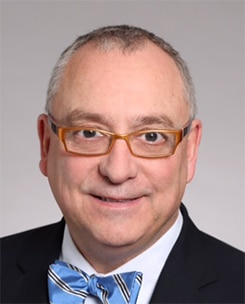 CHICAGO, January 18, 2018 — The American Dental Association (ADA )has announced the promotion of David Preble, DDS, JD, to the position of senior vice president of the ADA Practice Institute. In this role, Preble will provide strategic vision and leadership to help develop ADA policy around practice issues that impact dentist members, their patients and the public at large.  
"Dentistry is my passion, and I look forward to leading a team to develop policy that has a positive effect on all of our members, no matter their type of practice, as well as on their patients," says Preble. "The future of dentistry as an integral component of healthcare is uncertain, challenging and holds exciting opportunities. The ADA is needed more than ever to influence that future and fulfill dentistry's potential for positive health outcomes."
Preble has served as vice president of the ADA Practice Institute since 2013. His previous positions at the ADA included director of the Council on Dental Benefit Programs and director of the Commission on Dental Accreditation. He will continue to lead an operating agency committed to growing ADA membership through the delivery of dental programs, products and services related to professional life and well-being, business applications, third-party payer advocacy and regulatory legislative affairs.
"Dr. Preble's promotion is well deserved, and we're all wishing him continued success in this new role," says Kathleen T. O'Loughlin, DMD, MPH, ADA executive director. "Since Dr. Preble joined the ADA in 2006, he has helped raise the bar for the profession, and I am proud to call him a colleague."
 Preble practiced general dentistry for more than 20 years before joining the ADA. He has gained distinction as a Certified Association Executive (CAE) from the American Society of Association Executives and has earned a Certificate of Professional Achievement in Non-Profit Management from the Kellogg School of Management at Northwestern University in Chicago.