University at Buffalo Receives Grant to Study 'Dark Matter of Biology'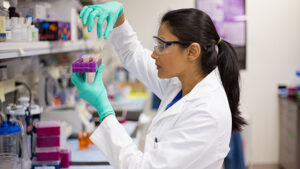 BUFFALO, N.Y. – A University at Buffalo (UB)-led team has received a $1.35 million grant from the National Institutes of Health Common Fund for Glycoscience to increase scientific understanding of glycans, a class of biomolecules that help bacteria attach to host surfaces, including those in the oral cavity. The project includes additional investigators from the University of California, San Francisco, University of California, San Diego, University of California, Davis, University of Maryland, Emory University and Cornell University.
Under the 3-year grant, researchers will collect oral bacteria from humans, horses, cows, sheep, rodents and other mammals, with the underlying goal to harness tools that help researchers examine how these microorganisms bind to glycans to form dental biofilms that increase the risk of caries and periodontal disease.
According to UB News, the study will use "friendly bacteria" harvested from the oral cavities of humans and animals to mine for serine-rich repeat (SRR) proteins. Using genetic information, researchers will artificially reproduce the variable, glycan-binding pockets of SRR proteins. After testing the proteins for their ability to bind to their target glycans, the adhesins will be mass-produced to create affordable, easy-to-use toolkits for scientists who are interested in glycan analysis, but lack expertise in glycoscience.