University of the Pacific, Arthur A. Dugoni School of Dentistry's White Coat Ceremony Marks New Chapter for Dental Students
Nearly 1,000 people attend July 22 event to celebrate students' transition to clinical portion of programs.
SAN FRANCISCO, CA — University of the Pacific's Arthur A. Dugoni School of Dentistry celebrated its 19th annual White Coat Ceremony on Saturday, July 22, to mark the beginning of clinical experience for students in the DDS Class of 2019, IDS Class of 2019 and Dental Hygiene Class of 2018.
 Held at the historic Palace of Fine Arts Theatre in San Francisco, the annual ceremony was an opportunity for students to formally celebrate an important milestone and pledge to uphold professional integrity. After many months of practice and instruction with manikins in the school's Simulation Clinic, these students will now begin the transition to caring for patients.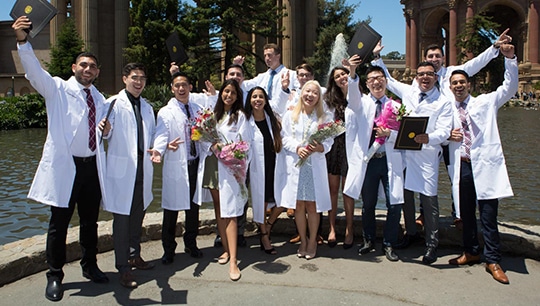 Nader Nadershahi, DDS, MBA, EdD, dean, welcomed an audience of nearly 1,000 guests who attended the ceremony. Arthur A. Dugoni, DDS, MSD, dean emeritus; Bruce Peltier, PhD, professor of psychology and ethics; and Clelan Ehrler, DDS, MS, president of the California Dental Association, explained the symbolism of the white coat and spoke about the responsibility of being a dental professional. Daniel Castagna, DDS, BA, president of the Alumni Association, presented each student with a commemorative pin from the association, which also donated funds used to purchase the white coats.
 Following the presentation of coats by the group practice leaders, Sigmund Abelson, DDS, associate dean for clinical affairs, led students in the recitation of the professional oath. Students pledged to practice professional integrity, commitment to the community, respect for the people they serve and all other responsibilities of the dental profession.
 The history of the White Coat Ceremony at the Dugoni School goes back to the mid-1990s, when the school became the first dental school in the United States to organize a White Coat Ceremony to celebrate this important milestone for dental students.
 "Our young men and women here today are assuming a major responsibility," said Dean Nadershahi. "I know they are up for the challenge because I have seen how hard they have worked in school and during the evenings and weekends to ensure that they are prepared for their patients who will put such deep trust in their hands."
 The Dugoni School's San Francisco clinics serve approximately 24,000 patients each year and manage approximately 118,000 patient visits annually.