Big Dose of Fun at Dental Home Day
 Kicking off a year of free dental service for children from underserved D.C. communities
What it is:
Nearly one in three children ages 2 to 5 in the United States are affected by tooth decay, according to the American Academy of Pediatric Dentistry. While this decay can trigger a domino effect of pain, malnutrition and quality of life issues, the good news is that it's nearly 100 percent preventable.To teach families about the importance of dental health and ensure children, regardless of financial resources, have a place to receive ongoing dental care, Children's National Health System is partnering with Healthy Smiles, Healthy Children (HSHC): The Foundation of the American Academy of Pediatric Dentistry, to host Dental Home Day 2017. An annual HSHC service event, Dental Home Day marks the first dentist appointment in a year of free dental care for children who may otherwise not be able to afford it.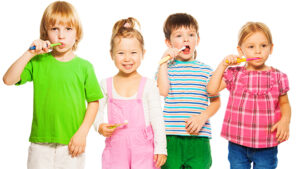 During the event, up to 80 children from underserved D.C. communities will receive free cleanings, treatments and oral health education. Participants also will be treated to a variety of fun activities, such as an oral health fair and a visit with Dr. Bear. Dental Home Day and the year of free care are made possible through support from Sunstar Americas, Inc.
When:
Wednesday, May 24, 2017 from 10 a.m.- 2 p.m.
Where:
Children's National Health System – Main Atrium 111 Michigan Avenue NW Washington, D.C. 20010
Who:
Up to 80 children and their families from around the Washington, D.C. region
Volunteer pediatric dentists from around the country, providing a day of fun for participating children
Children's National Health System pediatric dentists and residents including, Anupama Rao Tate, DMD, MPH, Director of Oral Health Advocacy & Research
Leaders of HSHC including, Dr. Neophytos L. Savide, President; Dr. Cavan Brunsden, Dental Home Day National Volunteer Coordinator
Visuals:
Children interacting with pediatric dentists and receiving treatment, including dental molds, along with their teddy bears; interviews available upon request · Families, dentists and Dr. Bear participating in fun activities
Story time for kids with HSHC President Dr. Neophytos L. Savide
Volunteers providing dental health education using mouth display and large toothbrush