Study Finds Liquid Soap More Effective Than Foam Soap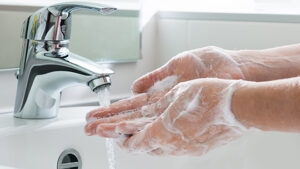 Health care professionals may want to switch from foam soap to liquid soap, according to a new pilot study published in the American Journal of Infection Control that found foam soap is not as effective as liquid soap in eliminating microbial flora.
Subjects wet their hands with water, dispensed one pump of soap on the palm of one hand and washed for 6 seconds. According to the study, the average bacterial colony count on each hand washed with foam soap went from 3.6 to 2.6 (on a scale from 1 to 4), while counts dropped from 3.8 to 1.2 for subjects who washed with liquid soap.
The data suggest the use of foam soap may give clinicians a false sense of asepsis — and, according to the study, potentially lead to the spread of resistant bacteria. Researchers acknowledged the study needs to be repeated with a larger sample size and at various settings, including hospitals.
Read the full story at ajicjournal.org/article/S0196-6553(17)30082-2/fulltext