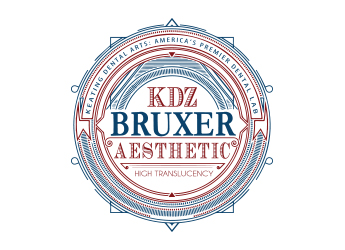 Bring the strength of full-contour zirconia into the facial zone with KDZ Bruxer® Aesthetic, an innovative new zirconia formulation from Keating Dental Arts. Its translucency is comparable to lithium disilicate, but is 60 percent more durable, with average flexural strengths of 650 MPa. With KDZ Bruxer Aesthetic, you'll never again be forced to compromise durability when esthetics are critical.
KDZ Bruxer Aesthetic's high strength allows for more conservative preparations while remaining gentle on opposing dentition. With 49 percent translucency – nearly 25 percent better than conventional zirconia – it mimics natural enamel like no other monolithic zirconia. Fabricated from six preshaded pucks that allow for accurate matching of all 16 Vita shades, KDZ Bruxer Aesthetic is the clear choice for all esthetic restorations.
Ideal for all restorations in the facial region, KDZ Bruxer Aesthetic is strong enough to prescribe for three-unit, single-pontic bridges. Retain more of the natural tooth than when prescribing lithium disilicate: 1.25 mm preparation is ideal, but zirconia's strength allows for minimum preparation of only 0.8 mm.
Like every member of the KDZ Family, each KDZ Bruxer Aesthetic crown is precision-milled in house and passes seven unique quality-assurance checkpoints before it ships. From the accuracy of CAD design and five-axis milling technology to stain and glaze from our expert ceramists, the Keating Signature Approach delivers crowns guaranteed to seat in five minutes or less.
Keating Dental Arts was founded by Shaun Keating in 2002 with the goal of providing the highest quality dental restorations with industry-leading customer support services. Our blend of expert consultation, artisanal craftsmanship and customer service has made Keating Dental Arts one of the nation's premier laboratories. The addition of anterior-grade translucency to the KDZ Bruxer Family secures our place on the industry's forefront.
Witness the next generation of zirconia with KDZ Bruxer Aesthetic. Visit bruxeraesthetic.com for introductory pricing and additional information.