Therapeutic Rinses May Help Curb SARS-CoV-2 Cross-Transmission Risks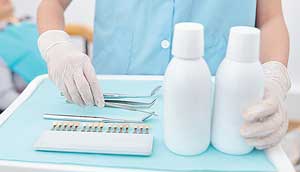 While therapeutic mouthrinse is often prescribed to help control oral biofilm and for other preventive uses, researchers continue to investigate whether rinses may reduce or help neutralize SARS-CoV-2 in the oral cavity. For example, a 2020 study by O'Donnell et al, "Potential Role of Oral Rinses Targeting the Viral Lipid Envelope in SARS-CoV-2 Infection," published in Function (Oxf), focused on the coronavirus' lipid membrane to determine if these agents — including chlorhexidine, ethanol, povidone-iodine, cetylpyridinium chloride and hydrogen peroxide — could disturb the pathogen's lipid envelope. The results indicate that, to varying degrees, select rinses may disrupt and reduce concentrations of the virus, and should thus be considered as a potential means of curbing COVID-19 transmission.
Appearing in the British Journal of Oral and Maxillofacial Surgery, a paper by Vergara-Buenaventura and Castro-Ruiz, "Use of Mouthwashes Against COVID-19 in Dentistry," investigated the use of preprocedural rinses containing hydrogen peroxide, povidone-iodine, cetylpyridinium chloride or chlorhexidine. Their analysis of in vitro data supports the potential of this approach in reducing SARS-CoV-2 viral loads in the oral cavity — although efficacy varied by agent. Encouraging further studies and pointing to the dearth of clinical research, the authors suggest preprocedural rinsing may limit viral loads and cross-infection risk.
Similarly, a 2021 study by Chopra et al published in Japanese Dental Science Review, "Can Povidone Iodine Gargle/Mouthrinse Inactivate SARS-CoV-2 and Decrease the Risk of Nosocomial and Community Transmission During the COVID-19 Pandemic? An Evidence-Based Update," found that povidone-iodine rinses are a promising modality for limiting the spread of COVID-19. Noting that in vitro studies and patient-based clinical trials confirm povidone-iodine's virucidal properties against SARS-CoV-2, the authors assert that using a virucidal mouth­rinse is "imperative" during the pandemic.
While the results of existing and ongoing research are encouraging, most studies have been conducted in vitro, which further underscores the need for large-scale clinical and population-based trials to establish or refute the efficacy of these modalities in reducing the spread of COVID-19. 
From Decisions in Dentistry. November 2021;7(11)7.