Symposium Explores Strategies for Reducing Inequities in Oral Healthcare
Royal Philips, a global leader in health technology, and Candid Care, creator of the CandidPro orthodontic platform, have partnered to advance the efficacy of orthodontic care.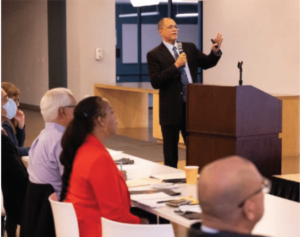 Health practitioners, educators and leaders from across the country gathered at the University of the Pacific Arthur A. Dugoni School of Dentistry for the "Dentistry as Participant and Casualty of Racism and Bias in Medicine: Moving Toward Equity in Oral Health Care" symposium hosted by the Pacific Center for Equity in Oral Health Care. The gathering was among the first its kind to explore the structural disparities in oral healthcare through the intersection of racism, ageism, ableism, sexism/gender bias and other inequities.
"Our goal was to understand the history and consequences of systemic racism and bias in healthcare and engage participants in identifying strategies that could be used in dental practice, research, education and healthcare policy to advance equity for all members of our communities," notes symposium organizer Elisa M. Chávez, DDS, director of the Pacific Center for Equity in Oral Health Care.
The January event highlighted the inequities experienced across healthcare that stem from racism or bias. For example, a national survey of 714 practicing physicians found that only 40.7% were confident about their ability to provide the same quality of care to patients with disabilities, and 18.1% strongly agreed the healthcare system often treats these patients unfairly. In addition, data from the American Dental Association's Health Policy Institute indicate the racial mix of the dental workforce does not reflect the U.S. population, with Black and Hispanic dentists significantly underrepresented. The Pacific Center for Equity in Oral Health Care plans to summarize the symposium's findings and strategic suggestions to improve healthcare equity in a follow-up "call to action" report.
From Decisions in Dentistry. April 2023;9(4):8.