Study Shows That Music Helps Soothe Anxiety of Dental Students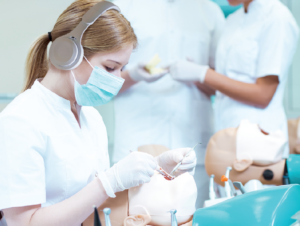 Completing dental school is a Herculean effort and many students suffer due to overwhelming feelings of stress and anxiety. A new study from the University of Eastern Finland has found that playing background music reduced dental students' stress levels and helped to improve their performance during preclinical tooth preparation exercises.
Published in the Journal of Dental Education, the present prospective cross-sectional pilot study included 36 Finnish dental students, half of whom listened to no music while undergoing head training exercises in a simulation laboratory and half of whom listened to low-tempo background music while doing the same exercises. A survey of the students was conduced and quantitative, computer-aided measurements were used to analyze their performance. The group that listened to the background music reported lower stress levels and higher levels of motivation to learn and practice.
From Decisions in Dentistry. June 2023;9(6):10.