Review Affirms Effectiveness of Fluoride Mouthrinse in Children
Fluoride mouthrinses are effective at preventing caries in pediatric patients.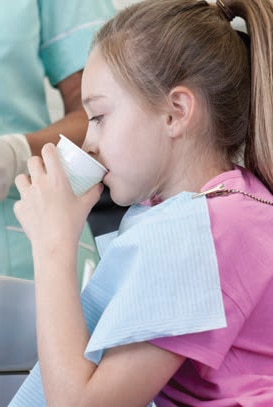 Fluoride mouthrinses are effective at preventing caries in pediatric patients. That is the finding of the Cochrane Oral Health Group, which recently completed a review of dozens of studies conducted in several nations between 1965 and 2005. Combined, the studies compared more than 15,000 subjects ages 6 to 14 who were treated with fluoride mouthrinse or a placebo, or received no treatment.
The authors found that "supervised regular use of fluoride mouthrinse by children and adolescents is associated with a large reduction in caries increment in permanent teeth."
Specifically, combined results of 35 trials showed that children using the mouthrinses experienced a 27% reduction in decayed, missing and filled tooth surfaces in permanent teeth, as compared to children who did not use mouthrinse. (No trials have looked at the effect of fluoride rinse on primary teeth.) All of the trials involved supervised use in schools. Almost all subjects received a fluoride rinse formulated with sodium fluoride (NaF), mostly either daily, weekly or every two weeks, at one of two strengths — 230 or 900 ppm fluoride.
The authors determined that fluoride mouthrinse is likely to benefit even children who use fluoride toothpaste or live in areas with fluoridated water.
However, the authors lamented a lack of data about potential adverse affects, such as tooth staining or allergic reaction. They suggested future research focus on those areas.
The report, an update of a 2003 Cochrane report, is titled "Fluoride Mouthrinses for Preventing Dental Caries in Children and Adolescents (Review)." It can be found at onlinelibrary.wiley.com.
From Decisions in Dentistry. October 2016;2(10):10.