Pulmonologist Needed to Remove Drill Bit Lost During Caries Restoration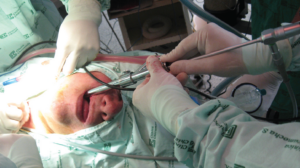 Momen Wahidi, MD, a pulmonologist in Durham, North Carolina, was charged with removing a dental drill bit from a patient's lung after it was accidentally inhaled. The 2-cm drill bit was inhaled during a common dental procedure — the restoration of a carious lesion.
Wahidi used a bronchoscopy, which includes inserting a thin tube through the nose or mouth, to find the missing bit and then retrieving it with a scope. The drill bit was found deep in the patient's right lung. The procedure was successful and the patient has recovered.
From Decisions in Dentistry. June 2023;9(6):8.