Product Profile: FluoriMax varnish and dentifrice from Elevate Oral Care
Fluoride family helps clinicians manage caries.
FLUORIDE FAMILY HELPS CLINICIANS MANAGE CARIES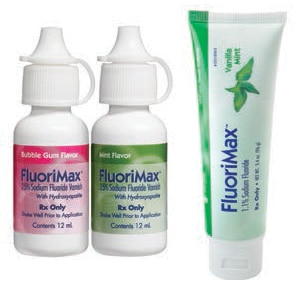 FluoriMax varnish and dentifrice from Elevate Oral Care
FEATURES AND BENEFITS
Fluorimax Varnish
Elevate Oral Care's 2.5% sodium fluoride varnish provides superior fluoride uptake — and, unlike traditional sticky varnishes, FluoriMax uses a shellac base that provides a nontacky, super-thin coating.
Available in bottle delivery, the hydrophilic formula spreads rapidly across moist teeth and sets in seconds.
Fluorimax 5000
Providing 5000 ppm fluoride and featuring a pleasing vanilla-mint flavor, FluoriMax 5000 prescription dentifrice contains 10% xylitol and is formulated to deliver maximum fluoride uptake.
Clinicians and patients can choose between single 3.4-ounce tubes or twin packs — the latter designed to provide six months of continuous therapy between appointments.
BOTTOM LINE
Focused on preventive care products for dental professionals and patients, Elevate Oral Care offers clinical solutions that are sold directly through the company. Its FluoriMax varnish and toothpaste are two examples of Elevate's commitment to helping clinicians effectively manage caries risk.
From Decisions in Dentistry. August 2016;2(08):50.