Product Profile: EvoFill Duo from DiaDent
Warm, Vertical-Compaction System Helps Ensure Successful Obturation.
Warm, Vertical-Compaction System Helps Ensure Successful Obturation.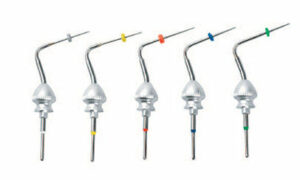 FEATURES AND BENEFITS
With the EvoFill Duo Obturation System from DiaDent, clinicians now have an easy, intuitive and highly efficient means of obturating root canals and ensuring successful endodontic therapy.
Featuring an electric motor system that minimizes hand fatigue, the EvoFill Duo offers fast heating and controlled gutta-percha extrusion for precise, three-dimensional fills.
After a canal has been shaped and cleaned, a master cone is selected for a snug fit and tug back, and the EvoPack — which uses warm, vertical-compaction technology — is used to cut, soften, downpack and compact the filling material.
The cordless EvoPack effectively and tightly compacts and seals all canals, including lateral canals. And thanks to DiaDent's innovative light-guided condenser, clinicians have a clear view throughout the procedure.
Color-coded pen tips are available in XF, F, FM, M and ML sizes, and these quick-heating tips reach 250

o

Celsius within a second, which saves chairtime.
Designed for maximum control, the EvoPack unit features two heating-time and three temperature settings.
The EvoFill — a cordless device that extrudes warm gutta-percha to backfill the yet-unfilled portion of the canal — uses hygienic, single-patient cartridges to quickly and precisely deliver softened obturation material.
Like the packing unit, the EvoFill has three temperature settings that let clinicians carefully control obturation flow — and its preheating function quickly softens gutta-percha, even at low temperature settings.
In order to facilitate precise placement, clinicians can bend the cartridge tips to the desired shape.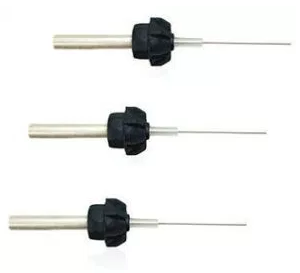 BOTTOM LINE
Utilizing the warm-compaction technique helps eliminate voids during obturation, which, in turn, contributes to predictably successful outcomes. Featuring a bright, LED-guided condenser, the EvoPack effectively compacts and seals all root canals, while the EvoFill makes easy work of backfilling even challenging lateral canals. Designed for efficiency, both units can be fully charged in 90 minutes, and DiaDent's new, fast-loading gutta-percha cartridges save time and eliminate tedious cleanup.

From Decisions in Dentistry. November 2016; 2(11):50.