Product Profile: Admira Fusion restorative family from VOCO
Nano-ormocer technology reduces shrinkage and shrinkage stress up to 50%.
NANO-ORMOCER TECHNOLOGY REDUCES SHRINKAGE AND SHRINKAGE STRESS UP TO 50%
FEATURES AND BENEFITS
Knowing that all-ceramic-based restorations set the benchmark for esthetics, strength and longevity, VOCO combined its pioneering nanohybrid chemistry with proven ORMOCER (ORganically MOdified CERamic) technology to create the first universal direct nano-ORMOCER restorative, Admira Fusion.
Admira Fusion's proprietary silicon oxide chemistry is not only used for the fillers (nanofillers, as well as glass ceramics), it's also used in the ceramic resin matrix.
The advantages of pure silicate technology include up to 50% less polymerization shrinkage (1.25% by volume) than conventional composites, and up to 50% less shrinkage stress, which help ensure marginal integrity that contributes to more predictable outcomes.
Additional physical properties that are enhanced by VOCO's innovative nano-ORMOCER technology include improved adaption, as well as natural translucency and opacity that help the material blend seamlessly with surrounding tooth structure.
The ORMOCERs used in Admira Fusion make it highly biocompatible, as it contains none of today's typical monomers, such as bisphenol A-glycidyl methacrylate, triethyleneglycoldimethacrylate or urethane dimethacrylate (perhaps better known by their acronyms BisGMA, TEGDMA and UDMA), that can be released upon curing.
Light-cured, radiopaque Admira Fusion has an 84% (by weight) inorganic filler content, which ensures outstanding wear resistance — and, when combined with Admira Fusion's excellent color stability, allows for universal use in anterior and posterior regions.
Delivering superior edge strength and surface hardness, this homogeneous material offers nonsticky handling and is compatible with all conventional bonding materials.
Admira Fusion is available in 18 VITA shades, and clinicians can choose between syringe delivery or unit-dose apsules.
VOCO's cutting-edge technology is featured in the entire family of products, which includes Admira Fusion, Admira Fusion x-tra, Admira Fusion Flow and Admira Fusion x-base.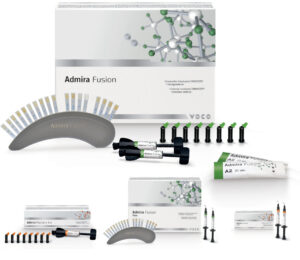 BOTTOM LINE
Admira Fusion's nano-ORMOCER technology represents the next generation in universal direct restoratives. Offering easy handling, low shrinkage and excellent physical properties, these biocompatible, 100% BPA-free, all-ceramic-based materials help ensure predictable outcomes and superior esthetics.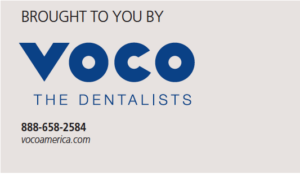 From Decisions in Dentistry. March 2018;4(3):53.