New Bioresorbable Device Blocks Pain Signals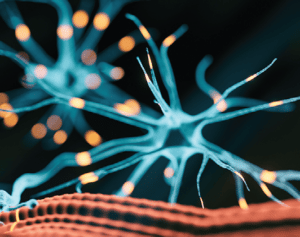 While opioids are highly effective for pain management, their use is associated with high rates of addiction and overdose deaths. As part of efforts to reduce opioid prescriptions, an international team has developed a bioresorbable implantable device that blocks pain signals by cooling peripheral nerves. Based on knowledge that cold temperatures numb nerves, the researchers built their hypothesis on evidence that suggests cooling peripheral nerves can, in fact, reduce the velocity and amplitude of neural pain signals. As detailed in "Soft, Bioresorbable Coolers for Reversible Conduction Block of Peripheral Nerves," published in Science, the investigators designed a microfluidics system that routes liquid coolant that is monitored by a magnesium temperature sensor.
The team tested the system by implanting it into the sciatic nerves of rats with neuropathic pain associated with spared nerve injury. After a three-week evaluation, they found the device was effective in reducing pain. Describing the process as precise and minimally invasive, the researchers note this approach is localized, reversible and nonaddictive. The study also showed the bioresorbable device dissolved within 20 days and was eliminated in 50 days, suggesting it has the potential to be naturally resorbed by the human body.
While the applications for this technology are broad, one key advantage is that it can be controlled by the patient and thereby allows targeted and individualized relief without the drawbacks of addictive pain medications.
From Decisions in Dentistry. November 2022;8(11)8.