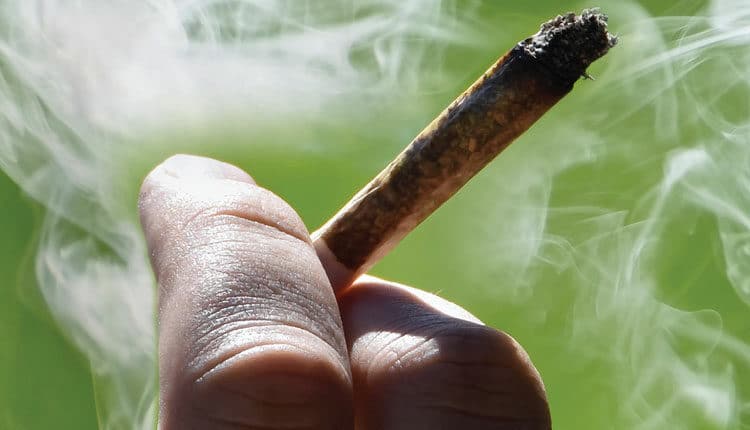 TUNATURA / ISTOCK / GETTY IMAGES PLUS
Marijuana Use and Concerns for Dental Providers
As more states legalize cannabis, oral health professionals should be prepared to manage its oral health effects.
PURCHASE COURSE
This course was published in the August 2022 issue and expires August 2025. The authors have no commercial conflicts of interest to disclose. This 2 credit hour self-study activity is electronically mediated.
EDUCATIONAL OBJECTIVES
After reading this course, the participant should be able to:
Discuss recent developments in the legalization of medical and recreational marijuana in the United States, and potential clinical issues resulting from the use of this substance.
Explain the pharmacology of cannabis, as well as the oral and systemic health concerns associated with its use.
Describe clinical approaches to managing this patient cohort in the dental setting.
---
There has been an increase in the use of marijuana, or cannabis, in the United States coinciding with the increasing number of states that have legalized it for medical and/or recreational purposes (Figure 1 and Figure 2).1,2 As a result, there has been a corresponding rise in the negative health consequences associated with its use. As such, dental providers should be prepared to recognize the oral and systemic manifestations of cannabis consumption.3 This article will examine marijuana's health effects, and how the practicing dentist might best manage this patient population.
Marijuana use and exposure have increased over the years, and since its legalization in many states, one must wonder about its increased effects on public health. In states where the legalization of marijuana now shows over 20 years of documentation, the detrimental effects of marijuana exposure are coming forth.4,5 For the period of 2004 to 2013, marijuana-related calls to the Rocky Mountain Poison and Drug Center rose 56%, with marijuana exposure ranking second only to alcohol calls. In that same report, marijuana-related treatment admissions of abuse and dependency, as well as related arrests, also show a drastic increase.4
While this article will summarize the effects of cannabis on oral health and implications for dental practice, this area is not without its contradictions. There are too many contributing factors — such as age, oral hygiene practices, tobacco smoking, and socioeconomic factors — that may also play a part and muddy the waters. But most reports show a negative relationship with cannabis use and oral health.6
PHARMACOLOGY AND USE OF MARIJUANA
Marijuana originates from the plant Cannabis sativa, and there are active chemicals found within the cannabis called cannabinoids.7 The three major cannabinoid types are delta-9-tetrahydrocannabinol (THC), cannabinol, and cannabidiol.6 Of these three, THC is the most abundant.6,7 An active chemical within the cannabinoids is responsible for the relaxation associated with the use of this drug, as well as the feeling of euphoria.7 A maximum plasma concentration of inhaled THC can occur in only a few minutes; however, it could take 30 to 90 minutes when orally ingested.7 Because of the long half-life of THC, marijuana can be detected months after it was last used.7,8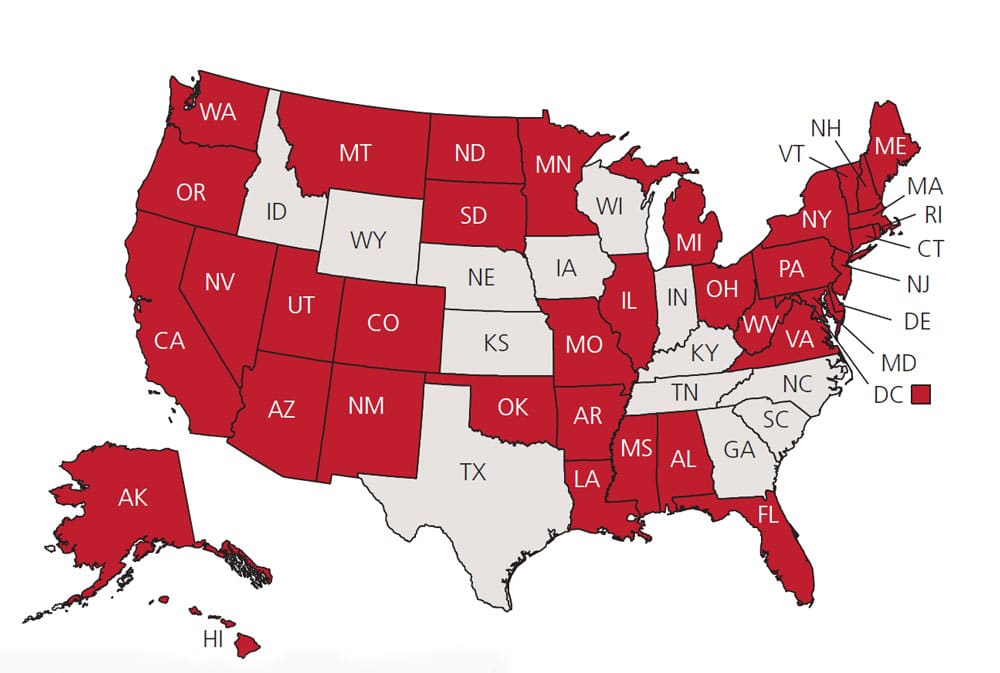 Before the legalization of marijuana in many states, cannabis was the most widely used illegal drug world­wide.8 And in the United States, cannabis use in youth surpassed that of tobacco in the early 2000s.9 As of this writing, 37 states, plus the District of Columbia, have legalized medical marijuana, and 19 states, plus the District of Columbia, have legalized recreational marijuana.10 The expectation is these numbers will increase as more states legalize medical and/or recreational use.1 In light of these developments, a key consideration for dentists is that older adults are the fastest growing segment of marijuana users, and these individuals tend to present with a high prevalence of oral disease.11
ORAL MANIFESTATIONS
Cannabinoid receptors can be found in oral epithelial cells and may be involved in the different side effects seen with marijuana smoking.5 The result of cannabis smoking can lead to xerostomia, caries and periodontal disease (Figure 3). The negative effects of chronic marijuana smoking on the periodontium can include gingival hyperplasia, gingival leukoplakia and bone loss.6 There is direct toxicity to important cells of the periodontium and immune disruptive properties, as well.12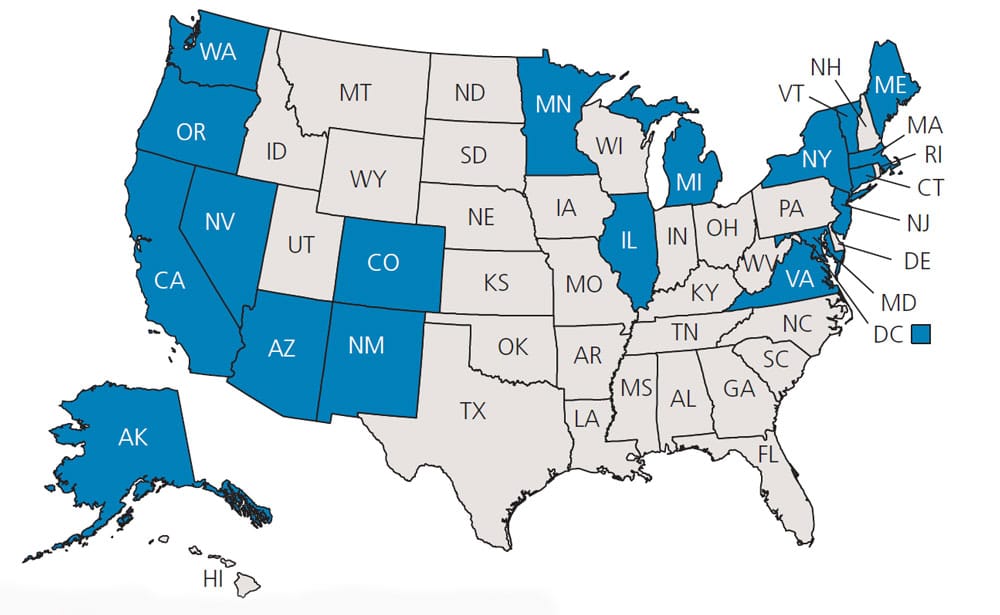 In addition, data from the National Health and Nutrition Examination Survey support an association between marijuana smoking and periodontal disease.13 In animal models, exposure to marijuana smoke for just eight minutes a day over 30 days was sufficient to cause periodontal bone destruction.12 Another point to consider is that THC, the main psychotropic agent in cannabis, is a powerful appetite stimulant.14 This fact, coupled with the dry mouth-inducing properties of marijuana smoking, creates an ideal situation for the formation of caries. Other oral manifestations of marijuana use include oral papilloma, uvulitis, and squamous cell carcinoma in heavy-use smokers.15–17
SYSTEMIC MANIFESTATIONS
Systemic manifestations associated with cannabis use are many and wide ranging.18–20 These involve reproductive abnormalities (such as decreased fetus size and low birthweight), cardiac disorders (tachycardia, for example), respiratory disorders (including bronchitis), depression, anxiety, psychosis, bipolar disorder, and negative effects on the immune system.21,22 Systemic marijuana effects that could impact the dental visit include anxiety, panic, coughing, nausea, increased phlegm, and sudden behavioral changes.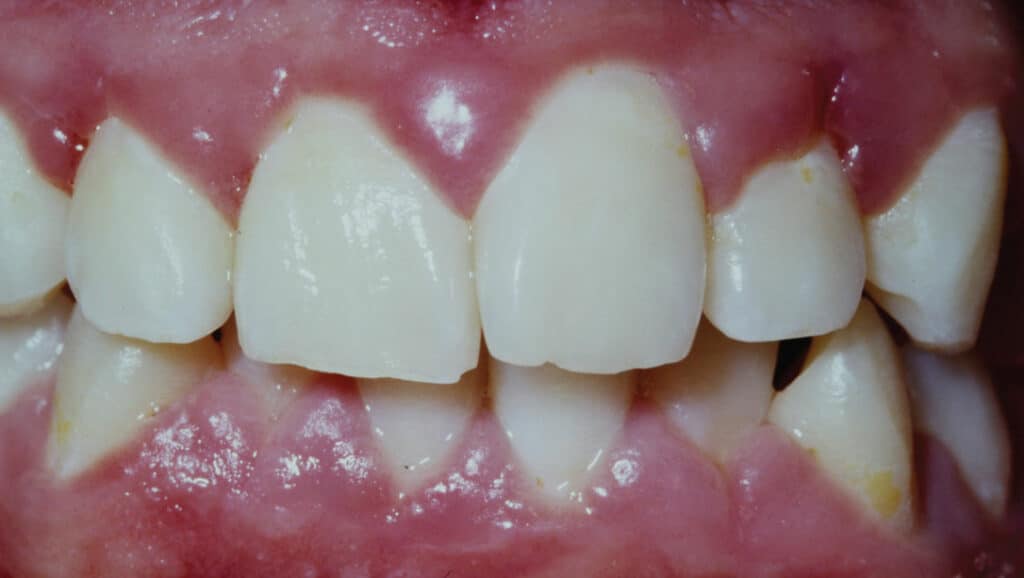 CONCERNS FOR THE TREATING DENTIST
Acute marijuana toxicity should be a specific concern for the treating dentist.9 Two side effects associated with acute marijuana toxicity are tachycardia and peripheral vasodilation. A patient's pretreatment marijuana use, combined with tachycardia and anxiety about the dental visit, should concern the dentist, especially if the use of epinephrine is planned.9
Recommendations in these situations include instructing the patient not to use cannabis for at least a week before the next dental appointment. Specific cardiac emergencies associated with marijuana toxicity include ventricular tachycardia, atrial fibrillation and acute cardiac ischemia. Multiple studies have reported a clear link between marijuana use and myocardial infarction.22–25 Other vascular complications associated with cannabis includes peripheral arteritis, stroke, congestive heart failure, angina, and increased systolic blood pressure.22 Although some dentists may feel uncomfortable asking patients about the use of marijuana and when they last used marijuana, the answers to these questions could prevent a medical emergency in the dental office.7,20 Table 1 presents a sample cannabis use questionnaire that can be utilized in clinical settings.
Because of the oral manifestations noted previously, the dentist should be concerned about head/neck and oral cancer screening, and a referral to specialists for evaluation and biopsy of suspicious lesions should be recommended. In addition, due to the significant periodontal effects associated with marijuana use, the dentist should also consider more frequent hygiene maintenance appointments, and even surgical or nonsurgical periodontal care when indicated.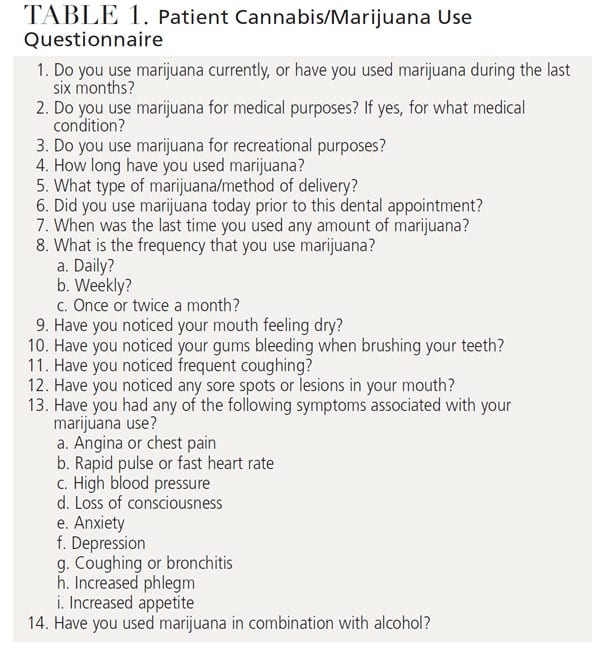 CONCLUSIONS
Not all reports find a negative correlation with oral health and cannabis use. Some published studies show a therapeutic reaction of cannabis on the dental pulp,26 and others conclude that marijuana use may exert potent antibacterial activities.27 Marijuana smokers may also present with compounding habits, such as concomitant use of tobacco and suboptimal oral hygiene, which further complicate research results. Yet the overriding effects of cannabis on the oral cavity appear to be negative.
There are specific cannabis receptors in the oral cavity which result in negative consequences when the mouth is affected by marijuana use. As noted, xerostomia, increased caries, gingival hyperplasia, and even periodontal bone loss are all common outcomes.7
As the number of individuals using marijuana continues to rise, either for medical or recreational purposes, dentists must understand this drug's oral and systemic manifestations. Knowledge of its oral presentations is critical to patients' overall oral health, and, more importantly, periodontal health and oral cancer risk. The systemic manifestations are wide ranging and can be life-threatening, especially with chronic users and acute toxic-level users. As has been advocated, creating a dental practice protocol or policy regarding the use of cannabis is strongly recommended by many authors.3,28–30 This policy might also include not treating any patient who is under the influence of marijuana, and this should be explained in detail to patients and the dental team.
REFERENCES
Chiu V, Leung J, Hall W, Stjepanovic D, Degenhardt L. Public health impacts to date of the legalization of medical and recreational cannabis use in the USA. Neuropharmacology. 2021;193:108610.
Leung J, Chiu V, Chan GCK, Stjepanovic D, Hall WD. What has been the public health impacts of cannabis legalization in the USA? A review of evidence on adverse and beneficial effects. Curr Addiction Rep. 2019;6:418–428.
Chaffee BW. Cannabis use and oral health in a national cohort of adults. J Calif Dent Assoc. 2021;49:493–501.
Davis J, Mendelson B, Berkes J, Suleta K, Corsi K, Booth R. Public health effects of medical marijuana legalization in Colorado. Am J Prev Med. 2016;50:373–379.
Biro T, Toth B, Hasko G, Paus R, Pacher P. The endocannabinoid system of the skin in health and disease: Novel perspectives and therapeutic opportunities. Trends Pharmacol Sci. 2009;30:411–420.
Liu C, Qi X, Yang D, Neely A, Zhou Z. The effects of cannabis use on oral health. Oral Dis. 2020;26:1366–1374.
Gallo M, Moreno E, Defaus S, Ortego-Alvaro A, Gonzalea A. Orally active peptide vector allows using cannabis to fight pain while avoiding side effects. J Med Chem. 2021;64:6937–6948.
Fernandez-Ruiz, J, Galve-Roperh, I, Sagredo O, Guzman M. Possible therapeutic applications of cannabis in the neuropsychopharmacology field. Eur Neuropyschopharmacol. 2020;36:217–234.
Rolle I, Kennedy S, Agaku I, et al. Cigarette, cigar, and marijuana use among high school students — United States, 1997–2013. MMWR Morb Mortal Wkly Rep. 2015;64:1136–1141.
Epstein M, Bailey JA, Kosterman R, Furlong M, Hill KG. Evaluating the effect of retail marijuana legalization on parent marijuana use frequency and norms in U.S. states with retail marijuana legalization. Addict Behav. 2020;111:106564.
Le A, Palamar J. Oral health implications of increased cannabis use among older adults: Another public health concern? J Subst Use. 2019;24:61–65.
Scott D, Dukka H, Saxena D. Potential mechanisms underlying marijuana-associated periodontal tissue destruction. J Dent Res. 2022;101:133–142.
Shariff JA, Ahluwalia KP, Papapanou PN. Relationship between frequent recreational cannabis (marijuana and hashish) use and periodontitis in adults in the United States: National Health and Nutrition Examination Survey 2011 to 2012. J Periodontol. 2017;88:273–280.
Jager G, Witkamp RF. The endocannabinoid system and appetite: relevance for food reward. Nutr Res Rev. 2014;27:172–185.
Keboa MT, Enriquez N, Martel M, Nicolau B, Macdonald ME. Oral health implications of cannabis smoking: a rapid evidence review. J Can Dent Assoc. 2020;86:k2.
Chisini LA, Cademartori MG, Francia A, et al. Is the use of cannabis associated with periodontitis? A systemic review and meta-analysis. J Periodontal Res. 2019;54:311–317.
Scott D, Dukka H, Saxena D. Potential mechanisms underlying marijuana-associated periodontal tissue destruction. J Dent Res. 2022;10:133–142.
Brignardello-Petersen R. There is probably a higher prevalence of periodontal disease in cannabis users than in nonusers. J Am Dent Assoc. 2019;150:e113.
El Biali M, Broers B, Besson M, Demeules J. Cannabinoids and COVID-19. Med Cannabis Cannabinoids. 2020;3:111–115.
Richards J, Singh G, Parikh A, Venugopal S. Acute coronary syndrome after cannabis use. Correlation with quantitative toxicology. Am J Emergency Med. 2019;37:1007–1011.
Singh A, Saluja S, Kumar A, et al. Cardiovascular complication of marijuana and related substances: a review. Cardiol Ther. 2018;7:45–59.
Rezkalla S, Kloner RA. Cardiovascular effects of marijuana. Trends Cardiovasc Med. 2019;29:403–407.
DeFilippis EM, Sing A, Divakaran S, et al. Cocaine and marijuana use among young adults with myocardial infarction. J Am Coll Cardiol. 2018;71:2540–2551.
Sidney S. Marijuana use and type 2 diabetes mellitus: a review. Curr Diab Rep. 2016;16:117–122.
Atchaneeyasakul K, Torres LF, Malik AM. Large amounts of cannabis ingestion resulting in spontaneous intracerebral hemorrhage: a case report. J Stroke Cerebrovasc Dis. 2017;26:e138–e139.
Beneng K, Renton T, Yilmaz Z, Yiangou Y, Anand P. Cannabinoid receptor CB1-immunoreactive nerve fibres in painful and non-painful human tooth pulp. J Clin Neurosci. 2010;17:1476–1479.
Karas JA, Wong LJM, Paulin OKA, et al. The antimicrobial activity of cannabinoids. Antibiotics (Basel). 2020;9:406.
Schulte DJ. Dealing with patients who have been using marijuana. J Mich Dent Assoc. 2015;97:24.
Birnbaum ML, Cleary SD, Wan CR, Pauselli L, Compton MT. Factor structure of the cannabis experience questionnaire in a first-episode psychosis sample. Early Interv Psychiatry. 2019;13:495–501.
Round JM, Lee C, Hanlon JG, Hyshka E, Dyck JRB, Eurich DT. Changes in patient health questionnaire (PHQ-9) scores in adults with medical authorization for cannabis. BMC Public Health. 2020;20:987.
From Decisions in Dentistry. August 2022;8(8)34-36,39.