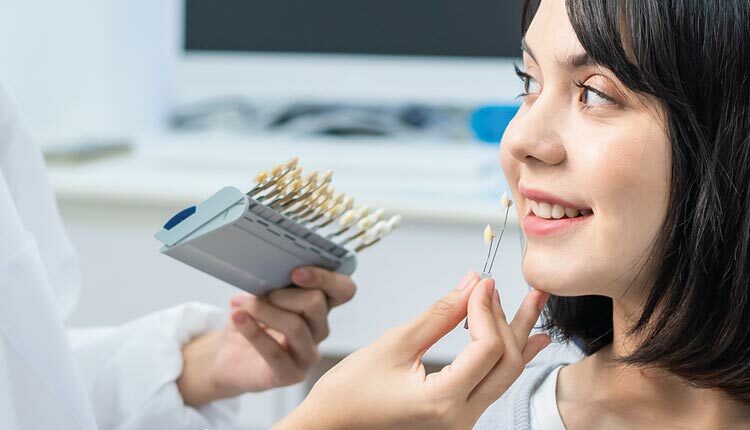 KIWIS/ ISTOCK / GETTY IMAGES PLUS
CE Sponsored by Colgate: Improving Smile Esthetics With Bleaching
Professionally dispensed, patient-applied take-home whitening approaches provide numerous benefits to patients who want whiter, brighter smiles.
INTRODUCTION
What do most of your patients ask for when they come to your office? Whiter and brighter teeth! While they may have active caries, bleeding gingiva, and other oral health issues, often their main request is for an esthetic smile. A shiny, pearly white smile is a beautiful image signifying youth, health, friendliness, wealth and well-being. 
With take-home whitening approaches, the daily use of the bleaching protocol provides excellent results if the patient can stay with the treatment for 10 to 14 days. But most patients are whitening dropouts and stop treatment before the required time. Patients may stop using the whitening kit because they found the tray uncomfortable, experienced bleaching gel oozing from the tray over the gingiva, or felt sensitivity and irritation — all common side effects of traditional whitening treatments. 
So how do we make patients happy with an at-home whitening system? It has to be easy to use with rapid results, comfortable to wear, and not produce tooth sensitivity or gingival irritation as side effects. 
The New Colgate Optic White Professional Take-Home Teeth Whitening Kit provides a whitening experience that finally lives up to patient expectations — it's easy to use, goes on without a mess, and is designed to eliminate sensitivity. The kit consists of a hydrogen peroxide whitening serum in a precision pen bleach applicator, and an LED device that emits high-energy, light-purple light. 
Please read the article by Sibel A. Antonson, DDS, PhD, MBA; Bernardo A. Caldas, BS; and Jaroslaw Cegielski, DDS, so you can advise your patients on how they can get the smile they want with this new whitening system, which is available only through dental professionals. Visit colgateprofessional.com/products/optic-white for more information.
—Phyllis A. Martina, RDH, MBA
Senior Professional Education Manager
Colgate Oral Pharmaceuticals
---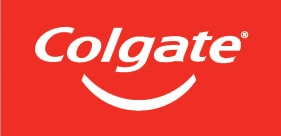 THIS TWO-UNIT CE COURSE IS SUPPORTED BY AN UNRESTRICTED EDUCATIONAL GRANT FROM COLGATE.
---
PURCHASE COURSE
This course was published in the April 2022 issue and expires April 2025. The authors have no commercial conflicts of interest to disclose. This 2 credit hour self-study activity is electronically mediated.
EDUCATIONAL OBJECTIVES
After reading this course, the participant should be able to:
Describe the evolution of tooth whitening.
Identify the benefits and challenges of professionally dispensed, patient-applied take-home whitening.
Explain the innovative take-home technique that offers a pendelivery system and LED activation.
Discuss the results of an eight-patient evaluation in addition to case reports surrounding the use of the new take-home technique.
---
Advanced Options in Take-Home Whitening
An innovative professionally dispensed, patient-applied at-home whitening technique offers patients the results they desire, with few side effects.
__
Advances in research and technology have improved the status of oral health in North America for most populations.1 Interventions, such as community water fluoridation and dental sealants, have helped decrease the rate of tooth loss. With more individuals keeping their natural dentition, the demand for esthetic dental treatment has grown dramatically. 
Over the past several decades, vital tooth bleaching, or whitening, has become one of the most requested cosmetic dental procedures.2 Due to this increase in demand, a variety of whitening options are currently available.3 In order to best advise their patients, oral health professionals should be knowledgeable about the risks and benefits of these options.4 While there are many options for patients seeking to brighten their teeth — from do-it-yourself techniques to over-the-counter options to in-office bleaching treatments — this article will focus on professionally dispensed, patient-applied at-home whitening approaches. 
Efforts to improve the whiteness and brightness of smiles began more than a century ago and have encompassed a wide array of procedures, materials and techniques. Vital tooth bleaching procedures began as early as 1868 with the use of oxalic acid or pyrozone, and later switched to hydrogen peroxide when its whitening ability was discovered.5 In 1989, Haywood and Heymann6 introduced nightguard vital bleaching, which incorporates a carbamide peroxide gel delivered in custom trays that enable the controlled placement of the whitening agent on targeted teeth for a specified time. This safe and effective tooth whitening technique opened the door for myriad at-home whitening methods. Over the decades, new dental bleaching techniques have been implemented to accommodate individual patient expectations for comfort, availability and effectiveness. 
PROFESSIONALLY DISPENSED, PATIENT-APPLIED TAKE-HOME WHITENING
Manufacturers have addressed the public's demand for an esthetic smile by attempting to duplicate the professional delivery of dental bleaching via take-home options. Professionally dispensed, patient-applied take-home whitening offers an affordable method to improve appearance, and is widely popular, comprising a $3 billion industry in the United States.7 Ease of use and short treatment time also contribute to take-home whitening's popularity.8 In addition, it allows patients to bleach their teeth on their own schedule and pace in the comfort of their own homes, while achieving tangible results. Convenience is a major factor when considering whitening approaches, as it impacts the patient experience, as well as the dental professional administering the treatment.9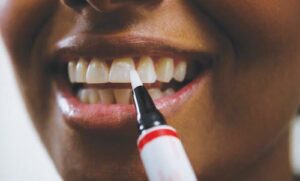 CHALLENGES OF THE TAKE-HOME APPROACH
One of the most widely used take-home approaches is nightguard vital bleaching, which requires the complete immersion of the teeth in the either hydrogen peroxide or carbamide peroxide bleaching gel. Both of these agents are sources of active oxygen, which provides the bleaching effect, while also increasing the risk for sensitivity. Take-home bleaching may initiate dentinal hypersensitivity, which affects between 37% and 90% of patients who undergo whitening treatment.10,11 To address the inherent risk of sensitivity and gingival irritation caused by exposure to the whitening agent, innovative techniques have been developed that produce results, but also reduce potential side effects. 
The need for custom trays in the nightguard vital bleaching technique significantly increases the expense of treatment. Creating the trays requires two appointments: one for impressions, and a second appointment to deliver the whitening trays and material. Additional procedures, such as preparing the casts and tray fabrication, should be considered when calculating the active time and cost of nightguard vital bleaching. 
Whitening efficacy is intricately linked to the concentration of the bleaching agent and amount of time it is applied. In other words, the higher the concentration, the faster the effect. As over-the-counter products contain lower levels of the whitening agent, they are typically not as effective as professionally dispensed options.4,11–15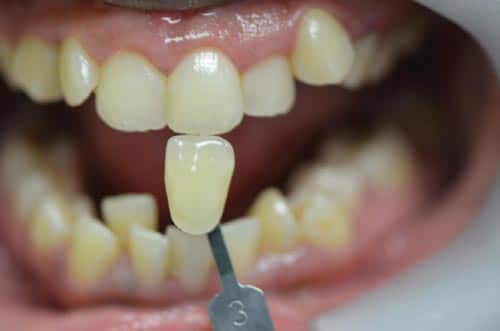 While the convenience and price of take-home whitening treatments may be attractive to patients, additional drawbacks exist. Some of these include the messiness of application due to the volume of hydrogen peroxide gel required for efficacy, concern about ingestion of the gel, and compliance with the daily routine. Research and development efforts have been focused on designing a system that is easy to incorporate into daily schedules, goes on without a mess, produces noticeable results, and does not induce dentinal sensitivity or gingival irritation.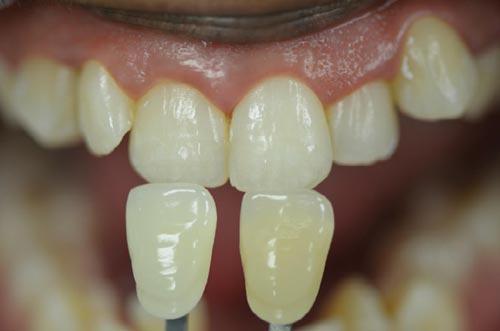 Targeted delivery can help overcome some of the aforementioned obstacles. With a long history in dentistry, targeted delivery methods for dental therapeutic agents include varnishes and serums. Various dental materials can be delivered via varnishes, such as fluoride and chlorhexidine. Even though the technology seems simple, ensuring the stability of the active ingredient within a solution that is diluted presents challenges. Maintaining the appropriate solvent/serum ratio while in the packaging and allowing the solvent to evaporate rapidly to ensure effective adherence are also difficult. Additionally, the serum is expected to provide an effective dose of the active ingredient during the treatment period in a thin film.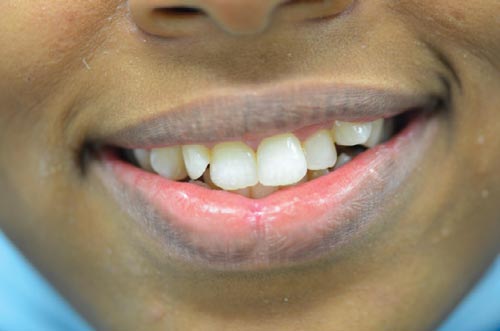 INNOVATIVE TAKE-HOME TECHNIQUE
An innovative addition to the at-home whitening armamentarium that addresses many of the traditional issues is a brush-tipped pen delivery of the bleaching serum that enables patients and clinicians to apply the agent directly to the tooth surface (Figure 1). This new take-home kit includes a 6% hydrogen peroxide serum in a brush-tipped pen, and a patented LED mouthpiece to amplify the peroxide activity. 
Patients will find painting the hydrogen peroxide serum onto the facial surfaces of anterior teeth a simple process that provides the desired results in a short time frame. This is made possible by the ability to precisely place the bleaching agent where it is needed, and its subsequent activation via a 410-nm wavelength LED mouthpiece. The 410-nm wavelength corresponds to light-purple light in the color spectrum, which accelerates the hydrogen peroxide breakdown without causing heat — a source of sensitivity.15–25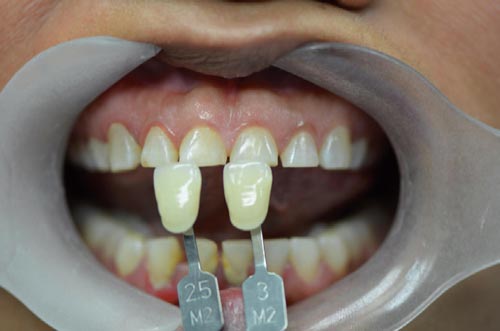 The hydrogen peroxide serum is packaged in a pen-shaped delivery system that has a flat brush on the tip. The peroxide serum is dispensed to the brush tip by pressing a button on the opposite end of the pen.
The hydrogen peroxide is dispersed in a liquid carrier, which is designed to rapidly evaporate, leaving a thin solid (not liquid) film adhered to the tooth. This application mechanism helps patients apply the serum directly to the tooth surfaces intended for whitening and helps prevent application to other areas, such as the gingiva, exposed root surfaces and oral soft tissues. This feature helps prevent irritation.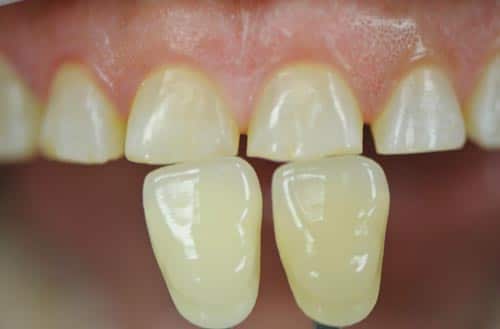 Once the liquid carrier evaporates, the effective hydrogen peroxide concentration increases. A proprietary rechargeable tray integrated with printed LEDs that emit light-purple light is placed in the patient's mouth for 10 minutes. The LEDs amplify the effectiveness of the peroxide-bleaching process. After this step, the thin film of serum may be left on the tooth surface overnight, continuing to maintain contact with the tooth until the film is removed by normal toothbrushing in the morning. 
In an evaluation of eight patients who used the pen-delivery bleaching technique for a 10-day period, all reported noticeable improvement in the whiteness of their teeth and commented on the product's ease of use. The majority of the patients noticed whitening results between day one and day five of the treatment period. The patients, who ranged in age from 18 to 70, all agreed to the following statements regarding the technique:
Makes whitening easier
Is comfortable while using overnight
Does not cause gum irritation
Provides natural-looking results
Uses advanced whitening technology
Makes me confident in my teeth's whiteness
Provides gradual and gentle whitening
Is a premium product
Is safe for my enamel
Not messy to use
This approach also eliminates the need for custom trays. The use of prefabricated trays with the 410-nm LED lights enables dental professionals to deliver the dental bleaching kits at the time of treatment planning, eliminating additional chairtime and laboratory time.
The most significant outcome noted among these eight patients was the efficacy of the bleaching, without any reported sensitivity. This is due to the product's LED light activation and precision pen delivery for the targeted placement of the bleaching agent away from the soft tissues. The easy and nonmessy application, along with a quick, 10-minute active period, also increased patient satisfaction.
CASE REPORTS
Results from the use of this innovative take-home whitening system are demonstrated in these brief case reports. Patient A, a 22-year-old woman, presented for a pre-orthodontic examination. While she had expressed interest in tooth whitening previously, her severely crowded and rotated teeth posed challenges to the bleaching process. Fabrication of a well-sealed custom bleaching tray would not be possible for this patient due to multiple retentive areas with severe undercuts. However, a homogeneous bleaching was obtained for this patient with the pen-delivery bleaching technique. The patient opted to try the pen-delivery whitening method and followed the instructions over a 10-day period. She obtained an 8.7 level shade improvement at the end of the regimen. She was pleased with the results and did not report experiencing sensitivity (Figures 2A through 2C).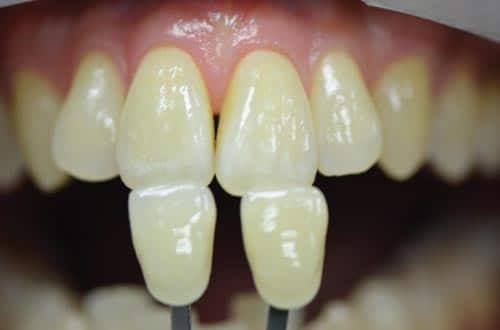 Patient B, a 39-year-old woman, presented for an initial dental examination. Due to dental anxiety, she had not received professional oral healthcare in some time. Her motivation for seeking dental care was to whiten her teeth. She had generalized wear. The patient decided to try the pen-delivery whitening method. After 10 days, she obtained a 6.3 level shade improvement. The patient was satisfied with the results and did not experience sensitivity (Figures 3A and 3B).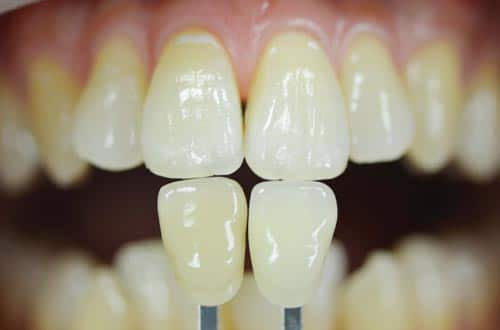 Patient C, a 40-year-old man, volunteered to use the pen-delivery whitening system. He obtained a 3.7 level shade improvement at the end of the 10-day bleaching process. He was satisfied with the outcome and stated he would seek the treatment again (Figures 4A and 4B). 
CONCLUSION
Tooth whitening is a noninvasive approach to improve smile esthetics. A beautiful smile has many benefits, including increased confidence in both social and professional settings. Oral health professionals are well prepared to recommend personalized options to patients who wish to achieve a whiter, brighter smile. Professionally dispensed, patient-applied at-home whitening approaches offer patients excellent results, with few side effects. 
REFERENCES
Benjamin RM. Oral health: the silent epidemic. Public Health Rep. 2010;125:158–159.

 

American Academy of Cosmetic Dentistry. State of the Cosmetic Dentistry Industry 2017 Survey Report. Available at:

 

aacd.com/

​

cmsproxy/⯤/

​

files/

떑

_

​

State_

​

of_

​

the_

​

Cosmetic_

​

Dentistry_

​

Industry_

​

Report.pdf. Accessed March 4, 2022.

 

Borges AB, de Abreu FS, Mailart MC, Zanatta RF, Torres C. Efficacy and safety of bleaching gels according to application protocol. Oper Dent. 2021;46:105–116.
Antonson SA, Abuzinadah AJ. Developments in dental office bleaching technology. Decisions in Dentistry. 2019;5(9):25–30.
Alqahtani MQ. Tooth-bleaching procedures and their controversial effects: a literature review. Saudi Dent J. 2014;26:33–46.

 

Haywood H, Heymann H. Nightguard vital bleaching. Quintessence Int. 1989;20:173–176.
Neighmond P. Navigating 'the aisle of confusion' to whiten your teeth. Shots Health News From NPR. Available at: npr.org/

​

sections/

​

health-shots/

떑

/

葔

/

葚

/

鱎

/

​

navigating-the-aisle-of-confusion-to-whiten-your-teeth. Accessed March 4, 2022.
Dahl JE, Pallesen U. Tooth bleaching — a critical review of the biological aspects. Crit Rev Oral Biol Med. 2003;4:292–304.

 

Bortolatto JF, Pretel H, Floros MC, et al. Low concentration H2O2/

​

TiO_

​

N in office bleaching: a randomized clinical trial. J Dent Res. 2014;93(Suppl 7):66s–71s.
de Geus JL, Wambier LM, Kossatz S, Loguercio AD, Reis A. At-home vs in-office bleaching: a systematic review and meta-analysis. Oper Dent. 2016;41:341–356.

 

Basting RT, Amaral FL, Franca FM, Florio FM. Clinical comparative study of the effectiveness of and tooth sensitivity to 10% and 20% carbamide peroxide home-use and 35% and 38% hydrogen peroxide in-office bleaching materials containing desensitizing agents. Oper Dent. 2012;37:464–473.
Kwon SR, Wertz PW. Review of the mechanism of tooth whitening. J Esthet Restor Dent. 2015;27:240–257.
Bersezio C, Estay J, Jorquera G, et al. Effectiveness of dental bleaching with 37.5% and 6% hydrogen peroxide and its effect on quality of life. Oper Dent. 2019;44:146–155.
Darriba I, Cabirta Melón P, García Sartal A, Ríos Sousa I, Alonso de la Peña V. Influence of treatment duration on the efficacy of at-home bleaching with daytime application: a randomized clinical trial. Clin Oral Investig

.

2019;23:3229–3237.
Silva Daltro TW, Gomes de Almeida SA, Dias MF, Lins-Filho PC, da Silva CHV, Guimaraes RP. The influence of violet LED light on tooth bleaching protocols: In vitro study of bleaching effectiveness. Photodiagnosis Photodyn Ther. 2020;32:102052.

 

Ferraz NK, Nogueir LC, Neiva IM, Ferreira RC, Moreira AN, Magalhães CS. Longevity, effectiveness, safety, and impact on quality of life of low-concentration hydrogen peroxides in-office bleaching: a randomized clinical trial. Clin Oral Investig. 2019;23:2061–2070.
Santos A, Bussadori SK, Pinto MM, et al. Clinical evaluation of in-office tooth whitening with violet LED (405 nm): a double-blind randomized controlled clinical trial. Photodiagnosis Photodyn Ther. 2021;35:102385.

 

Barboza ACS, Dos Santos PH, do Vale LR, et al. Dental bleaching with violet LED: Effects on dentin color change, resin-dentin bond strength, hybrid layer nanohardness and dentinal collagen biostability. Photodiagnosis Photodyn Ther. 2021;33:102141.

 

de Almeida ENM, Bessegato JF, Dos Santos DDL, de Souza Rastelli AN, Bagnato VS. Violet LED for non-vital tooth bleaching as a new approach. Photodiagnosis Photodyn Ther. 2019;28:234–237.

 

de Souza BR, Lago ADN, Ferreira LS, et al. In-office bleaching protocols using the violet LED. A split mouth case report. Photodiagnosis Photodyn Ther. 2021:36:102497.

 

Fernandes BM, Tanaka MH, De Oliveira A, Scatolin RS. Color stability of dental enamel bleached with violet LED associated with or without low concentration peroxide gels. Photodiagnosis Photodyn Ther. 2021;33:102101.

 

Gallinari MO, Cintra LTA, Barboza ACS, et al. Evaluation of the color change and tooth sensitivity in treatments that associate violet LED with carbamide peroxide 10%: a randomized clinical trial of a split-mouth design. Photodiagnosis Photodyn Ther. 2020;30:101679.

 

Gallinari MO, Cintra LTA, Souza MBA, et al. Clinical analysis of color change and tooth sensitivity to violet LED during bleaching treatment: a case series with split-mouth design. Photodiagnosis Photodyn Ther. 2019;27:59–65.

 

Kury M, Wada EE, da Silva Palandi S, Picolo MZD, Giannini M, Cavalli V. Colorimetric evaluation after in-office tooth bleaching with violet LED: 6- and 12-month follow-ups of a randomized clinical trial. Clin Oral Investig. 2022;26:837–847.
Kury M, Wada EE, Silva DPD, Tabchoury CPM, Giannini M, Cavalli V. Effect of violet LED light on in-office bleaching protocols: a randomized controlled clinical trial. J Appl Oral Sci. 2020;28:e20190720.

 
From Decisions in Dentistry. April 2022;8(4)25-29.