Glidewell Laboratories Introduces glidewell.io In-Office Solution
A "comprehensive suite of technologies that will simplify the process of prescribing and delivering laboratory-quality restorations."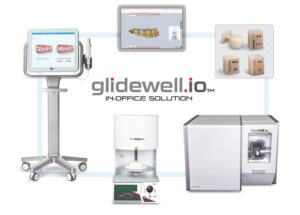 Unveiled during the Glidewell Dental Symposium in Dallas, the glidewell.io solution is billed as a "comprehensive suite of technologies that will simplify the process of prescribing and delivering laboratory-quality restorations." Designed to effectively streamline the restorative design process, glidewell.io transfers an intraoral scan to Glidewell's fastdesign.io software, which auto-designs restorations for the clinician's approval, based on algorithms derived from millions of cases digitally produced by Glidewell Laboratories. Additionally, the software serves as a direct communication portal to the laboratory, from which users can prescribe cases or access digital optimization and technical support. If a clinician opts for an immediate restoration, the restorative design is sent to the fastmill.io in-office unit for chairside milling.
Glidewell and Align Technology also announced a North American distribution agreement during the symposium, under which Glidewell will distribute the iTero Element intraoral scanning system.
From Decisions in Dentistry. February 2018;4(2):8.