Enzyme Similar to Rattlesnake Venom May Play a Role in COVID-19 Mortality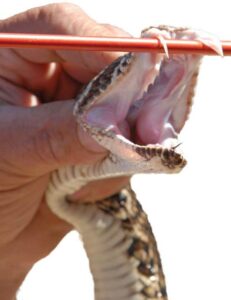 Investigators from the University of Arizona, Stony Brook University and Wake Forest School of Medicine report high levels of a specific enzyme with properties similar to rattlesnake venom have been found in patients who died from COVID-19. This discovery resulted from the team's analysis of blood samples of patients infected with SARS-CoV-2 who succumbed to the disease. The investigators focused on biochemical enzymes, as well as patients' levels of lipid metabolites.
The enzyme of specific interest in this study — secreted phospholipase A2 group IIA (sPLA2-IIA) — is known for its ability to affect viral and bacterial cell membranes. Although sPLA2-IIA is normally found in low concentrations in healthy individuals (where it plays a role in fighting bacterial infections), when the enzyme circulates at high levels it "shreds" membranes in vital organs, according to researchers. They explain that among patients severely ill with COVID-19, the regulatory system that keeps sPLA2-IIA in check goes awry, and the enzyme begins attacking healthy cells, tissues and organs. 
The team is working on an inhibitor for sPLA2-IIA, and is using ongoing trials conducted with rattlesnake venom to expedite the process. They are also investigating if the enzyme could be responsible in part for long COVID-19 symptoms. Appearing in The Journal of Clinical Investigation, the study, "Group IIA Secreted Phospholipase A2 Is Associated With the Pathobiology Leading to COVID-19 Mortality," may help provide a new therapeutic target to reduce COVID-19 mortality.
From Decisions in Dentistry. October 2021;7(10)6.