Data Reveal Tooth Longevity After Root Canal Treatment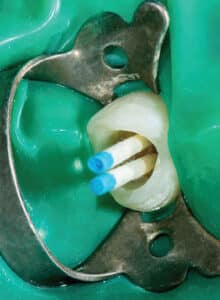 Research from the Regenstrief Institute and Indiana University School of Dentistry that included data from more than 46,000 electronic health records found that whether restored with a crown or direct restoration, 11 years is the average survival rate for teeth post-root canal treatment. The groundbreaking study analyzed records from community dental practices, where most Americans receive care. Conducted via the National Dental Practice-Based Research Network, the data come from 99 private practices across the United States.
Appearing in the Journal of Dental Research, the paper, "Root Canal Treatment Survival Analysis in National Dental PBRN Practices," notes shorter longevity among endodontically treated teeth than previous community-based reports. Further analysis shows that teeth treated via direct restoration before a crown was placed survived for 20.1 years on average — nearly twice the median survival time. In general, the study was praised for providing more representative data of the overall population than earlier investigations.
From Decisions in Dentistry. September 2022;8(9)6.